Links - For more information please visit the Brit Floyd website.
---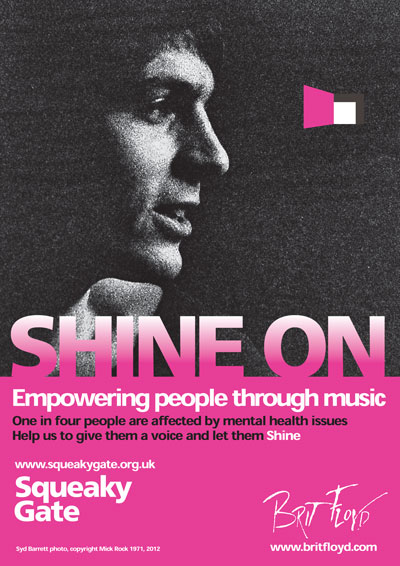 PRESS RELEASE - Brit Floyd are delighted to announce their new association with creative mental health charity Squeaky Gate!

Squeaky Gate, which was set-up in 2009 by Simon Gunton, and is supported by Rosemary Breen, the sister of Pink Floyd co-founding member Syd Barrett, is an extraordinary organisation, which uses the transformational effects of music to help people who have mental health issues.

Brit Floyd will help promote and raise money for Squeaky Gate at all of its future shows.

To help launch the new relationship a collective of Squeaky Gate musicians will join Brit Floyd live on stage in London, Birmingham and Cambridge during the up-coming UK tour to perform a selection of Syd Barrett songs, especially prepared for the shows.

Rosemary Breen, said, "I have been a trustee and actively involved with Squeaky Gate since its inception. It offers life changing opportunities for people with both mental health issues and those at risk of social or economic exclusion. Syd would have loved the original and sometimes experimental ways in which Squeaky Gate offers a safe haven, where it is possible to explore creativity through music and performance. The opportunity for the Squeaky Gate musicians to perform Syd's songs live, with Brit Floyd, is fantastic!"

Damian Darlington, Brit Floyd's musical director, said, "Without Syd there would have been no Pink Floyd. His impact both musically and inspirationally cannot be overstated. Our association with Squeaky Gate and its objectives are really exciting. We all want to help in whatever way we can to raise awareness and support fundraising."

Source [ Andy Kettle CMP Entertainment ]