Pink Floyd Concert Database |
---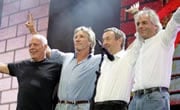 Welcome to the Pink Floyd, Roger Waters and David Gilmour Concert and Tour Database. This section shows all tour dates, gigs and schedules for Pink Floyd, Roger Waters, David Gilmour and others up to 2014/2015.

You can browse gigs by band, venue, country etc. below and view upcoming concerts list. The upcoming concerts will have ticket links on too where applicable.

David Gilmour and Roger Waters could tour in 2015 but Pink Floyd will certainly not. Get our free Newsletter to keep you updated.
---
Browse Bands
Upcoming Concert News & Tickets

There are 1860 concerts listed for 5 bands. Click below.

The Tea Set (5)
Pink Floyd (1215)
Roger Waters (520)
David Gilmour (111)
Syd Barrett (9)


There are no confirmed concert dates coming up as of yet. However, they are expected very soon!

Let us keep you informed when tickets, dates and venues are announced by subscribing to the NPF Newsletter.

In the meantime, have a browse around past concerts.
---
| | |
| --- | --- |
| Browse Venues | Browse Countries |
| There are 1043 venues in the database. Venue name and the number of concerts in database are on the page below! | There are 52 countries in the database. Choose a country from below to view all concerts performed in that country. |