1970-11 Syd Barrett – Barrett
Links – Rate Album and Discuss |
---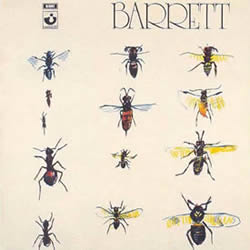 Check Current Prices Below!

Track Listing:
01. Baby Lemonade
02. Love Song
03. Dominoes
04. It Is Obvious
05. Rats
06. Maisie
07. Gigolo Aunt
08. Waving My Arms In The Air
09. I Never Lied To You
10. Wined And Dined
11. Wolfpack
12. Effervescing Elephant 
Rate Album and Discuss
Barrett was the second and final studio album of new material released by former Pink Floyd member Syd Barrett. In February 1970, shortly after releasing his first album, The Madcap Laughs, Barrett appeared on John Peel's Top Gear radio show where he presented only one song from the newly released album. Two days later, he began working on his second album in the Abbey Road Studios, this time with Pink Floyd members David Gilmour and Rick Wright as producers and musicians.
The main aim for the Barrett sessions was to give Syd the structure and focus many felt was missing during the long and unwieldy sessions for The Madcap Laughs. Thus, the sessions were more efficiently run – with much unreleased material recorded – and the album was finished in far less time than it took to complete The Madcap Laughs.
While the sessions for Barrett ran more smoothly, it didn't prevent Syd's by-now characteristically bizarre behaviour from coming through. On June 6, 1970, Syd gave his one and only solo performance, backed by David Gilmour and Jerry Shirley, and baffled the audience (including Gilmour and Shirley) when he abruptly took off his guitar during the fourth number and walked off stage.
Barrett was released in November 1970 to less interest than had greeted The Madcap Laughs earlier in the year, and as a result, failed to chart. Bored and directionless, Barrett promptly headed back to his hometown of Cambridge and — but for a brief dalliance with a band called Stars in 1972, and some abortive recording sessions in 1974 — left his music career behind for good.
Personnel
    * Syd Barrett: guitars, lead vocals
    * David Gilmour: production, 12-string acoustic guitar ("Baby Lemonade"), bass, organ ("It is obvious", "Gigolo Aunt", "Wined and Dined"), drums ("Dominoes"), backing vocals
    * Rick Wright: production, keyboards, piano, harmonium, hammond organ
    * Vic Saywell: tuba
    * Jerry Shirley: drums and percussion
    * Willie Wilson: percussion
    * John Wilson: drums
    * Peter Bown: engineering
External Links