1981 – Nick Mason – Nick Mason's Fictitious Sports
Links – Rate Album and Discuss |
---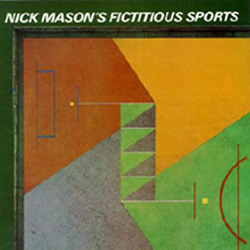 Check Current Prices Below!


Track Listing:
01. Can't Get My Motor to Start
02. I Was Wrong
03. Siam
04. Hot River
05. Boo To You Too
06. Do Ya
07. Wervin'
08. I'm a Mineralist
Rate Album and Discuss
Pink Floyd drummer Nick Mason fronted the group who made the one-off self-titled album Nick Mason's Fictitious Sports in May 1981 in the UK and US, this being Mason's first major work outside of Pink Floyd. However, the album is considered by many a Carla Bley album in all but name, since she wrote all the songs and co-produced it.  It is sung by Robert Wyatt, except for the opening song.
The album was recorded in November 1979 but its release was delayed for almost two years. This is a must-hear if you love the classic genre, it is even used to play on slots casino to give you a realistic classic atmosphere when playing.
Miscellaneous Information – Credits
* Nick Mason – drums, percussion, co-producer, recording engineer
* Carla Bley – keyboards, songwriter, co-producer
* Chris Spedding – guitars
* Steve Swallow – bass guitar
* Michael Mantler – trumpet, recording engineer
* Robert Wyatt – vocals
* Karen Kraft – vocals on "Can't Get My Motor to Start"
* Gary Windo – tenor/bass clarinet, flute, additional vocals
* Gary Valente – trombones, additional vocals
* Howard Johnson – tuba
* Terry Adams – piano on "Boo to You Too", harmonica and clavinet on "Can't Get My Motor to Start"
* Carlos Ward – additional vocals
* D. Sharpe – additional vocals
* Vincent Chancey – additional vocals
* Earl McIntyre – additional vocals
* James Guthrie – mixing engineer
* Hipgnosis – cover design
External Links