1984 – David Gilmour – About Face
Links – Rate Album and Discuss |
---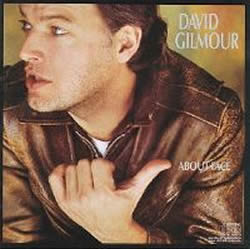 Check Current Prices Below!


Track Listing:
01. Until We Sleep
02. Murder
03. Love On The Air
04. Blue Light
05. Out Of The Blue
06. All Lovers Are Deranged
07. You Know I'm Right
08. Cruise
09. Let's Get Metaphysical
10. Near The End
Rate Album and Discuss
About Face is the second solo album by the Pink Floyd guitarist David Gilmour, released in March 1984. The album was co-produced by Bob Ezrin and David Gilmour. Two songs were co-written by Gilmour (music) and The Who's Pete Townshend (lyrics), the rest by Gilmour himself. In May of the same year, fellow Floyd counterpart Roger Waters released his first official solo album The Pros and Cons of Hitch Hiking.
Miscellaneous Information
The album was recorded in France with engineer Andrew Jackson at a time when Pink Floyd's future was uncertain. The album was mixed by James Guthrie at Mayfair Studios in London.
Some of the musicians helping Gilmour out were Jeff Porcaro, Pino Palladino, Deep Purple keyboardist Jon Lord, Roy Harper, Michael Kamen (who also worked on Waters' album The Pros and Cons of Hitch Hiking), Sam Brown and Steve Winwood.
Gilmour on the In the Studio with Redbeard episode spotlighting his 2006 solo effort On an Island commented on About Face saying, "Looking back on it, it has some great moments on there but the whole flavour of it is too '80s for my current tastes."
The album featured the disco-style single "Blue Light" (later remixed by François Kevorkian and which was often voted as worst Floyd solo song according to the Floyd fanzine The Amazing Pudding) and another single, "Love on the Air". "All Lovers Are Deranged" and "Murder" were released as singles for North American rock radio and hit numbers 10 and 11 respectively on Billboard's Mainstream Rock Charts.
The album reached #21 in the UK and #32 in the U.S. and was certified Gold by the RIAA.
About Face was re-released by EMI Records in Europe as a digitally remastered CD on August 14, 2006. Legacy Recordings/Columbia Records released the remastered CD in the US and Canada on September 12, 2006.
External Links