1987 – Pink Floyd – A Momentary Lapse of Reason
Links – Rate Album and Discuss |
---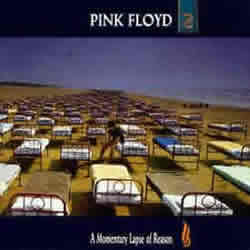 Check Current Prices Below!


Track Listing:
01. Signs Of Life
02. Learning To Fly
03. The Dogs Of War
04. One Slip
05. On The Turning Away
06. Yet Another Movie
07. Round And Around
08. A New Machine (Part 1)
09. Terminal Frost
10. A New Machine (Part 2)
11. Sorrow
Rate Album and Discuss
A Momentary Lapse of Reason is Pink Floyd's 1987 album, the band's first release after the departure of Roger Waters from the band in 1985. The album reached #3 on both the U.S. and UK charts. It was released in the UK and the rest of Europe on EMI and on Columbia Records for the rest of the world.
Miscellaneous Information
After Roger Waters had declared Pink Floyd ended in 1985, David Gilmour attempted to continue the band together with Nick Mason. A bitter dispute with Waters ensued, but Gilmour and Mason eventually settled out of court for the legal right to continue using the name Pink Floyd. In exchange, Waters dissolved his former management partnership with Steve O'Rourke and gained exclusive rights to some traditional Pink Floyd imagery, including the original flying pig design, almost all of The Wall concept and everything to do with The Final Cut. Richard Wright re-joined the band during the recording sessions for this album, but only as a salaried session musician.
The recording sessions started in October 1986 as a new David Gilmour project. Gilmour revealed on the Shine On and A Momentary Lapse of Reason episodes of In the Studio with Redbeard that it was almost his third solo album as the material initially sounded too weak to be a Pink Floyd album. He then went on to say that by Christmas of 1986 that he had enough confidence to turn the album into a Pink Floyd project.
The music press responded with mostly negative reviews of the album (though Rolling Stone claimed it portended "a Floyd with a future"), despite its heavy airplay rotation on video and radio music stations. Many fans regard this album a David Gilmour effort, rather than an actual Pink Floyd album. The allmusic review refers to it as a "Gilmour solo album in all but name". Waters himself described it as "a pretty fair forgery or a good copy" of a Pink Floyd record; his most generous appraisal was that the album contained "a few bright moments when I heard something and thought, 'Well, maybe I'd have done something with that'." But Waters also commented that to him, Pink Floyd no longer existed.
Recording The Album
The album was performed largely by David Gilmour and several session musicians. The most famous of these was Tony Levin (of Peter Gabriel and King Crimson fame), who played bass on most of the tracks. Nick Mason felt he was out of practice on drums, and thus many of the percussion parts were either programmed or delegated to others. For example, Carmine Appice played drums on "The Dogs of War" while Jim Keltner played on "On the Turning Away" and "One Slip". The drum machine, used on "Sorrow", was programmed by Gilmour.
Session keyboardist Jon Carin, whom Gilmour met and played with in Bryan Ferry's band at Live Aid, went on to collaborate with both Pink Floyd and Roger Waters on subsequent albums and tours. Pink Floyd's original keyboardist Richard Wright arrived during the sessions, but did not officially rejoin the band due to concerns about his severance contract with Waters (the initial album lists Pink Floyd as consisting of only Gilmour and Mason; however, later re-releases add his name). Wright can be heard playing on a few tracks, notably "Sorrow", which features his background vocals. Most other keyboard parts on the album were played by Carin, Gilmour or Ezrin.
The recording heard in the middle of "Learning to Fly" is of Mason talking to an air traffic control tower in his private aircraft (both he and Gilmour became enthusiastic pilots after conquering their mutual fear of flying).
A Momentary Lapse of Reason is Pink Floyd's first fully digital recording; however, the acoustic drums and bass guitar tracks were recorded on analogue equipment.
Album Cover Artwork
The cover shows 700 hospital beds placed on Saunton Sands, Devon. This effect was not achieved with trick photography; a team actually hauled the wrought iron beds over three hours from London to Devon and arranged them as seen on the finished design. When the team realised that the shoot would take more than one day, a single bed was left on the beach to see if the sea would have any effect on it over night. When they returned the following morning, the bed was nowhere to be found. Long-time Pink Floyd collaborator Storm Thorgerson produced the artwork.
The official Storm Thorgerson website actually covers a version of this story:
"700, yes 700, wrought iron hospital beds separately made up and positioned on the beach. Madness to do it at all, but we had in fact to do it twice cos it rained suddenly the first time, dank grey dizzle, and we couldn't see the distant half of the beds."
This was the first Pink Floyd studio album since Animals to feature his work (not counting a design for the compilation album A Collection of Great Dance Songs in 1981).
Inside the gatefold sleeve was a portrait of David Gilmour and Nick Mason, the first time that the members of Pink Floyd had been pictured on an album cover since 1971's Meddle (not counting a poster of the band members on stage that came with vinyl copies of The Dark Side of the Moon in 1973)
The vinyl copies had two picture labels. Side one depicted a black and white photo of a man rowing his boat. Side two depicted the beds from the front cover on a beach with the dogs of war running whilst a man is sitting on a bed and a female maid is standing up.
If you look closely, there is a person flying a Hang Glider, probably a reference to Learning to Fly.
External Links