2002 – Roger Waters – Flickering Flame: The Solo Years Volume 1
Links – Rate Album and Discuss |
---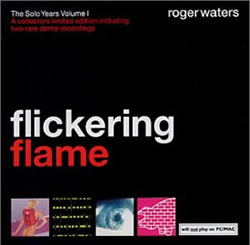 Check Current Prices Below!


Track Listing:
01. Knockin' on Heaven's Door
02. Too Much Rope
03. The Tide Is Turning
04. Perfect Sense part I & II
05. Three Wishes
06. 5.06 AM (Every Stranger's Eyes)
07. Who Needs Information
08. Each Small Candle
09. Flickering Flame [new demo]
10. Towers of Faith
11. Radio Waves
12. Lost Boys Calling [original demo]
Rate Album and Discuss
Flickering Flame: The Solo Years Volume 1 is a compilation album of former Pink Floyd member Roger Waters' solo material, released in 2002 . It has never been released in North America.
Miscellaneous Information
It was released in many countries on a copy protected optical disc, thereby failing to comply with the CD standard and not entitled to use the CD logo. Such editions bore the legend "will not play on PC/MAC". In other countries (including Argentina), the album was released on a true CD. The disk bore the CD logo, and the cover art did not have the warning indicating that it could not be played on a computer.
External Links