2006 – David Gilmour – On An Island
Links – Rate Album and Discuss |
---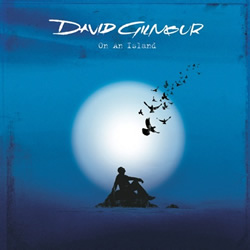 Check Current Prices Below!


Track Listing:
01. Castellorizion
02. On An Island
03. The Blue
04. Take A Breath
05. Red Sky At Night
06. This Heaven
07. Then I Close My Eyes
08. Smile
09. A Pocket Full of Stones
10. Where We Start
Rate Album and Discuss
On an Island is the third solo album by David Gilmour, best known as a lead vocalist and guitarist for Pink Floyd. It was released in the United Kingdom on 6 March 2006, Gilmour's 60th birthday, and in the U.S. the following day. It is Gilmour's first new solo album in 22 years. The song "Castellorizon" received a Grammy Award nomination for best rock instrumental.
The album has achieved platinum status in Canada, selling over 100,000 copies in the first month of its release, and sold over 1,5 million copies worldwide.
Miscellaneous Information
Notable appearances include Robert Wyatt, Jools Holland, Georgie Fame, David Crosby and Graham Nash, as well as original Pink Floyd member Richard Wright and a member of an early incarnation of Pink Floyd, Bob Klose. Guy Pratt, who has done studio work and toured with Pink Floyd, also appears. Chris Thomas and Roxy Music's Phil Manzanera assisted with production.
Much of the album was recorded in Gilmour's private studio aboard his houseboat Astoria. The track "Smile" was heard briefly in an unmastered form on the BBC2 show Three Men In A Boat which retraced a trip on the River Thames that passed the houseboat.
Orchestrations on the album were arranged by noted Polish film composer Zbigniew Preisner and conducted by Robert Ziegler
David Gilmour's page on myspace.com features a single edit of the title track for his new album and is available for all to listen to. Single edits of "Take A Breath" and "This Heaven" were issued to coincide with the U.S. leg of the tour, while "Smile" was the second single in the UK.
Copies of the album initially purchased from Best Buy in the U.S. contained an exclusive bonus audio CD with the instrumental track Island Jam which was subsequently released on the CD single for "Smile" in Europe.
On an Island entered the UK charts at #1, giving Gilmour his first ever chart-topping album outside of Pink Floyd. It reached #1 on the European Chart, and #2 in Canada, Portugal and Iceland. It has also provided Gilmour with his first U.S. Top 10 album, reaching #6. The album has achieved platinum status in Canada and has sold over 1,000,000 copies worldwide.
The album also produced two minorly successful singles; the title track 'On an Island' and 'Smile, both peaking at #72 on the UK singles charts and with 'On an Island' peaking at #29 on the US mainstream rock charts.
The album was re-released in November 2006 with a bonus DVD of Gilmour's performances of "On an Island", "This Heaven", "Smile", "Take a Breath", "High Hopes" and "Comfortably Numb" from AOL's Music Sessions filmed in New York in April 2006 plus a performance of "Astronomy Domine" filmed at Abbey Road Studios in August, 2006 and a performance of "Take a Breath" from Gilmour's DVD, Remember that Night filmed at The Royal Albert Hall in May of 2006.
External Links