Album As Art BBC R2 Doc Feat. David Gilmour
Links – BBC Album As Art Documentary Page – Discuss on NPF Forum
---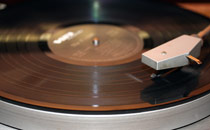 BBC Radio 2 are to air a documentary as part of their Album Season called The Album As Art. The hour long broadcast will feature contributions from Pete Townshend, David Gilmour and David Bowie. It will be broadcast between 10:30pm and 11:30pm on Tuesday 16th December 2008.
The BBC describe the documentary as an exploration into how the long-playing album (LP) became a work of art in its own right. Concentrating on how the music, cover art, lyrics, liner notes and packaging combine to delight generations of rock fans.
You can listen to the broadcast by the usual means. Digital Audio Broadcast, FM in the UK, on Sky TV, cable as well as streaming from the Radio Two website for everyone else around the world by clicking on the listen live link. Certainly one to tune in for!
Source – [ BBC R2 ]