An Interview With The Nice's Davy O'List By Keith Jordan & Davy O'List
Davy O'List formerly from the band The Nice (with ELP keyboardist Keith Emerson) and The Attack is a man of many talents and has worked with some great people throughout his career. Whilst on tour with The Nice as part of the Jimi Hendrix Experience Tour between November and December 1967, Davy helped out with lead guitar for The Pink Floyd when Syd Barrett was unable to play due to drugs, symptoms of schizophrenia and perhaps his "no rules" attitude to life! Shortly after in January 1968, David Gilmour joined Pink Floyd.
Davy has been kind enough to do an interview with NPF about his past and his future.  He is currently working on his new bands self-titled album "Second Thoughts" (as of 2006). Grab yourself a coffee and enjoy the trip!
———————————————————
1. The Attack was a short-lived yet very interesting outfit deriving from the sixties psychedelic experiment. Do tell us about that time and how The Attack got together again a couple of years ago.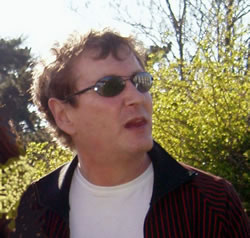 Davy O'List from The Nice
I was a fan of exciting TV serials such as Robin Hood, William Tell, and Dr. Who. I named the group The Attack, as I wanted the band to have an exciting action concept like the TV serials. The name described the music too, as it was full of "attack."
There were two sides to the music. One was a commercial pop side to help us into the pop charts, which is why we released Try It and Hi Ho Silver Lining under the guidance of my manager Don Arden who managed The Small Faces and The Move. He wanted us to become the next teenybopper sensation after The Small Faces.
The other side of the group's music was down to me wanting to produce something new, creative and original that would hopefully catch on being different from the current pop in the U.K. charts, and it did catch on. The new generation of pop music fans like me wanted something else so I gave it to them. Everybody felt we had something new we could call our own we were not to be governed by American music we had our own British sound. Although we liked the Tamla and Stax records from the United States we preferred The Who. The new sound I produced was a fusion of these sounds so you could have everything on one plate with blues guitar and original composition by myself.
I took The Attack theme of action and fusion into The Nice when I formed an alternative group directing use of knives, swords, whips, and other special effects. But I needed to go up a level by adding a further fusion, classical music, and jazz, to go with the first fusion, as that had worked wonders for me.
I have taken this fusion concept up in further levels with [my current project] Second Thoughts. I have focused on stepping up the classical and jazz-fusions to a more advanced level, in line with modern progression, and fused new digital technology, polyphonic synthesizers and midi enhanced equipment into the new Second Thoughts sound producing yet another new sound for rock music.
Going back to The Attack, the other side of The Attack's music, my fusion, remains popular. The B-side of The Attack's first single called We Don't Know, which I wrote, was re-released in 2002-4 on Universal Music and became a radio hit in Japan and sold very well on a compilation box set that featured among others James Brown, George Fame and The Who. Anymore Than I Do from the second single had always been The Attack song to get the limelight. John Peel had used it as his radio programme signature tune; my guitar playing on it had won me an offer from John Mayall's Blues Breakers to replace Peter Green after Eric Clapton. So due to the current success of We Don't Know, which is still being played on Japanese radio 2006, I thought it would be a good idea to write a sequel and wrote And We Still Don't Know. To be featured on the new Progressive Rock/Psychedelic chronological record featuring me with previous unreleased tracks (1967-2004) to be released before Second Thoughts.
And We Still Don't Know is a joke comment really on the Attack's We Don't Know, because in the beginning we don't know much about anything, being only seventeen and green, if you listen to the song. "We don't know about the H-bomb, we don't know about sex, we don't know what's going on, you say we're in a mess, we don't know." Maybe that's why the Japanese like it because we don't know about the H-bomb, as we were born much later, so we don't think like governments, politicians, etc. Maybe that's why they like it so much. I don't know, but I think I'm right, ha, ha.
So now we still don't know, ha, ha! – And We Still Don't Know. You should buy it when it comes out next year on Charly Records, and find out why we still don't know what is going on.
At the same time I wrote two other songs, which created a triptych Feel This Way and Anyway You Choose. The music fusion I use on these songs is an updated version of The Attack sound I invented. I wanted the new music to suit who The Attack starred with, on so many albums; James Brown, Tom Jones, The Supremes, etc. Having recorded these songs and mixed them at my studio they sounded good so I organized some concerts.
I was using The Attack name for a brief spell as a publicity splash to promote my new career. I was working on using some of The Nice repertoire to include in the show too, as tracks like America are still very popular. Then I got some TV promotional work with Carl Palmer from the legendary ELP, which nicely fitted in with my plan of action. My new recordings went down very well with the promoters and on TV and radio so I thought about releasing them. Then I was booked for the Stazione Birre Club in Rome November 2004 and performed America from The Nice as well as And We Still Don't Know. SKY TV televised all this; they included an interview about my friendship with Jimi Hendrix and how I got The Nice on his tour, which broke the group into stardom.
The Italian audience loved it. I will always remember them. I even made them laugh very loudly. I'm glad they liked my microphone comedy. I was flattered when the owner of the club said he wanted me back with my new group Second Thoughts. I think the Italian audience will love Second Thoughts. I have researched a lot on what they would really like to hear from me, the new fusion would go down well with them I'm sure. Then a miracle happened and I got a great deal to release And We Still Don't Know, Feel This Way, Anyway You Choose, on Charly Records. The CD I produced also contains three gems by The Nice and two from Roxy Music never released before, as well as three long television themes of solo rock-psychedelic electric guitar music instrumentals with bass and drums, which I made for ITV in England in 2002; expected to be released on Charly Records 2007. Get's very Floydy on the solo guitar tracks with echoes and is good promotion for the Second Thoughts album.
I re-mastered The Nice and Roxy Music tracks at my studio from original BBC Radio sessions, 1967-71. The Nice tracks contain a Byrd's song called Get To You. I met up with David Crosby from The Byrds after The Nice played the Whisky Ago Go in LA; he tried to prize me away to join his new band, which eventually became Crosby Stills and Nash. So in that year I was given two offers in one month, one from The Pink Floyd, and the other from David Crosby of Crosby Stills and Nash. But I could not take them because of The Nice. On hindsight I should have taken them, don't you think, but I have no regrets.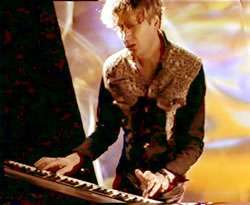 The Byrds had very big hits with Hey Mr. Tambourine Man and Eight Miles High. I rearranged and re-wrote their song Get To You and changed the key signature to 5/4 and added some comic music special effects in the middle section, which sounds like psychedelic fair ground music. Having met Dave Crosby I intended to release Get To You as the next single after America but The Nice split up. I'm sure it would have been a monster hit if it had been released then, probably bigger than America, as I was crossing back over to the young teenybopper audiences where I began, who made me a pop star with The Thoughts of EmerList DavJak. But we have Second Thoughts now.
In addition, there is a psychedelic track from The Nice called Aries, which Keith Emerson is narrating/semi-singing along. It is the only recording of Keith sort of singing lead vocals, so it is a prize track. The third track I am still considering to include is Art the original song I wrote that became Ars Longa Vita Brevis. It is the only surviving recording of this song with me playing guitar and singing.
The two Roxy Music tracks are gems and sound very rock progressive with interesting sections between Eno on the synthesizer and Andy on the Alto saxophone and me on the lead guitar, cross combining and duets with each other, the newest thing at that time in Rock. This is the first time these Roxy tracks have ever been released. They were recorded for the late John Peel. Any Roxy and progressive rock fan will love them. Andy and I combine like this sometimes on the Second Thoughts album. You've got to hear this.
2. How are you associated with Jimi Hendrix? Had you the pleasure of working with him?
I first saw Jimi at The Black Sheep club in London it was his first appearance in Europe. I knew Eric Clapton and Pete Townsend would want to know who this was, as they were regarded as top in the world. But then here's Jimi Hendrix! The world was going to change. It did, because soon after I formed The Nice. My musical directions for Keith was for him to follow what Pete Townsend and Jimi Hendrix were doing and applying that to the Hammond organ; swinging arms, feedback, distortion, wild flare, etc., which he did for me. I knew organists had never been seen like this before. I knew it would work on the audiences. We were more like a circus act, so different for the audiences to look at. They were startled! This idea was so new to rock and caught a lot of attention from press, record companies, audiences, etc., that's why Jimi Hendrix loved us; the whips, the flying doves I put into the audience, the smoke bombs, the guitar and organ exploding together, the theatric costumes I designed.
I knew the owners of The Marquee Club in London and managed to get The Nice some dates at the club. They gave us our own night, which was nice, I remember saying to them, and it was my job to attract as many people as I could, so we could have another date. I invited all my friends and family and with those that came along to the club anyway it came to about fifty people, which was not bad for a Monday night at The Marquee in those days. As long as the Marquee covered their costs for opening on a Monday night they were happy and new groups had to given a chance to prove themselves at the right venues.
My friend Jack the manager at The Marquee was glad to help me. He had enjoyed me and The Attack previously when we played there, which was why I was able to get work for The Nice at The Marquee. That's how The Nice took-off, getting work through my reputation; John Peel, Jack Barry the manager of The Marquee, The Small Faces, The Move, had all been associated with me.
The club was very pleased after the first night we played and were impressed by the music, they liked my arrangement of Rondo very much, and so they gave me another space straight away. My friend Chris Welch who wrote for the Melody Maker had begun putting little bits about me every week in his column, which was called The Raver, he wrote comic reports about me; I was nicknamed Dave the Rave. The bits would go something like this, Dave the Rave was seen raving to Jimi Hendrix this week at the Black Sheep, ha, ha! So these pieces kept on appearing and obviously the readers began to get interested in who I was. So when something was written saying, Dave the Rave with his new group The Nice is at The Marquee this week, the second appearance at the Marquee began to fill up to one hundred people! The third time was even better and it kept on improving, the music, the stage act, and the audience attendances. This kept on happening until we broke The Marquee box office record previously held by The Who. Then we broke our own box office record again!
After the third time I went to see the Rolling Stones Manager about a contract, as I was certain we were going to happen very big. Their manager wanted Mick Jagger to produce us. But it turned out he was too busy with The Stones so I took over the production, which is really what I wanted to do anyway because only I knew how my ideas should sound. I wouldn't have minded joining the Rolling Stones. I thought Mick was going to ask me to join him after he came to a rehearsal to see me play but I think he politely skipped it as he could see something was going to get off the ground with The Nice and did not want to spoil it. So I still practice Rolling Stones songs just I case.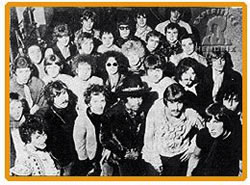 Pictured backstage at the Royal Albert Hall in 1967 on Jimi Hendrix Experience's Second Tour.
The Marquee was so pleased they had found a new hit, crowd-pulling group they asked The Nice to support Jimi Hendrix at The Marquee. They thought we would compliment the excitement of Jimi Hendrix's music. We did. After we finished our set I was walking off the stage and Jimi was waiting for me in the wings. He looked very happy and pleased to see me. He congratulated me on my performance. He thought it was all very exciting and loved it and was glad we were playing with him. Then he asked me if I would like to be on his new UK tour coming up soon. Of course, I said yes straight away and then the arrangements were made with his agent for The Nice to tour with him. So it was the greatest pleasure of my life. The greatest event which ever happened to me, I had finally found success. I had given birth to a new super group, like The Stones or The Beatles. So I want to do it again with new band Second Thoughts.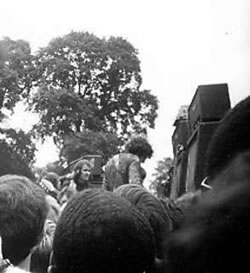 Davy O'List playing the first Free Rock Festival in the world – Hyde Park 1967
After the tour we went straight to America. As I had got us on the Jimi Hendrix tour Andrew Oldham, The Rolling Stones and The Nice manager, wanted us to break in America, too. He had put us on a tour of Denmark and Sweden before the Jimi Hendrix tour to make us even better live and so the album recorded well.
When we got back from America I ran into Jimi again at another club in London and he asked me if he could borrow my guitar but unfortunately I did not have it with me. We met several times after that in other clubs in London and he would come straight up to me to say hello, how are you doing.
He invited me to see the recording of Electric Ladyland, and I saw him record the bass guitar on it as well. Then I was his guest at the Olympia Exhibition, a gigantic exhibition centre in London, where he was playing a large concert. I went up to the dressing room where he was practicing his guitar and said hello Jimi. He was one of the nicest people I had ever met. He was so kind and thoughtful and genuine. People in the dressing room were looking at him as if he were a god. He showed me some new work of his and played me a blues. I will always remember it. He wanted to share it with me. He was my favorite close friend. Sometimes on the tour we would share dressing rooms. He treated me like one of his group. "I was halfway to heaven," which is now the forth movement from my new symphony number one, on the Second Thoughts album.
The inclusion of The Nice on the Jimi Hendrix tour broke the group into stardom, no doubt about it. The Thoughts of EmerList DavJak single went straight up into the singles Top Thirty, we were offered lots of work and made many, many new friends. But it was the girls who came to the tour that really put me in the charts and put the band in the international limelight. I remember them vividly. They were screaming at me every night. I could sort of control them and their screams because when I came to quite passages I nodded to them to calm down and when the forte sections happened I said come on, and it was deafening screaming again, what a wonderful mind blowing experience. I was also happy to play with Buddy Miles and Noel Redding at The Speakeasy club one night after the America tour and Mitch Mitchell once got up to play Rondo with The Nice at the Marquee so I knew all Jimi's group really pretty well.
3. You've past through and have played an important role in the creation and producing of several important bands during the past 40 years. Which of these experiences was the most significant for you and your very widespread career?
The Nice was the most important creation and production I made but Second Thoughts are even more important to me now.
4. How did you team up with Pink Floyd?
A new book published by a major international publisher will be released during 2007 written by a main writer for Mojo magazine, which has interviews with all the Pink Floyd, including me. I go into great detail about when I played for them as replacement for Syd Barrett, my feelings, and ambition to join them but The Nice was taking me away to the USA at the time, which was a shame, as I was likely to replace him. In the book I mention Second Thoughts; my association with Pink Floyd music, how that has stayed with me, how that relates to my music now and my new collaboration with Andy Tillison, which should go down well round the world, increasing sales for Second Thoughts.
After I returned from America with The Nice, The Pink Floyd often come to see me play at The Marquee and came to see me play at the ICA Gallery in London where we were hosting a modern sculpture show with the theme of spaces inside large abstract objects. You could walk inside them. At the ICA Gallery gig they were all there except for Syd. They stood at the side of the stage so when I came off they were there to greet me. We only said a quick hello as I came off, they seemed like they wanted to talk to me and had come there specially to do that but I could not hang around to talk to them as Blinky Davison whisked me off into the dressing room seeing they were there on business and was protecting his business I suppose by whisking me away in case the inevitable happened. I felt a bit flustered by him as he rushed me away into the dressing room but being so young I just excepted I had to obey him, pity because that was the time they were thinking of me to join permanently. I wish I had been a couple of years older then I would have had a different future.
My sister Suzie was studio manageress for the Pink Floyd Studio Britannia Row. She would mainly deal with Nick as he was dealing mostly with the business side of running the studio. The others hardly came there as other artists had it booked solid. I was working with my sister Suzie at Sarm Studios, which she also managed. I assisted there and ran the Dave's Caf in 1976. One day Nick came in to produce an artist and we said hello. I made him some tea and sandwiches. Obviously his studio was fully booked so he had to come to Sarm.
5. Can you remember how many times you stood in for Syd on the Jimi Hendrix Experience Tour of 1967?
It was once but I was on stand by for the next show at the next city, as they did not know if Syd was going to come back. But he did and he looked embarrassed when he saw me back stage they must have told him about me. I think this actually motivated him to continue because his next performance was good as usual.
6. You've been compared to Syd Barrett, a definitely exceptional and mystical personage of the sixties British psychedelic scene. Why this comparison?
I don't know. I was classically trained Syd was not. But it is very nice of you to say so I'm flattered, thank you. I was the lead guitarist for Pink Floyd [for a short while] and could have been the new lead vocalist and writer, too; perhaps this is what is meant.
I was very struck by Syd's technique. His simple, sharp, punchy style was so different from anybody else's. I watched every performance either from the audience in the high circle away from the screamers so I could hear them properly or from the side of the stage where I could hear them very well. They noticed that I was interested in their music as they saw me standing there. I began to feel part of them and they part of me because they liked my music with The Nice.
I learnt the songs and Syd's parts from off stage so when they asked me to play I was full of confidence, as I knew it well. They asked me what I would like to play and I said Interstellar Overdrive, as this was my favorite guitar riff of Syd's. I loved Syd Barrett's use of echo and was lucky enough to use his echo setup and the large orange WEM speakers and amplifiers on the Jimi Hendrix/Pink Floyd tour of 1967 when I stepped in for him.
The light show guys were stunning combining liquid light show with cinema film projected on the back screen behind the group. Set the Controls to the Heart of The Sun was just astonishing. A giant sun began to spin around as the music progressed and it drew you in to the core of the sun so you felt and became part of the sun. It was very exciting. The light show guys dressed up smartly in white jump suits. It was all so professionally done there was nothing else like it around. I was very impressed and grateful to have the chance to actually be their lead player. They allowed me a lot of room to get on top of all the instruments and music, when I played a lot of stuff and a flurry of notes, which I added to the music that was not there before, they would nod at me to go on, go further, be incredible. Nick was driving me onward with his drums as Roger smiled proudly from the other side of the stage at me very happy that I had come on and taken the group one level higher than before, as I was a more experienced lead guitarist in comparison to Syd's mainly rhythm playing, which is why they wanted me on to play with them. They enjoyed the change very much to play with an actual lead guitarist. They were very happy and pleased with me as they stood around me after the curtain closed with the girls going wild about it with deafening screams. That was my first taste of being an idol. I knew what it felt like now and I was hungry for more.
I very much like David Gilmore's guitar style, too. He is one of my favorites. He is so relaxed on every thing and you can hear each note, passage, and chord he plays perfectly. He does not over crowd his approach so it is simple and easy to understand for everybody.
7. Your psychedelic-blues sound was a great contribution to The Nice's music. You left The Nice prior to their rising success. Any regrets?
I don't have any regrets at all. Everything I set out to do I achieved, I got the record contract I needed, had commercial single successes in the charts and have an evergreen album, which stills sells well today to my credit. Actually The Nice had reached the pinnacle of their success all over the world by the time America was a hit in the charts so I don't think I missed anything.
I have a new version of The Grand March from Aida in recording. I was in two classical orchestras before I formed The Nice, the Royal College of Music, and the London Junior Symphony Orchestra. I was their trumpet player. That's where the entire classical theme content came from for The Nice. I left the orchestras with the intention of forming my own orchestra but with rock musicians, which became The Nice. I was the first on the scene with this idea and sound. The only comparison could have been The Beatles and Pink Floyd but I wanted more lead instrumental structure and virtuoso instrumental performances.
I have been playing electric trumpet recently on tour during Azriel 2005-6, the B-side of The Thoughts of EmerList DavJak. I use some secret weapons to affect it. My electric trumpet is featured on the new album. Pictures in Exhibition was my trumpet exhibition piece for the Royal College of Music, which won me a place at the college. I told Keith I was planning to use it one day with an orchestra, after a new single came out called Get To You the single I planned after America that I would sing, as I had a singing hit with The Thoughts of EmerList DavJak and would try to top that with another chart hit.
8. Bryan Ferry contacted you, by way of an ad you placed in Melody Maker, to collaborate with Roxy Music. Was it common in those days for talented musicians as you to place ads in important music magazines?
There were hardly any talented rock musicians about then. So it was very difficult to find musicians of the caliber who could keep up with me. The Nice had become so advanced everyone was following The Nice musical direction set up by me. There were only a handful of groups around so I had to try every thing I could. The musicians' advertisement in the Melody Maker seemed to work. Why not read my interview here and find out more about the amazing facts behind the formation of Roxy Music. I had several top ten chart hits with them.
9. Davy, you are a musician, producer, arranger, and filmmaker. Which of these careers were you enhancing during the gap between The Nice and Roxy Music?
I was writing a new album and made a new film with Eric Clapton called Supershow, which was recently released on a DVD called Supershow.
10. You've encountered and worked with so many talented and interesting musicians throughout these years. Have you ever crossed paths with any of the Fab Four?
Yes, I had dinner one night with The Beatles at the Speakeasy Club in London and John Lennon joked with me and sung and danced on top of the dinner table. I became good friends of George Harrison's chauffeur; we would often meet up for dinner. I remember chatting with him about the Beatles Rolls Royce, which was hand painted in psychedelic patterns. My sister's boyfriend was the tour mix engineer for Wings in the 80's. I still believe Sergeant Pepper is one of the best rock albums ever made. Halfway to Heaven from Second Thoughts first album pays some tribute to their mastery of melody, lyric, and revolutionary sounds, but not too much so to retain the originality of my composition. You should hear it, and buy it.
I was told Paul Mccartney was in the audience to see The Nice one night at The Marquee. I know Davy Bowie came down too because I saw him in the bar wearing a very big blond fuzz cut like Hendrix. Pete Townsend also came to see me at the UFO club in Covent Garden London. We were head lining. A liquid light show was moving over our figures while in front of the stage two nude women performed a pretend wrestling match in a wrestling ring filled with mud. They were covered in mud; it was a very weird evening. The light show was very Floyd. The Floyd had made the place popular before so I had an advantage and went full throttle as I had played with the Floyd on tour but with The Nice. Keith Emerson [The Nice's keyboard player] was into it and would compliment my Floydian licks, one of the reasons I think Nick used to come so often to see me play.
11. Tell us about your most rewarding project.
Making a new revolutionary rock sound for [my new band] Second Thoughts.
12. You've touched so many sides of the music industry: Which of these most suits the true Davy O'List?
Being extreme and revolutionary with my art and producing Second Thoughts.
13. 'Second Thoughts': your upcoming album and also your current group. Would you like to tell us more?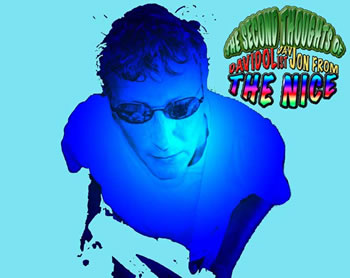 The Second Thoughts of David O'List
Second Thoughts is a parody of The Thoughts of EmerList DavJak and The Nice. The Second Thoughts album is a symphony in four long movements with two other related songs. The combination sound of Andy Tillison and I is a bit like Jimi Hendrix meets Keith Emerson. But we hope you think it's more modern than that. InsideOut Music thinks it has great vintage sounds, good organ, and a strong composition. Second Thoughts is also the name of the First Movement from the Coral Symphony, which is what I call the symphony. Coral is a nice ambiguous word. I use it mainly in connection with the American meaning of it, a farm. The entire symphony is based on a rural theme of open countryside. Some of the music and lyrics are inspired by my travels, some inspired by Andy's studio setting in France, which has to be seen to be believed, and some by classical composers, such as Robert Schumann.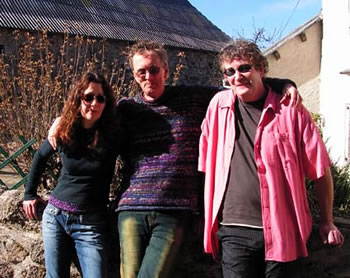 Second Thoughts – Sam Baine, Andy Tillison and Davy O'List
I'm glad to be recording the Coral Symphony, with Andy in the South of France, as it has a completely rural setting, which is needed to record the piece. There is hardly a person around, mile after mile after mile after mile, just a few animals. The area is like a magical country on its own with its own mountains and castles, but there is nobody there except for Andy, Sam, and me and this is very inspiring and sometimes very funny, too. I'm sure the audience will pick up from the setting it is recorded in, that's important. In addition, the album combines concepts of science fiction, mysticism, and fairy tale but based within a realistic framework. The audience will hear the music on a mixture of levels at different times they listen to the album. New sounds will come up each time you hear it that you had not heard before. The production ensures to create an "evergreen affect" similar to The Thoughts of EmerList DavJak, so it will or could be played and played and played and sold and sold forever, why not.
I have now been asked to produce a new DVD for Charly Records, which contains never before released footage of The Nice live and myself performing America in Rome 2004, for SKY TV. The DVD contains an interview with SKY about The Nice and how I got the Jimi Hendrix tour spot, which broke the group into stardom. There is some additional footage of interviews and commentary, which help to bind the performances together. One of the performances was filmed in Rome 1968 with The Pink Floyd and you can see me playing America in Rome 2004.
The new CD and DVD releases on Charly Records will augment and increase sales for Second Thoughts albums and should enhance and provide bigger audiences for the second album by Second Thoughts, the Italian Symphony, too. The second symphony will ensure to charm Italian audiences. I wrote it in Italy during May 2006. Second Thoughts are an on-going group with a great future and are not going to go away.
I am producing a long series of albums for Second Thoughts that follow on from each other in sequence and in harmony, like a series of linking symphonies. Rock group masters have never done this before; only classical composer masters have with their symphonies. This is the new concept I have invented for rock music and rock audiences.
There are other things going on too, including a new European tour in 2007 that I am organizing that will boost sales for Second Thoughts albums. A Rome concert is hopefully confirmed and I would like to play Milan and other Italian cities if we can, too. We really look forward to the release of the Second Thoughts first album and getting on the road. My best regards to everyone in the world, "we love you," hope to see you soon, peace.