Aubrey Powell of Hipgnosis in Rare US Appearance Book Signing
Links – pictureboxinc.com
---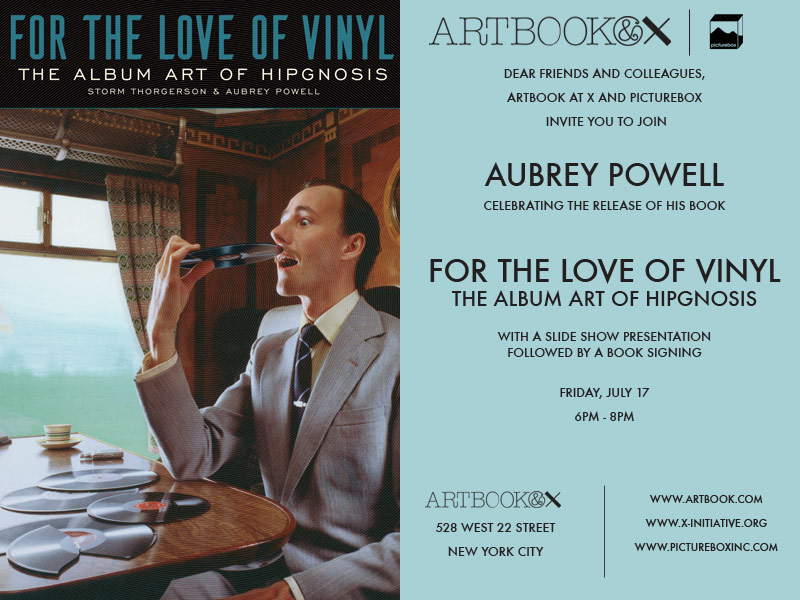 Designer/photographer/filmmaker Aubrey (Hipgnosis) Powell is making a rare U.S. appearance in celebration of the release of For the Love of
Vinyl: The Album Art of Hipgnosis (PictureBox).
Artbook at X and PictureBox invite you to join AUBREY POWELL for an event in honor of FOR THE LOVE OF VINYL: The Album Art of Hipgnosis with a slide show presentation followed by a book signing.
FRIDAY JULY 17 6 PM – 8 PM
ARTBOOK AT X
548 West 22nd Street
New York City
About HIPGNOSIS and FOR THE LOVE OF VINYL
Formed in 1968, Hipgnosis was the biggest and best design firm for the biggest and best bands of the classic rock era, creating iconic imagery for the likes of Pink Floyd, Led Zeppelin, Genesis, 10cc, Yes, Peter Gabriel, Black Sabbath, Paul McCartney, Syd Barrett and Styx, among others.
For the Love of Vinyl is the first book to document their output in detail, focusing on over 60 package designs – from cover to label – written about in entertaining detail by the men who created them.
Source – [ Dan at pictureboxinc.com ]