Big Pink Floyd Survey – Part 2 – Concerts
The Big Pink Floyd Survey 2009 – | Part 1 – Age, Gender, Location | Part 2 – Concerts | Part 3 – Favourite Era, Member and Best Musician of Pink Floyd | Part 4: Favourite Songs and Fan Self-Ratings | Part 5: The Albums of Pink Floyd: Rated & Recommendations
a
---
Links – Download PDF of statistics for this section | Before they were Floyd article | Pink Floyd Discography | Pink Floyd Concert Dates
---
Part 2 – Seen Live: Pink Floyd and Cover Bands
Given the age of Pink Floyd fans as shown by part one of the survey, not a great percentage have had the chance to see all the best bits live.  Indeed, only 52% of Pink Floyd fans have actually seen the band on stage!  As you can see from the chart below, a greater percentage of the younger people have only had the chance to see a Pink Floyd cover band.  The excellent chaps from the Australian Pink Floyd have been doing a good job!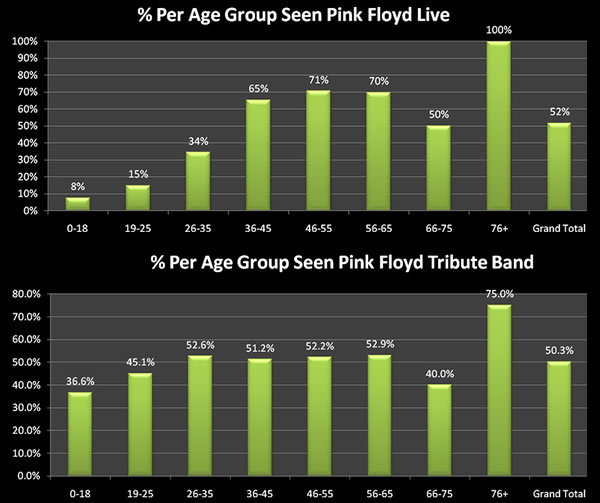 What They Could Have Seen

0-18 Year Olds
If you fall into this age band, which was born between 1991 and 2009, then you would at most have been 3 years old when The Division Bell was released in 1994 and toured around the world.  As 8% of people this age have seen the band live, a lot of those must have been fortunate enough to watch them during Live 8 back on 2nd July 2005.  Either that or daddy (more likely than mum as men account for 89% of fans!) must have taken the baby along to see Mr Gilmour and band on The Division Bell tour!
36.6% of the 0-18 age band has seen a Pink Floyd tribute band live.  This seems very reasonable.  The young ones were born in the wrong decade!
19-25 Year Olds
This age band was born between 1984 and 1990.   A Momentary Lapse of Reason came out in 1987 after Roger Waters had left the band expecting the others to go their own separate ways.  What a surprise old Rog had! Later on in the survey, we will see what fans think of this album in particular!
15% of this age band has seen Pink Floyd live compared to 45.1% for a Pink Floyd tribute band.
26-35 Year Olds
This age band was born between 1974 and 1983.  During this time, Wish You Were Here (1975), Animals (1977), The Wall (1979) and The Final Cut (1983) were released.  If you attended one of the Wall Concerts, then you would have been at most 5 years old!
34% of people in this age band have seen Pink Floyd live compared to 52.6% for Tribute Bands.  The gap narrows.
36-45 Year Olds
Born between 1964 and 1973, these chaps saw the release of Piper at the Gates of Dawn (1967), Saucerful of Secrets (1968), More and Ummagumma (1969), Atom Heart Mother (1970), Meddle (1971), Obscured by Clouds (1973) and that big Dark Side of the Moon album (1973).
65% of these people have seen Pink Floyd live and only 51.2% a Pink Floyd tribute band.  More have seen Pink Floyd!  Being this old does have benefits after all!
46-55 Year Olds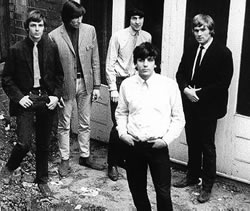 People in this age band were born between 1954 and 1963.  One of the early incarnations of Pink Floyd, The Tea Set, were playing concerts in 1964 so people in this age band weren't quite born when history was in the making.  However, they were only just born when The Pink Floyd started playing in 1965.
71% have seen Pink Floyd in their lives compared with 52.2% for Tribute Bands. This age band has the highest proportion of people who have seen the band live, closely followed by the next age band.
56-65 Year Olds
Born between 1944 and 1953, these older chaps would have had the opportunity to witness the entire history of Pink Floyd from its beginning right up until then end in 2005 at Live 8. Indeed, Nick Mason, Richard Wright, David Gilmour and Syd Barrett are members of this age group!
70% have seen the band live compared to 52.9% for tribute bands.
66-75 Year Olds
Born between 1934 and 1943, these old chaps could have attended every single live show if they had the will, time and the cash!  Alas, only 50% saw them live in the last 75 years! 40% have been to watch a tribute band, perhaps taking their sons and daughters along to watch whilst they recounted their memories of floating around the UFO club back in the 1960s, high as a kite, cool as a cucumber and freaking out to the Floyd!
76+ Year Olds
There were only 4 respondents to the survey who had reached 76+ and 100% said they had seen Pink Floyd live compared to 75% for tribute bands.  As the group is statistically insignificant due to the small sample size, we cannot infer much about them – especially considering only 50% of the previous group had seen the Floyd live.
Conclusion
So, there you have it, the complete run down of all the age bands and what they could have seen played live when was released as an album and toured!

You can download a PDF of the results of the survey for this section here.
---
Discussion Time
If you be nice to have your feedback on watching Pink Floyd live.  There is a thread on the forum here to share your views and opinions.
---
Part 3: Favourite Era of Pink Floyd

The next article in the Big Pink Floyd Survey concerns people's favourite era of Pink Floyd from the days of Syd Barrett, Roger Water's Pink Floyd and then David Gilmour's band!  View Part 3 – Favourite Era, Member and Best Musician of Pink Floyd.
---
The Big Pink Floyd Survey 2009 – | Part 1 – Age, Gender, Location | Part 2 – Concerts | Part 3 – Favourite Era, Member and Best Musician of Pink Floyd | Part 4: Favourite Songs and Fan Self-Ratings | Part 5: The Albums of Pink Floyd: Rated & Recommendations