Ca Ira Performance In New York
---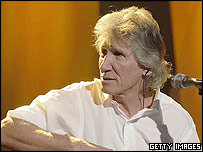 Pink Floyd bassist Roger Waters has performed extracts from his new opera for the first time in New York.
Ca Ira – which features Welsh baritone Bryn Terfel and other classical music stars – is an "operatic history of the French Revolution".
"It's about change, and personal change; we each have within us the potential for republic," said Waters.
The three-act opera, which has taken 16 years to complete, is due to be released on CD on 27 September.
Waters recently reunited with other Pink Floyd members for the first time in 24 years on stage at the Live 8 concert in London.
Pink Floyd at Live 8
Waters joined his former Pink Floyd band members at Live 8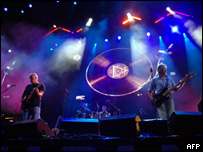 The 61-year-old songwriter told the US audience Ca Ira was "sort of reiterating The Wall", Pink Floyd's seminal album, with its themes of "powerlessness in the face of loss".
"The point of music is for human beings to connect with one another," said Waters, adding that he hoped his new work would appeal to modern audiences and not just traditional opera-goers.
However, the guitarist admitted taking some liberties with history while translating Etienne Roda-Gil 's libretto. "Reality," he said, "was mildly inadequate".
Ca Ira will be performed in concert in Rome later this year.
Source: [ BBC News ]