Cambridge Lays Barrett To Rest
Resources & Links
Cambridge Evening News Article | Article Scan | Discuss This
---
SYD Barrett, founder of pop super-group Pink Floyd, was laid to rest at a family funeral in Cambridge.
The service was held at Cambridge Crematorium yesterday (Monday, 17 July), with around a dozen members of his family joining his closest friends.
Three poignant wreaths were laid in his memory.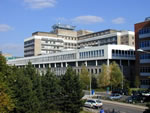 Syd, whose real name was Roger Keith Barrett, died earlier this month aged 60 at Addenbrooke's Hospital, after living in Cambridge for 30 years.
He was born in the city in 1946 and formed Pink Floyd in 1965, but later withdrew from public life and returned to live in the basement of his mother's semi-detached house.
The band carried on without him, and penned one of their hits – Shine on You Crazy Diamond- as a tribute to their missing frontman.
But his life as a recluse stopped him ever returning to the line-up, and when the band played at the Live8 super-gig in London last year Syd's sister Rosemary Breen, who is also from Cambridge, told the News his life as a pop star was long gone.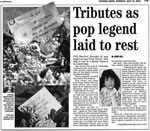 She said: "That was another life for him, another world in another time."
Following his death, the great and the good of the music industry lined up to pay tribute to his musical genius, but some of the most poignant memories of the young man who changed the face of modern music were from those who knew him as a youngster in Cambridge.
Alison Barraclough, a classmate at Morley Memorial School, said:
"He used to say I was his girlfriend. I never actually told him he was my boyfriend. But we were always together.
"There was always something special about Roger even then. It was his amazing imagination really.
"Even as a little boy he was quite extraordinary, absolutely beautiful.
All the girls loved him but he always had a special sparkle in his eye for me."
Sources: [ CEN & Wendy Bannister ]