Complete History Of PF By Glenn Povey
Resources & Links
Discuss on Forum – Buy – Amazon.co.uk
---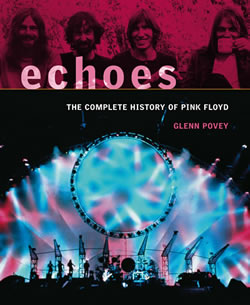 Glenn Povey has a new book coming out on 1st March 2007 called Echoes: The Complete History of Pink Floyd.
It is a remarkable document of Pink Floyd and the individual member's activities in concert, TV, radio and their associated discography.
It uses many rare and unseen photos to illustrate the history and includes all known concerts played, their set lists, commentary on their general history as a band in-between the concerts and media appearances and, physically, is a beautiful book! It's printed in glorious full colour onto thick glossy paper.
Glenn was the founder of the most excellent Brain Damage magazine between 1985 and 1983, launched and managed The Australian Pink Floyd (who even played at David Gilmour's birthday party once) and has been involved in the music industry for many years!
Press Release
ECHOES
The Complete History of
PINK FLOYD
By Glenn Povey
ISBN: 978-0-9554624-0-5
RRP: £35.00 (UK)
Dimensions: 237mm x 290mm
Paperback: 368 pages, full colour
Publishing: 1 March 2007
Pre-sales: From 15 February 2007 www.musicroom.com
Distribution: Omnibus/Music Sales
From gigs in tiny church halls in the mid-sixties to multi-million selling albums and spectacular stadium shows all around the world, the Pink Floyd story in a rock legend.
This remarkable book is a celebration of Pink Floyd's entire career – March 2007 marks the 40th anniversary of the release of their first recording, 'Arnold Layne', and contains a biographical account of the band's collective and individual careers from their pre-Floyd origins in 1962 right through to the present day.
Echoes also combines, for the very first time, a meticulously researched chronological listing of every single Pink Floyd and solo concert, set list, TV and radio appearance plus a UK and US discography. It is, quite simply, the most comprehensive account of Pink Floyd in print.
Illustrated throughout with a wealth of rare and previously unpublished photographs – including many from their pre-Floyd incarnations – as well as rare graphic memorabilia, including posters, advertisements, handbills and tickets from every era of the band's remarkable history, Echoes is a must for every Pink Floyd fan.
Sources: [ Glenn Povey ]