Dark Side of the Moon DVD
Eagle Vision Inc. are going to release a DVD documentary about the legendary Dark Side of the Moon album in fall/autumn 2003. It was broadcast by the BBC a short time ago.
I do not yet know the exact release date or regions it will be released in but I imagine region 1 (NAmerica) and region 2 (Europe) will be lucky enough to be having it released in their regions.
DSotM is getting a lot of publicity of late due to the 30th anniversary release of the album on an SACD. An SACD is a super audio compact disc and has better sound that a regular CD if you have an SACD player. If you have just a regular CD player, you can still enjoy a new mix of the album with improved sound.
The original DSotM was created from third generation tapes. The new SACD comes straight from the first generation masters which means a better sound, less noise and audio purity as it was recorded. You can hear the difference even on a normal CD player so, if you have not bought it yet, it is recommended indeed.
You can buy the SACD here.
I will post you a link to buy the new DVD when an online store is carrying the title. I imagine Eagle Vision will distribute it themselves.
Source: [ Eagle Vision | Floyd page ]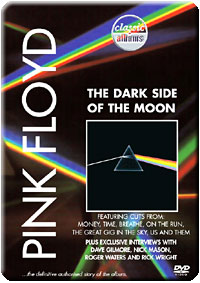 Click image to enlarge
Click here to buy the SACD for £11.99 from Amazon.co.uk