Darkside of the Moon 40th Anniversary on BBC Radio 2
---
Links – BBC, Darkside press release, Ken Bruce Tracks of my Years, |
---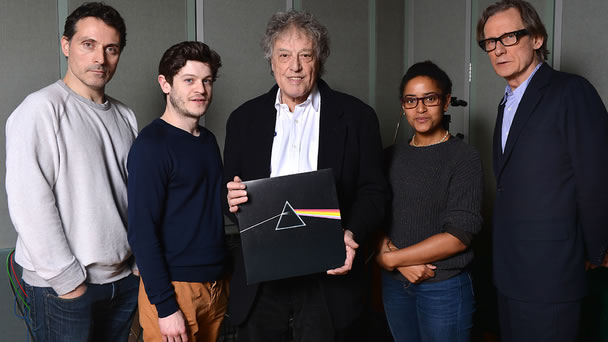 The 40th anniversary of Pink Floyd's Dark Side of the Moon album (40th anniversary in March just gone) is being celebrated on the BBC and there are a couple of interesting things going on for us Pink Floyd fans.
Firstly, there is an excellent radio play called Darkside by Sir Tom Stoppard to look forward to which is an original play and much anticipated. Secondly, David Gilmour will feature on Tracks of My Years in the build up to the anniversary celebrations on BBC Radio 2. And thirdly, Pink Floyd fans get to take over the programming of BBC Radio 2 for two hours in a unique event controlled by YOU!
Darkside on BBC Radio
Legendary playwright Tom Stoppard has penned an original new play for BBC Radio 2 to mark the 40th anniversary of Pink Floyd's album, The Dark Side Of The Moon.
To be broadcast on Radio 2 on Monday 26 August at 10pm GMT+1, Darkside, is a fantastical story based on themes from the seminal album and stars a stellar cast which includes Bill Nighy, Rufus Sewell, and Adrian Scarborough. The lead roles will be played by Olivier Award-winning Iwan Rheon (Misfits) and stage actress Amaka Okafor (The Garbage King).
UPDATE: There is an accompanying video from Aardman Animations and you can watch a preview of that here.
Pink Floyd Fans Control BBC!
In the lead-up to the programme, Radio 2 will broadcast a number of programmes to complement and celebrate this big anniversary.
Radio 2 and BBC 6 Music will be simulcasting a unique show that will put the audience in control of the music across both networks for two hours, as they collaborate online to pick the tracks. Now Playing will provide the perfect build up to a night of exciting programming on the two stations.
The Record Producers – Pink Floyd Special
Following the broadcast, The Record Producers – Pink Floyd Special will give listeners another chance to hear Richard Allinson and Steve Levine's look at the work of Pink Floyd concentrating on the late 60s through to the mid-70s. The show will feature guitarist David Gilmour and percussionist Nick Mason, and Richard and Steve share the original multi-track recordings of some of Pink Floyd's best work from this period.
On the night of broadcast, visitors to bbc.co.uk/radio2 will be able to watch a specially commissioned animation by Aardman to accompany the drama, creating a unique, immersive audio-visual experience.
Tracks of my Years – With David Gilmour
David Gilmour will feature on the BBC Radio 2 programme Tracks of my Years with Ken Bruce. All this week Ken is marking the 40th anniversary of Pink Floyd's 1973 Dark Side Of The Moon album by revisiting David Gilmour's Tracks Of My Years that were first broadcast in 2006. David's choices feature two sixties classics. One from The Beatles that's features on their 1965 album Help! and a top 5 hit by Martha Reeves & The Vandellas which should get everyone dancing! There's also another play of the Album Of The Week and listeners can test their music knowledge by playing along to PopMaster.
Summary Schedule
Here is a summary of your need to know information about what is coming up! These times are GMT+1 which is called "British Summer Time".
Wednesday 21st August – 9:30am – K

en Bruce Featuring David Gilmour's Tracks of my Years

on BBC Radio 2

Monday 26th August – 8:00pm BST – Pink Floyd fans

take over playlist

on BBC Radio 2 and 6 Music.

Monday 26th August – 10:00pm BST –

Darkside Play

on BBC Radio 2

Monday 26th August – 11:00pm BST –

The Record Producers – Pink Floyd Special

on BBC Radio 2
Source [ BBC ]