David Gilmour 120+ guitars available at auction sale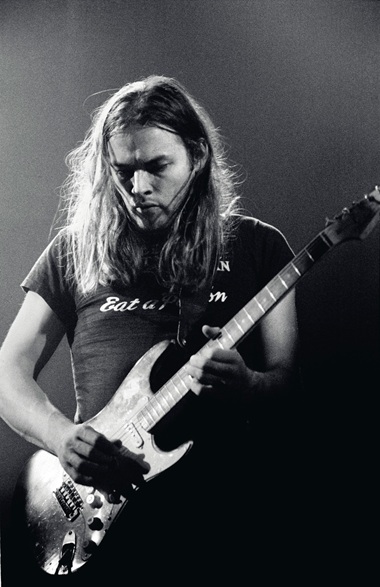 120+ of David Gilmour's iconic guitars are up for auction at Christie's. The proceeds will go to charitable causes and includes the legendary "Black Strat" and the Fender Stratocaster with serial #0001.
The expected guide price for these two legend of rock history is USD$100,000 to $150,000 so, if you have some money knocking about, or fancy downsizing your home, get involved!
In the event you do not have such money, you can settle for viewing the guitars in person in London from 27th to 31st March 2019 at Christie's King Street. They will then fly off to Los Angeles 7-11th May then New York 14th-19th June. There will be a "sound experience" provided by Sennheiser.
Don't Miss Out!! > Get our Free Newsletter for further news updates
The Black Strat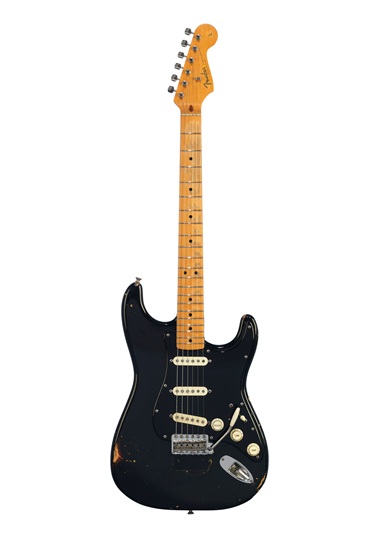 David Gilmour's 1969 Black Fender Stratocaster has earned its place in rock'n'roll history. Known as 'The Black Strat', the guitar was purchased in 1970 at Manny's on West 48th Street in New York, and has become the Pink Floyd singer and songwriter's most identified instrument over the course of nearly 50 years.
Between 1970 and 1986, The Black Strat was Gilmour's primary performance and recording guitar, and was key to the development of the Pink Floyd sound. It was played in the recordings of landmark albums such as the 1973 masterpiece The Dark Side of the Moon, which includes the track Money and is widely regarded as one of the greatest LPs of all time; Wish You Were Here (1975), featuring the track Shine on You Crazy Diamond, which Gilmour reveals 'came out of' The Black Strat; Animals (1977); and The Wall (1979), which features Gilmour's legendary guitar solo on Comfortably Numb.
The Black Strat, which has been extensively modified over the decades to accommodate Gilmour's evolving style and performance requirements, can also be heard on his critically acclaimed solo albums including David Gilmour (1978), About Face (1984), On an Island (2006) and Rattle that Lock (2015).
On 20 June at Christie's in New York, this iconic, solid-body electric guitar (estimate: $100,000-150,000) will be a highlight of The David Gilmour Guitar Collection, which comprises more than 120 instruments and focuses on a selection of his preferred Fender Broadcasters, Esquires, Telecasters and Stratocasters. Not only the largest and most comprehensive sale of guitars ever offered at auction, the collection details the musical history of one of the world's most influential guitarists. All proceeds from the sale will benefit charitable causes.
'Many of the guitars in this sale are guitars that have given me a tune,' says Gilmour in our short film, in which he plays for us a few chords from his best-loved songs on the guitars that helped to inspire them. 'So a lot of them have earned their keep, you might say.
'These guitars have given so much to me, and it's time for them to move on to other people who hopefully will find joy, and perhaps create something new.'
After a period of temporary retirement while it was on semi-permanent loan to the Hard Rock Café in Dallas, Texas — in return for a donation to The Nordoff-Robbins Music Therapy Charity — Gilmour reclaimed The Black Strat for Pink Floyd's historic reunion concert at Live 8 in London on 2 July 2005.
During the first two days of rehearsals for the Hyde Park gig Gilmour had been playing a different guitar, a red Stratocaster. On the third day, it was suggested he should try The Black Strat, since he had used it on the original recordings of songs to be performed.
The concert, which was watched by an estimated global TV audience of more than three billion people, marked the moment that the instrument was reinstated as Gilmour's guitar of choice. It remained so for the next decade, reaffirming its place in the annals of rock music.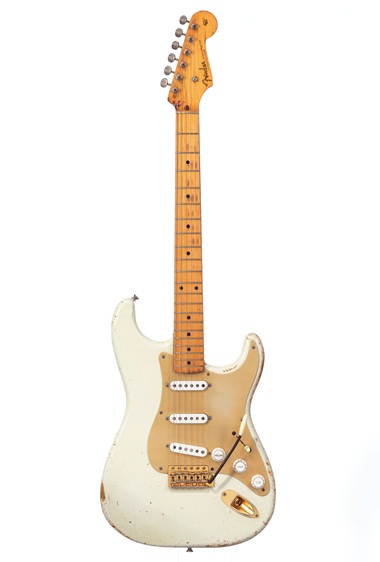 Another important guitar offered in the June sale is Gilmour's 1954 White Fender Stratocaster #0001 (estimate: $100,000-150,000). Gilmour acquired 'The #0001 Stratocaster' in 1978 and it has been used on several recordings including Another Brick in the Wall (Parts 2 and 3).

Additional collection highlights include a 1955 Gibson Les Paul, famous for Gilmour's guitar solo on Another Brick in the Wall (Part 2) (estimate: $30,000-50,000), and an incredibly rare Gretsch White Penguin 6134, which was purchased for his private collection (estimate: $100,000-150,000).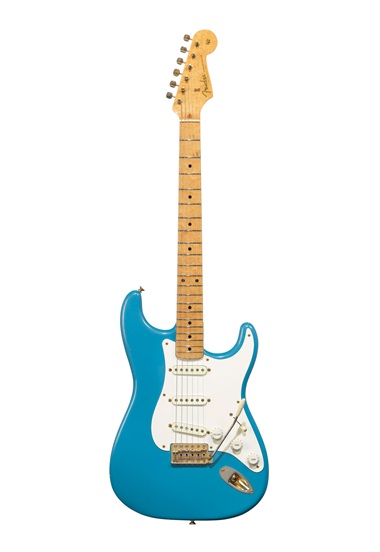 Further Fender highlights include the 1957 'Ex-Homer Hayes' Stratocaster, with gold-plated hardware and finished in the rare custom colour of Lake Placid Blue (estimate: $60,000-90,000); a Candy Apple Red 1984 Stratocaster 57V (estimate: $15,000-25,000), which became Gilmour's primary electric guitar during the 1980s and '90s, and was used during recording and touring of the Pink Floyd albums A Momentary Lapse of Reason (1987) and The Division Bell (1994).
An additional draw for collectors and aficionados will be an exceptionally early 1954 Stratocaster (estimate: $50,000-70,000), which is believed to be one of a group of Stratocasters produced by Fender prior to its commercial production release in October 1954.
Gilmour's early musical influences included the Everly Brothers and Bob Dylan, and reflecting this the collection also offers several acoustic guitars. Examples include a 1969 D-35 Martin purchased on the streets of New York in 1971, and used as both Pink Floyd and David Gilmour's main studio acoustic, notably on Wish You Were Here (estimate $10,000-20,000); a Gibson J-200 Celebrity (1985) acquired from John Illsley of Dire Straits (estimate $3,500-5,500); and a unique Tony Zemaitis (1978) custom acoustic bass guitar (estimate $15,000-25,000).
A global tour of the collection will launch in London at Christie's King Street (27-31 March), where the full collection will be on display. Highlights will then go on view in Los Angeles (7-11 May) before the New York sale preview (14-19 June). Sennheiser will be providing the sound experience at all the pre-sale exhibitions.
Learn more on the official Christies website.
Here is a small selection of the 120+ guitars that will be on auction. Enjoy.