David Gilmour 2006 Tour DVD
Resources & Links
David Gilmour Website | Discuss DVD on Forum | Photos | David Gilmour 2006 Tour Dates
---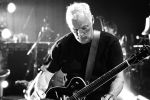 At last the news that many have wished for – David has confirmed plans to film two of the UK tour dates at London's Royal Albert Hall for release on DVD. The nights of May 29 and 30 will be the ones to watch, when the show that has been stunning audiences on two continents finally comes to London. This is in addition to the 5.1 mix of the album being made available!
Director will be David Mallet, who directed David Gilmour In Concert from London's Royal Festival Hall, and has been long associated with David. David Mallet's long and varied track record includes shows and performances by Queen, Pink Floyd's Pulse, The Three Tenors, Cirque du Soleil, U2 Popmart, AC/DC Live at Donington, and many more.
As ardent fans will know, some special guests (including Sam Brown (pics & bio), David Crosby and Graham Nash) have dropped in to perform songs with David in the course of the tour, and it is possible that some guests may be added to the bill at the Royal Albert Hall. However, nothing has been confirmed yet, but as soon as it is, it will be announced here.
Gilmour Concert Aired at Movie Theatres in USA (BD)
Big Screen Concerts will be airing, for one night only – May 16th – a special recording of one of David's recent concerts, at movie theatres across the United States. His current run of concerts are showcasing his new album, On An Island, alongside a great selection of Pink Floyd classics. On past experience, this should be a great event, with high quality surround sound, and a great picture.
The concert (as yet, unspecified, but the recent Toronto show on April 9th was reportedly one of the ones captured on camera) will be shown at participating Regal, United Artists, Edwards and Georgia Theatre Company movie theatres across the country.
Tickets for this event go on sale Friday April 21st at theatre box offices and online at BigScreenConcerts.com. Their website should have a complete list of participating theatre locations, soon, along with the cost of tickets for this show.
Source: [ David Gilmour and Brain Damage (BD) ]