David Gilmour Album "On An Island Tour"
News from Brain Damage Magazine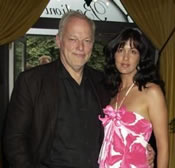 At last, the news many Pink Floyd fans have been eagerly awaiting! We are pleased to be able to bring you full details of David Gilmour's UK and European tour dates.
David will be touring in Spring 2006, with his 'On An Island Tour', the title coming from Gilmour's new solo album which is released on 6 March 2006. Amongst the shows will be two UK dates – the 29th and 30th May at London's Royal Albert Hall.
From 9am on Wednesday 7th December until noon on Thursday 8th December there will be a priority booking period for 200 pairs of £65 tickets for the two Royal Albert Hall concerts. These will only be available via a website which will be available shortly – www.davidgilmour.com; following this priority booking period, tickets will then be available from 9am on Friday 9th December from:
Royal Albert Hall Box Office Tel: 020 7589 8212
www.royalalberthall.com
SEE – 0871 230 0333 or www.seetickets.com
OR www.davidgilmour.com.
Tickets for the London shows are priced at: £65/£60/£50/£30 plus booking fee.
This will be David Gilmour's first European tour since Pink Floyd's triumphant Division Bell tour in 1994 and his first public performance following this Summer's Pink Floyd appearance at Live 8. He commented:
"I'm very much looking forward to this tour and making music with the great musicians in the band. I've had a fantastic time making 'On An Island' and really want to perform tracks from it, along with my more familiar repertoire. I'm rather hoping that with this tour announcement people will believe me when I say, honestly, this is the only band I plan to tour with!"
Marc Brickman, lighting genius who has worked with Gilmour on many Floyd tours, will design the lighting for the intimate venues chosen for this tour.
Here's the full run-down of dates confirmed so far:
March 10 – Dortmund, Konzerthaus
March 11 – Hamburg, Congress Centrum Hamburg
March 15 – Paris, Le Grand Rex
March 16 – Paris, L'Olympia
March 18 – Frankfurt, Alte Oper
March 19 – Amsterdam, The Heineken Music Hall
March 20 – Amsterdam, The Heineken Music Hall
March 24 – Milan, Teatro Arcimboldi
March 25 – Milan, Teatro Arcimboldi
March 26 – Rome, Auditorium Parco Della Musica
April: USA/ Canada: to be announced
May 29 – London, Royal Albert Hall
May 30 – London, Royal Albert Hall
Ticket Information for all the European concerts will be at: www.davidgilmour.com shortly.
Source: [ Brain Damage ]