David Gilmour and Kate Moss in Hoping's Got Talent Fundraiser
Links – Discuss on Forum | Photo Gallery from This Is London | Daily Mail Article | Telegraph Article | Hoping Foundation charity website

---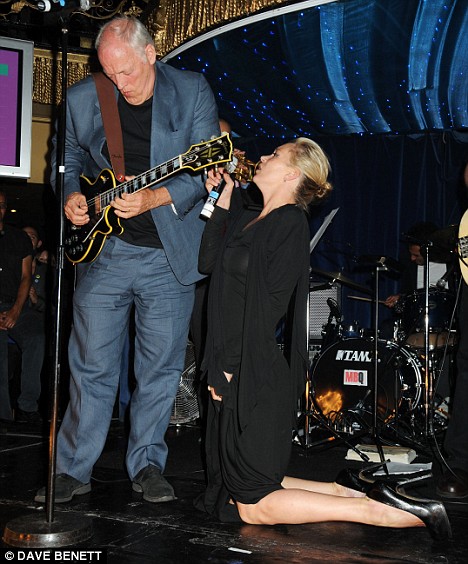 Pink Floyd's guitarist David Gilmour and supermodel, singer and party girl Kate Moss got together on Friday 19th June to perform in a Karaoke contest in London for charity.
Moss's boyfriend, The Kills' guitarist Jamie Hince, had opened the Hoping's Got Talent show at London's Cafe De Paris with pop star Lily Allen, singing a duet of Dream A Little Dream Of Me.
HOPING stands for Hope and Optimism for Palestinians In the Next Generation. Money will be donated directly to children's projects in Palestine.
And The Winner Is….
Allen and Hince beat Moss and Gilmour by a whisker in the fundraising stakes by raising £48,350 from the audience, who placed bids for each act to perform. Moss and Gilmour took £47,600.
'The audience got more than they bargained for when the pair took to the stage – no-one could believe what was happening.
'They played Summertime, and Kate really got into it. She dropped to her knees as she belted out the lyrics, and ended up writhing on her back. It was an electrifying performance.'
The Performance
Throwing her song lyrics away, Kate put on a passionate performance as she sang on the floor at David's feet. The model had been spotted drinking vodka with friend Sadie Frost earlier in the evening, no doubt providing some Dutch courage for her performance.
Moss is said to have taken singing lessons in preparation for the event, despite her track record of guest vocals. In the past she has sung on Primal Scream's version of Some Velvet Morning and duetted with then boyfriend Pete Doherty, performances that haven't received rave reviews. She also appears on the new Lemonheads album Varshons.
Moss was on the panel of celebrity judges at the Hoping's Got Talent event – a spoof of Britain's Got Talent – along with Louis Walsh and Jeremy Clarkson.
Other performers included Suggs who mimicked Susan Boyle for a bid of £10,000, while Will Young performed ballet in a fat suit.
David Gilmour: party animal!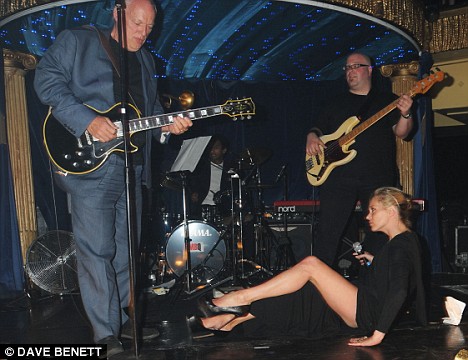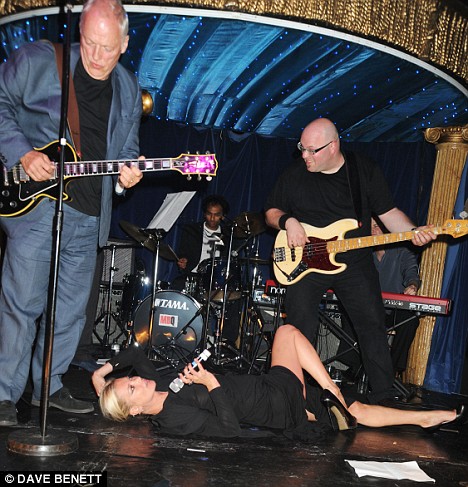 Source [ Daily Mail and Telegraph ]