David Gilmour Channel 4 Docu Preview
Resources & Links
Live From Abbey Road Website | Official Abbey Road live Forum | Channel 4
---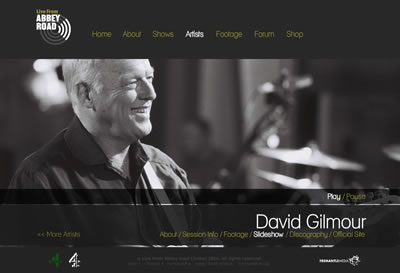 As previously reported, David Gilmour recorded a session at Abbey Road Studios in London on 29th August 2006 to be aired as part of a Channel 4 music documentary series called Live From Abbey Road.
The documentary series comprises 12 one hour programs showcasing some of the worlds finest music. The shows have no audience or presenter; just the bands and artists performing and talking about their music.
The series is broadcast between Friday 12th January 2007 and 30th March on More4, repeated on Channel 4 the following Mondays.
Show 8 – David Gilmour – 2nd March 2007
I am happy to report that David's program will first be broadcast in the UK on Digital channel More 4 on Friday 2nd March 2007 at 11PM. It will then probably be aired on analogue/digital Channel 4 on Monday 5th March 2007 although this has yet to be 100% confirmed.
The songs David and his band recorded in the studio sessions were On An Island, Take A Breath, Smile, The Blue, Astronomy Domine and Echoes.
View Preview

Channel 4 have set up a website for you to learn more about the many artists involved, watch footage, view stills etc. You can visit that here. There is also an official forum here.
The Twelve Shows
There will be twelve one hour shows currently set to be broadcast on the dates/times below on UK digital TV channel More4. The show are then repeated the following Monday on Channel 4.
The times are 11:30pm on the More4 website as below but 11:00pm on the Live At Abbey Road website so be prepared for them to start at 11PM!
| | | |
| --- | --- | --- |
| Show | Artist | More4 |
| 1 | Paul Simon, Corinne Bailey Rae and Primal Scream | 12 Jan 11pm |
| 2 | Kasabian, Josh Groban, The Good, The Bad and The Queen | 19 Jan 11.30pm |
| 3 | Jamiroquai, Goo Goo Dolls, Damien Rice | 26 Jan 11.30pm |
| 4 | Dr John, Massive Attack, LeAnn Rimes | 2 Feb 11.30pm |
| 5 | The Feeling, Gnarls Barkley, The Killers | 9 Feb 11.30pm |
| 6 | Snow Patrol, Madeleine Peyroux, The Red Hot Chili Peppers | 16 Feb 11.30pm |
| 7 | The Kooks, Wynton Marsalis, Muse | 23 Feb 11.30pm |
| 8 | Amos Lee, Randy Crawford, David Gilmour | 2 March 11.30pm |
| 9 | Ray LaMontagne, The Zutons, Shawn Colvin and Nerina Pallot (performing separately) | 9 March 11.30pm |
| 10 | Craig David, James Morrison, Dave Matthews | 16 March 11.30pm |
| 11 | John Mayer, Norah Jones, Richard Ashcroft | 23 March 11.30pm |
| 12 | Gipsy Kings, Natasha Bedingfield, Iron Maiden | 30 March 11.30pm |
Not Got Digital?
If you are in the UK and have not yet got a digital TV receiver of some sort (Satellite, Cable or Freeview), then why not hurry along and get yourself upgraded so you can watch the broadcast on More4? Analogue TV will be turned off in the next few years so you might as well make the leap now!
If you don't want to pay a subscription to Cable or Satellite, then you should get yourself a Freeview box which are pretty cheap! There is lots of info about Digital TV on the BBC here.
Sources: [ Channel 4 ]