David Gilmour Honoured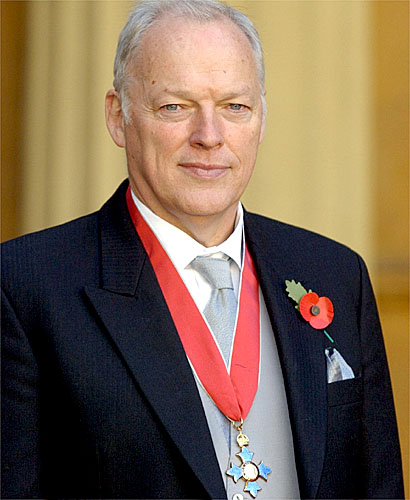 Pink Floyd guitarist Dave Gilmour and Jools Holland have confessed to being more nervous at receiving honours from the Queen than they were playing concerts. They received their honours on 7th November.
Holland, 45, and Gilmour, 59, both said they could never have imagined their music would take them as far as Buckingham Palace.
Gilmour, receiving a CBE for services to music, joked that the Queen had probably never even listened to Pink Floyd.
"I suspect that if she has listened to Pink Floyd it has been one of her children or grandchildren playing it and she is more likely to be the one to say 'turn it off'," said the guitarist. "But I do not know her taste in music."
When asked what the Queen had said when he collected his honour Gilmour disclosed: "She said Pink Floyd had been doing it for a very long time and I had to agree."
The guitarist, who attended the investiture at Buckingham Palace with his wife Polly and two of his eight children, said the CBE was a fantastic honour but he admitted he had felt nervous about meeting the Queen.
"Playing to one-hundred thousand people is not so nerve wracking, playing to a few people is much harder," he said. "It was not so bad today, but I was a bit nervous."
Gilmour, who recently donated £4.5 million to the homeless charity Crisis, added: "I hope that primarily it (the CBE) is for what I have done in music, but if some of my recent more publicised charity work has made a difference then I am happy about that."
Holland, who received an OBE for services to music, said he could never have imagined during his time hosting the irreverent music show The Tube with Paula Yates that one day he would be attending an investiture at the palace.
"I didn't then, or when I first started playing pubs in the East End of London," he said, "I would not have believed that music would bring me such a great honour and I think it is wonderful as it can encourage other musicians to see where things can lead."
Source: [ Ananova News ]