David Gilmour Interview: Q Magazine
---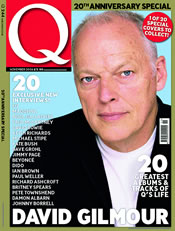 There is an exclusive interview with Pink Floyd's guitarist and singer David Gilmour in October 2006's edition of the highly acclaimed Q Magazine. It is out in the UK on 30th September.
Having just finished his 2006 On An Island Tour, and recorded a performance in Abbey Road Studios for a forthcoming Channel 4 (UK) documentary, Gilmour has done an interview with Q coverning such issues as personal highlights and the lowlights of the past 20 years of his career.
Press Info from EMAP/Q
ON SEPTEMBER 30 Q magazine will launch a unique publishing event in the UK. On that date Q publishes its 20th anniversary issue – which will feature 20 separate cover stars, each one a musical icon, and each one exclusively photographed and interviewed for Q.
The 20 stars that have given exclusive shoots and interviews are Paul McCartney, David Bowie, Madonna, Noel Gallagher, Pete Townshend, Paul Weller, Damon Albarn, Britney Spears, Dave Grohl, Dido, David Gilmour, Ian Brown, Keith Richards, Michael Stipe, Jimmy Page, Johnny Borrell, Kate Bush, Beyonce, Richard Ashcroft and U2.
Over the last 20 years Q has become an authority on its subject and has remained at the forefront of credible music. Q is the essential music guide.
In a publishing first Q magazine have produced 20 different collectable covers to commemorate their anniversary. The biggest names in music were quick to line up and take part with this special initiative.
As well as the exclusive interviews in which the above artists exclusively talk about what Q means to them and their own personal highlights and low points over the last 20 years, the issue also includes Q's nominations for the best 20 albums and songs during its lifetime.
Q Editor Paul Rees: "The 20th anniversary of Q, the essential music guide, is a landmark moment, and therefore we were determined to mark it with a landmark publishing event. I believe we have done so. I can think of few magazines anywhere in the world who could exclusively photograph, interview and do separate covers with 20 of the biggest and most iconic stars in their world. That Q has done so is befitting for a magazine with its rich history and stature."
These 20 issues hit the newsstands on September 30th; Subscribers to the magazine will receive a specially produced edition that features all 20 different cover images.
Sources: [ Lauren @ EMAP ]