David Gilmour Joining Roger Waters on Wall Tour but which Show?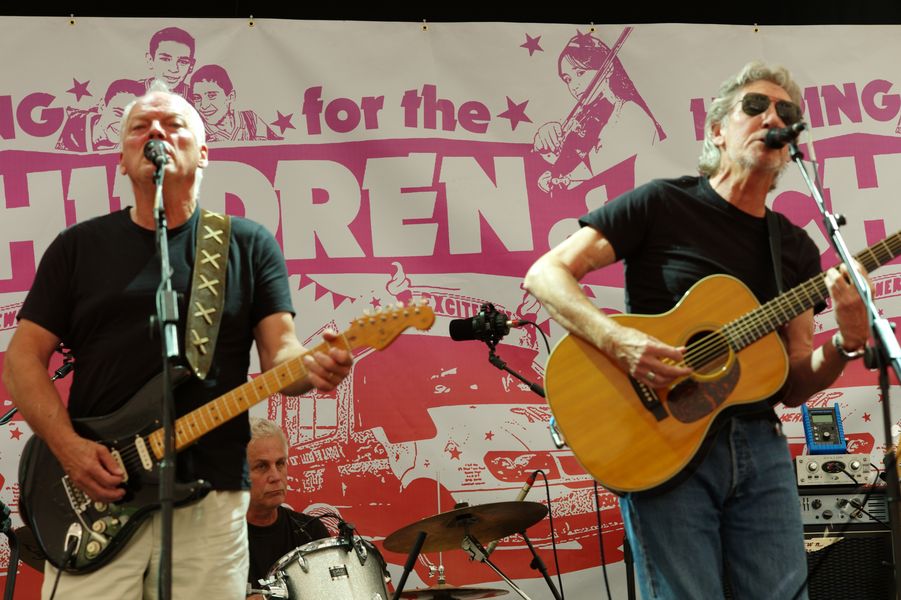 In less than two weeks, Roger Waters is set to continue touring The Wall album. The album, which Roger mainly wrote, was recorded and released by Pink Floyd all the way back in 1979 and features one of the most recognisable and celebrated guitar solos of all time in Comfortably Numb!
David Gilmour, the legendary Pink Floyd guitarist of course, is responsible for said guitar solo and it would only be right that he wield his axe one last time with Roger Waters on stage and belt out the cracking melody!
There are 60 dates left of the tour (so far announced that is) and David Gilmour will play at one very special concert before the tour is over! But which concert will David Gilmour play at on the tour? A question on many people's minds!
How it All Came About
Roger Waters was invited to play with Gilmour at a concert on Saturday 10th July 2010 for the Hoping fundraiser and, as part of their playful negotiations to get that happening, David agreed to play guitar at one concert on the song Comfortably Numb!
Writing on his Facebook Page in July 2010, Roger Waters explained, "In the wake of that evening, someone, I think it was David himself, came up with this 'Wouldn't it be funny', idea. What if he (David that is) were to sing the old Teddy Bears song 'To Know Him Is To Love Him' with me (Roger that is), what with us having been so famously at each other's throats for years and years. Get it!!!! Anyway he E-mailed me with this suggestion and I loved it, so then it was just a question of juggling dates and deciding to do 'Wish You Were Here' and 'Comfortably Numb' to round out our little set."
After some negotiation between Dave and Rog a plan came together! Roger wrote, "I quote "If you do 'To Know Him Is to Love Him' for The Hoping Foundation Gig, I'll come and do 'C. Numb' on one of your Wall shows". Well! You could have knocked me down with a feather. How fucking cool! I was blown away. How could I refuse such an offer?  I couldn't, there was no way."
So, Which Show will David Gilmour Play at on Wall Tour?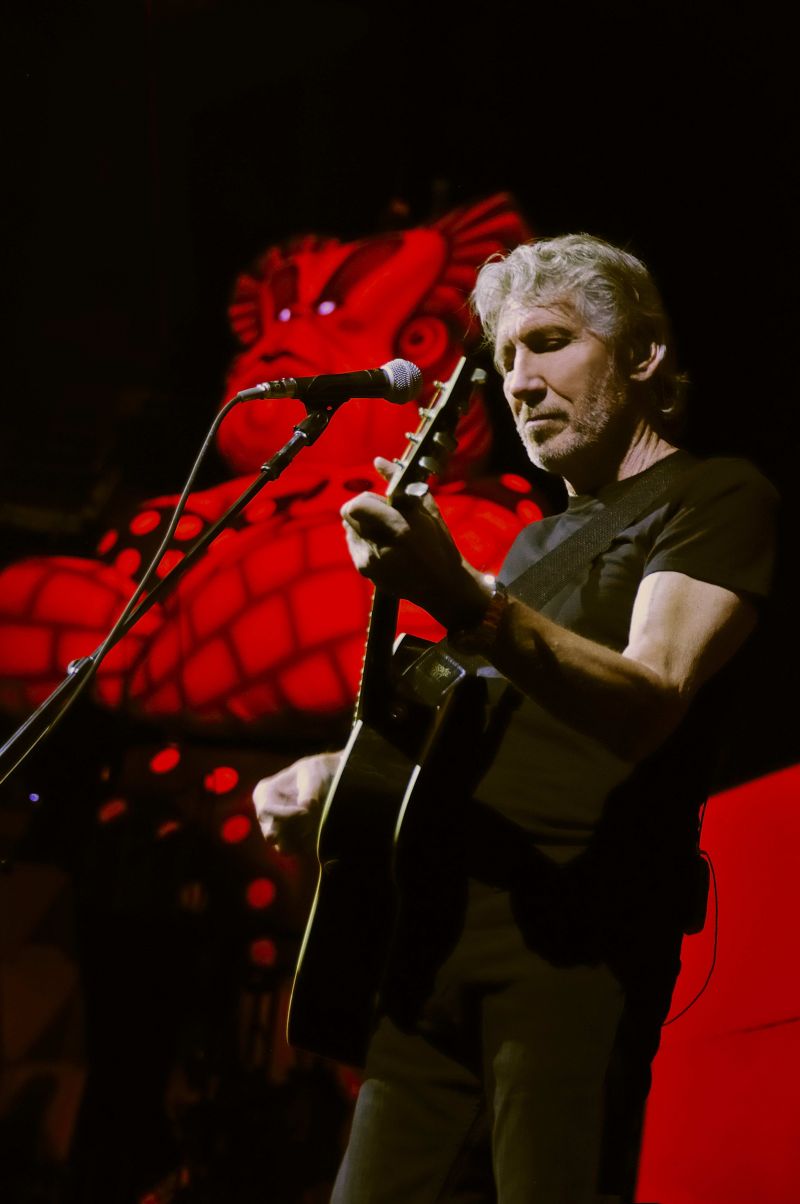 Roger Waters Wall Tour Sep '10
Roger continued on his Facebook post, "PS. Just heard from David, he will decide in due course which gig he wants to do, it will be a surprise!" It has not been announced yet which date David will play on but, considering the London O2 shows are the only ones to be officially recorded, it is probably a safe bet to assume it will be on one of the 6 shows at Europe's most popular music venue!
If you have been to see Roger Waters on his Wall Tour in 2010 and were disappointed that David Gilmour did not appear at your show, rest assured that there will probably be a DVD announcement in time for Christmas of David playing Comfortably Numb (and, it is rumoured, some other songs too including Run Like Hell) on The Wall Tour!
David Gilmour New Album and Tour 2011/2012?
David has just had his 65th birthday on March 6th which means he is still quite young! The man must have plenty energy left in him so he ought to get a new album recorded and toured sometime in 2011 or 2012!! In a recent interview given to publicise her new book, Polly Samson said that she had been writing some lyrics for her husband, David. Hopefully he has been writing some music to go with them and recording a new album!
David Gilmour's last album On An Island, which was released and toured in 2006, was a great success and featured and excellent DVD. I have the 5 disc boxset which is a very special thing indeed. You can read a review of it here. It would be great news for Pink Floyd fans if David was to play a few songs on The Wall and both Roger and Dave to release new albums.
Whatever happened to Roger Waters' "new" rock album he was working on?
Don't Miss The News!!

Don't miss any news, follow us on Facebook, Twitter and get our free emailed Newsletter.
---
Roger Waters Wall Tour Dates 2011
Here are the remaining dates on Roger Waters tour of The Wall.
March
2011-03-21 – Roger Waters – Atlantico Pavilion – Lisbon – Portugal (Tickets)
2011-03-22 – Roger Waters – Atlantico Pavilion – Lisbon – Portugal (Tickets)
2011-03-25 – Roger Waters – Palacio de Deportes – Madrid – Spain (Tickets)
2011-03-26 – Roger Waters – Palacio de Deportes – Madrid – Spain (Tickets)
2011-03-29 – Roger Waters – Palau St Jordi – Barcelona – Spain (Tickets)
2011-03-30 – Roger Waters – Palau St Jordi – Barcelona – Spain (Tickets)
April
2011-04-01 – Roger Waters – Mediolanum Forum – Milan – Italy (Tickets)
2011-04-02 – Roger Waters – Mediolanum Forum – Milan – Italy (Tickets)
2011-04-04 – Roger Waters – Mediolanum Forum – Milan – Italy (Tickets)
2011-04-05 – Roger Waters – Mediolanum Forum – Milan – Italy (Tickets)
2011-04-08 – Roger Waters – Gelredome – Arnhem – Netherlands (Tickets)
2011-04-09 – Roger Waters – Gelredome – Arnhem – Netherlands (Tickets)
2011-04-11 – Roger Waters – Gelredome – Arnhem – Netherlands (Tickets)
2011-04-13 – Roger Waters – Arena Zagreb – Zagreb – Croatia (Tickets)
2011-04-15 – Roger Waters – O2 Arena (Prague) – Prague – Czech Republic (Tickets)
2011-04-16 – Roger Waters – O2 Arena (Prague) – Prague – Czech Republic (Tickets)
2011-04-18 – Roger Waters – Atlas Arena (Łódź) – Łódź – Poland (Tickets)
2011-04-19 – Roger Waters – Atlas Arena (Łódź) – Łódź – Poland (Tickets)
2011-04-23 – Roger Waters – Olimpiski Arena – Moscow – Russia (Tickets)
2011-04-25 – Roger Waters – SKK Arena – St. Petersburg – Russia (Tickets)
2011-04-27 – Roger Waters – Hartwall Arena – Helsinki – Finland (Tickets)
2011-04-28 – Roger Waters – Hartwall Arena – Helsinki – Finland (Tickets)
2011-04-30 – Roger Waters – Telenor – Oslo – Norway (Tickets)
May
2011-05-01 – Roger Waters – Telenor – Oslo – Norway (Tickets)
2011-05-04 – Roger Waters – Ericsson Globe – Stockholm – Sweden (Tickets)
2011-05-05 – Roger Waters – Globe Arena (Stockholm) – Stockholm – Sweden (Tickets)
2011-05-07 – Roger Waters – Parken (Copenhagen) – Copenhagen – Denmark (Tickets)
2011-05-11 – Roger Waters – O2 Arena (London) – London – England (Tickets)
2011-05-12 – Roger Waters – O2 Arena (London) – London – England (Tickets)
2011-05-14 – Roger Waters – O2 Arena (London) – London – England (Tickets)
2011-05-15 – Roger Waters – O2 Arena (London) – London – England (Tickets)
2011-05-17 – Roger Waters – O2 Arena (London) – London – England (Tickets)
2011-05-18 – Roger Waters – O2 Arena (London) – London – England (Tickets)
2011-05-20 – Roger Waters – Manchester Evening News Arena – Manchester – England (Tickets)
2011-05-21 – Roger Waters – Manchester Evening News Arena – Manchester – England (Tickets)
2011-05-23 – Roger Waters – O2 Arena (Dublin) – Dublin – Ireland (Tickets)
2011-05-24 – Roger Waters – O2 Arena (Dublin) – Dublin – Ireland (Tickets)
2011-05-27 – Roger Waters – Sportpaleis (Belgium) – Antwerp – Belgium (Tickets)
2011-05-28 – Roger Waters – Sportpaleis (Belgium) – Antwerp – Belgium (Tickets)
2011-05-30 – Roger Waters – Palais Omnisport de Paris Bercy – Paris – France (Tickets)
2011-05-31 – Roger Waters – Palais Omnisport de Paris Bercy – Paris – France (Tickets)
June
2011-06-03 – Roger Waters – SAP Arena (Mannheim) – Mannheim – Germany (Tickets)
2011-06-04 – Roger Waters – SAP Arena (Mannheim) – Mannheim – Germany (Tickets)
2011-06-06 – Roger Waters – Hallenstadion – Zurich – Switzerland (Tickets)
2011-06-07 – Roger Waters – Hallenstadion – Zurich – Switzerland (Tickets)
2011-06-10 – Roger Waters – O2 World (Hamburg) – Hamburg – Germany (Tickets)
2011-06-11 – Roger Waters – O2 World (Hamburg) – Hamburg – Germany (Tickets)
2011-06-13 – Roger Waters – Herning Arena (Denmark) – Herning – Denmark (Tickets)
2011-06-15 – Roger Waters – O2 World (Berlin) – Berlin – Germany (Tickets)
2011-06-16 – Roger Waters – O2 World (Berlin) – Berlin – Germany (Tickets)
2011-06-18 – Roger Waters – Esprit Arena – Dusseldorf – Germany (Tickets)
2011-06-20 – Roger Waters – Olympiahalle – Munich – Germany (Tickets)
2011-06-22 – Roger Waters – Papp Laszlo Budapest Sportarena – Budapest – Hungary (Tickets)
2011-06-24 – Roger Waters – Hallenstadion – Zurich – Switzerland (Tickets)
2011-06-25 – Roger Waters – Hallenstadion – Zurich – Switzerland (Tickets)
2011-06-27 – Roger Waters – National Indoor Arena – Birmingham – England (Tickets)
2011-06-28 – Roger Waters – Manchester Evening News Arena – Manchester – England (Tickets)
2011-06-30 – Roger Waters – Bercy – Paris – France (Tickets)
July
2011-07-06 – Roger Waters – Mediolanum Forum – Milan – Italy (Tickets)
2011-07-07 – Roger Waters – Mediolanum Forum – Milan – Italy (Tickets)