David Gilmour OAI Re-Release With DVD
Resources & Links
---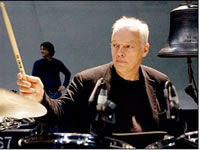 David Gilmour drumming on sound check of AOL Sessions April 2006.
David Gilmour's 3rd solo album On An Island is to be re-released along with a bonus DVD on 20th November 2006 across Europe and 21st November 2006 in America. There will be no new mix of the original album.
The DVD features the AOL Sessions he recorded earlier this year on 7th April 2006. The live songs from that are: 'On An Island', 'This Heaven', 'Smile', 'Take A Breath', 'High Hopes' and 'Comfortably Numb'. It will also feature the recording of Syd Barrett's Astronomy Domine that David and his touring band did on 29th August 2006 for the Channel 4 documentary series on the Abbey Road Studios. That will commence broadcasting in November for 12 weeks.
Need to Buy CD Again?
If you have already bought the original On An Island CD then do not despair at the thought of having to buy it again in order to get a copy of the DVD! Although the DVD is being included with the re-released version, there will be a limited number of the DVDs made available by themselves on David Gilmour's website. These DVDs will not be free as previously reported in this websites newsletter but will be available for purchase.
Make sure you are subscribed to the free NPF Newsletter to keep up to date with news and remain informed!
Sources: [ David Gilmour dot com ]