David Gilmour on Jools Holland New Album Released November 2021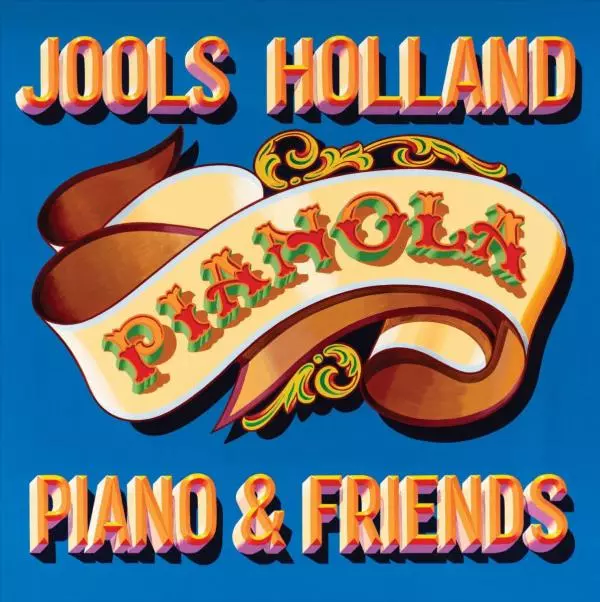 Pink Floyd's David Gilmour joins a host of other artists to feature on Jools Holland's new album "Pianola. Piano and Friends".
The new album, featuring the likes of Tom Jones, Rick Wakeman, Dr John and Jamie Cullum to name a few, will be released on Friday 19th November 2021, a week before Black Friday shopping bonanza.
Grab a copy from Amazon, or listen to Do The Boogie featuring Mousse T on streaming services.
The title of the track that David Gilmour's appears on is Blues for the End of Time. The press release says Jools co-wrote one song with Mousse-T, Do The Boogie, which implies that Jools wrote the songs and the artists have lent their skills during lock down to the album.
'I'm humbled to have made this record with the greatest instrumental and vocal artists of our day. And so grateful to my lifelong friend the piano for making it possible.'

Jools Holland
This is not the first time David has done the blues with Jools. Mica Paris created a trio with them and performed I Put A Spell on you all the way back in 2004 I think for the Teenage Cancer Trust event Jools put on at the Royal Albert Hall. I think…
Jools let slip that David was on his new album when wishing David a happy birthday back in March.
In the news announcement on Jools' website it said, Jools Holland is proud to announce his new album PIANOLA. PIANO & FRIENDS. A loving tribute to the black and white keys, it celebrates the community and conviviality that the piano inspires and the spark of Jools' deep love for music. The album showcases the vibrant versatility and virtuosity of Jools Holland and his lifelong friend, along with a truly unique line-up of some of the world's greatest artists: Lang Lang; David Gilmour; Ruby Turner; Herbie Hancock; Booker T; Tom Jones; Gregory Porter; Mousse T; Yolanda Brown; Dr. John; Joe Bonamassa; Trombone Shorty…
Whilst we wait to hear Jools' new album, why not enjoy I Put A Spell on You…
Jools Holland Pianola. Piano and Friends Track Listing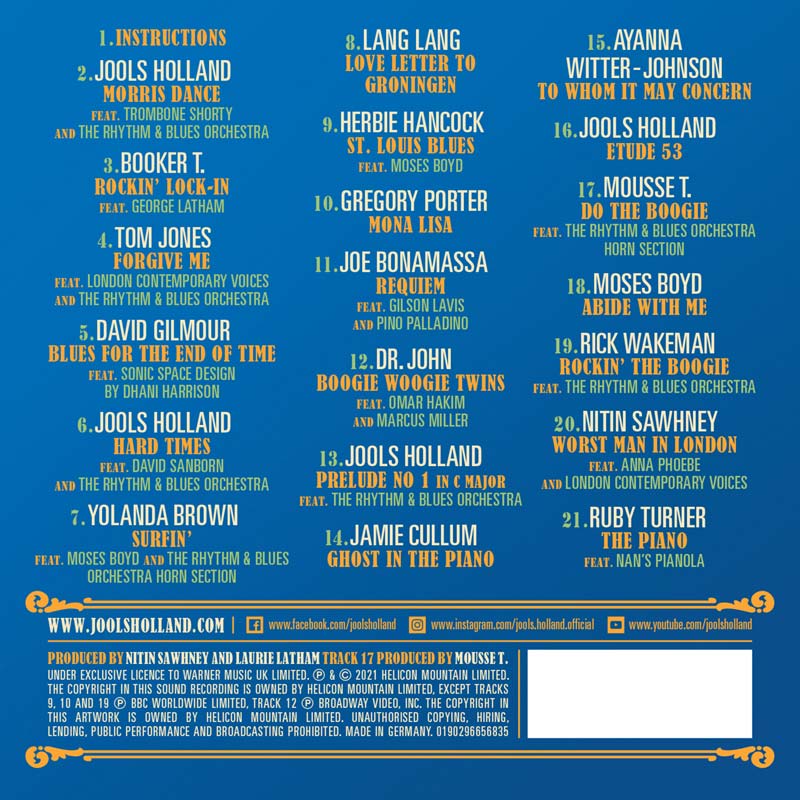 1. Instructions*
2. Morris Dance (Jools Holland, Trombone Shorty, The Rhythm and Blues Orchestra)*
3. Rockin' Lock-in' (Booker T., George Latham)*
4. Forgive Me (Tom Jones, London Contemporary Voices, The Rhythm and Blues Orchestra)*
5. Blues For The End Of Time (David Gilmour featuring sonic space design by Dhani Harrison)*
6. Hard Times (Jools Holland, David Sanborn and The Rhythm and Blues Orchestra)
7. Surfin' (YolanDa Brown, Moses Boyd and The Rhythm and Blues Orchestra Horn Section)
8. Love Letter To Groningen (Lang Lang)
9. St. Louis Blues (Herbie Hancock, Moses Boyd)
10. Mona Lisa (Gregory Porter)
11. Requiem (Joe Bonamassa, Gilson Lavis and Pino Palladino)
12. Boogie Woogie Twins (Dr. John, Omar Hakim and Marcus Miller)
12. Prelude No 1 in C Major (Jools Holland and The Rhythm and Blues Orchestra)
14. Ghost In The Piano (Jamie Cullum)
15. To Whom It May Concern (Ayanna Witter-Johnson)
16. Etude 53 (Jools Holland)*
17. Do The Boogie (Mousse T., The Rhythm and Blues Orchestra Horn Section)
18. Abide With Me (Moses Boyd)
19. Rockin' The Boogie (Rick Wakeman and The Rhythm and Blues Orchestra)
20. Worst Man In London (Nitin Sawhney, Anna Phoebe and London Contemporary Voices)
21. The Piano (Ruby Turner, Nan's pianola)*
*Written by Jools Holland