David Gilmour Publicity Photo Prints
Ross Halfin has made available for purchase 26 beautiful mainly black and white photos of David Gilmour as part of his On An Island publicity push.
The photos were taken on David's Astoria Recording Studio which is a boathouse moored on the Thames. It recently featured in the BBC 2 comedy Three Men In A Boat.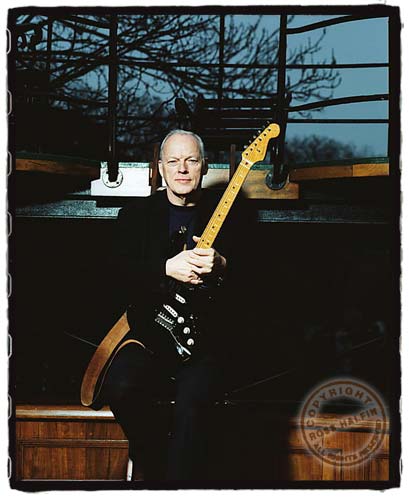 Photo used with permission. Copyright Ross Halfin 2006. All rights reserved.
Prints are available in 3 sizes: 20″ x 16″, 16″ x 12″, and 12″ x 10″. Black and white and lith prints are printed on fibre-based paper to archival standards; colour prints are printed on Fuji Crystal Archive paper. All prints are individually hand printed only when you order, and Ross personally checks and signs all prints prior to despatch. Please note, sizes are in inches, not in centimetres.
You can order here.
Ross' website features an online diary/blog in which he had the following to say on 2nd February 2006:
"Today I am shooting outdoors. It is of course FREEZING… My subject is David Gilmour of Pink Floyd, or Diamond Dave to his friends. I'm not expecting this to go well. His PR had expressed (in a Felicity Kendall voice) no interest whatsoever in what I was trying to do. When I voiced concern about the time limit set by them, all I got was 'HAVEN'T YOU HEARD OF RE-TOUCHING?' So I was not looking forward to this. Well, Diamond Dave turned up on time. He was the politest and nicest musician I've dealt with since Rory Gallagher, I was shocked. I was shooting on his boathouse which is his studio floating on the Thames. It was a pleasure to work with him."
If anybody wants to buy me a print, then please do!!!
Source: [ Ross Halfin and Brain Damage ]