David Gilmour "Mermaid" Concert re-broadcast by BBC
Links – David Gilmour's New Official Website | BBC Radio 2 photo and interview from 2006 | free NPF Newsletter | David Gilmour Concert Photos from On An Island Tour
---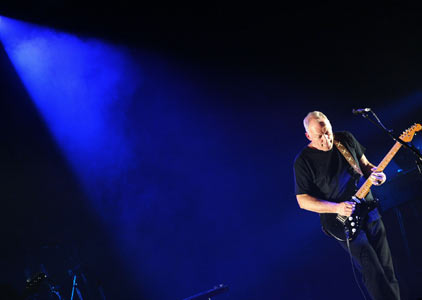 BBC Radio 2 plan to repeat three concert broadcasts in the run up to February's BRIT Awards, celebrating notable British songwriters and performers. David's show from London's Mermaid Theatre was first broadcast in March 2006 and would be one of those repeated.
Transmission date is likely to be Saturday 30th January or Saturday 6th February. We don't have transmission times, but will update this story when the BBC provides more detail.
The show was the first public performance by the On An Island band and was a great experience for those lucky enough to attend; songs included Castellorizon, On An Island, Take A Breath, Wearing The Inside Out, Shine On You Crazy Diamond, and Comfortably Numb.
More for you..

For latest Pink Floyd and related news please subscribe to the free NPF Newsletter.
Also, you may want to browse through the hundreds of photos from David's On An Island tour in the NPF Photo Gallery.
Source [ DG.com ]