David Gilmour Joins Roger Waters On Stage at London O2
Links – Be sure to follow us on Facebook, Twitter and get our free Newsletter to remain informed of news! | "Why Pink Floyd…" Release Schedule | Photos – 2011-05-12 Roger Waters London O2 with David Gilmour and Nick Mason | Roger Waters London O2 Pictures (11th May 2011) | Pictures from The Wall 1980s | Videos – Official profesionally shot video of Comfortably Numb | Video of Roger Waters, David Gilmour and Nick Mason at London O2 – 12 May 2011 | Audio – Listen To Behind The Scenes Story of Reunion Performance of Gilmour, Waters and Mason

//Discuss – Share your thoughts on the forum
---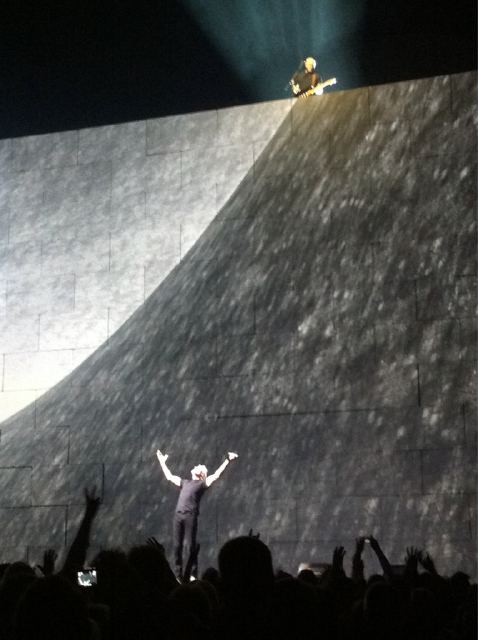 David Gilmour and Roger Waters London O2 12th May 2011. (P Samson)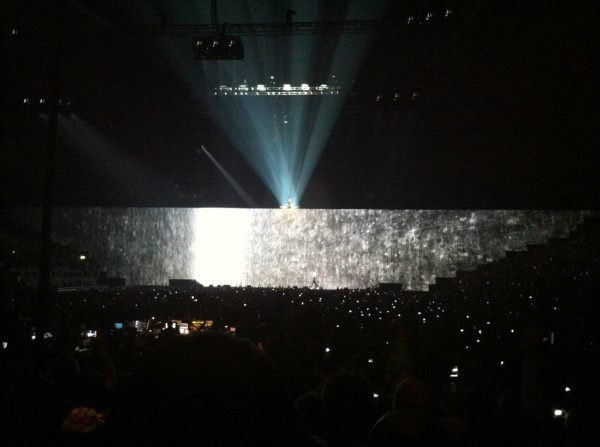 David Gilmour and Roger Waters London O2 12th May 2011 (Kavehpd)
David Gilmour joined old band mate Roger Waters on stage tonight at London's O2 Arena to perform in Roger Waters' epic tour of The Wall!
David played lead guitar on Comfortably Numb using his black Fender Stratocaster guitar and also brought his mandolin out at the end of the show for the final song, Outside the Wall.
The concert, which is being filmed, was also attended by Pink Floyd drummer Nick Mason. He joined Roger and David on stage at the end during Outside The Wall playing tambourine!
Kipp Lennon, one of the backing singers from the band Venice, gave a first hand account of the relationship between Waters and Gilmour backstage and his thoughts about the experience. Listen to that here.
Back to the Start

The concept album was originally toured by Pink Floyd in 1980 and 1981 in only 4 cities due to the colossal size of the production! The show made the band a financial loss due to the expense of staging it.
Using modern technology Roger has been able to tour the show around many more cities during his 2010 and 2011 tour of his masterpiece delighting fans the world over. Roger has been able to use modern technology to greatly enhance the show and is possibly the grandest show in the history of music!
Defining Moments of 1980s Wall
One of the defining moments of the original Wall tour by Pink Floyd was the appearance of David Gilmour on top of the wall which spanned across the entire arena performing his most famous Comfortably Numb solo. It is therefore rather nostalgic and moving that he joined Roger on the 2011 tour of The Wall performing his masterpiece once again, much to the enjoyment of the fans. (View pictures from The Wall 1980s)
Pink Floyd famously reunited at the Live 8 concert in Hyde Park, London on 2nd July 2005 to an audience of many millions around the world showing that it was possible for Roger to work with David again. The line-up included all members of Pink Floyd and was a great night for the band, fans and a great night for the Live 8 cause.
Pink Floyd Reunion?
It is excellent news that the frosty relationship between Roger and David is thawing after their creative differences drifted Roger away from the band which culminated in Roger disbanding Pink Floyd after The Final Cut album in the 1980s. But this does not mean there will be a Pink Floyd reunion any time soon.
In an interview with Rolling Stone magazine this week, Pink Floyd drummer Nick Mason was asked if there was any chance of the three remaining members of Pink Floyd getting back together. Nick replied, "There are absolutely no plans. But Live 8 was fantastic. We did something for other people, but we also proved that we could all work together again. I'm really pleased that my children saw that. I would have thought that could be regenerated at some time. So I live in hope – but that's no reason to put it out on Twitter that 'Nick Says Band to Re-form!'"
Why Did David Gilmour Agree To Play?
Roger asked David to play back in the summer of 2010 as a condition of Roger playing at a fundraiser David Gilmour was performing at in aid of the Hoping Foundation. David wanted Roger to play Wish You Were Here and Comfortably Numb. However, he also wanted Roger to perform To Know Him Is to Love Him.
Roger had his reservations saying in a Facebook post saying, "[David Gilmour] with his superior vocal skills, could sing either part standing on his head, whilst I would have to search for a different key and then struggle through hours and hours of routining a performance that lay way outside my vocal comfort zone."
Roger went on to say, "Some weeks passed with David cajoling me from time to time, telling me how easy it would be, but I clung resolutely to my fear of failure until one day he made one final entreaty. I quote "If you do 'To Know Him Is to Love Him' for The Hoping Foundation Gig, I'll come and do 'C. Numb' on one of your Wall shows". Well! You could have knocked me down with a feather. How fucking cool! I was blown away. How could I refuse such an offer? I couldn't, there was no way. Generosity trumped fear. And so explaining that I would probably be shite, but if he didn't mind I didn't, I agreed and the rest is history. We did it, and it was fucking great. End of story. Or possibly beginning."
What Next for Pink Floyd?
As you no doubt have heard, Pink Floyd's entire recording history is being re-mastered and re-released in a mammoth release schedule under the name "Why Pink Floyd…" Nick Mason offered some insight into the reason behind the release in saying, "I really think that this could be the last chance for really nice packaging – boxes, books, the whole thing," Mason said. "We've tried to give everyone all the various alternatives. There is Dark Side as it was recorded on vinyl, but there is also the ultimate, high-end stereo version. And there's also live performances. So now, even if we all just download from here on out, they will at least be there as a document of how it used to work. And I do think there will be people who will still be interested and who will want that."
Want Latest Pink Floyd News?
Be sure to follow us on Facebook, Twitter and get our free Newsletter to remain informed of news! |
More to See, More To Do!

Source [ DG Blog, Twitter, My Memory ]