David Gilmour Signature on G8 Letter – ActionAid
Links – PDF of the letter | Discuss the letter on the forum
---
Nearly 60 leading actors, artists, poets, broadcasters, novelists, directors, playwrights and commentators have joined anti poverty charity ActionAid to send an open letter to world leaders on the eve of the G8 summit.
Names include political philosopher Noam Chomsky and actors Emma Thompson and Kevin Spacey.
The letter demands that G8 leaders create a new, fairer financial system and deliver on their promise to find billions to help recession-hit poor countries.
ActionAid's UK Director, Richard Miller said: "The global economic crisis was created by rich countries but is now driving people in poor countries further into poverty and hunger.
"It's time to reset the world's moral compass. G8 leaders must find £14 billion by 2012 to help save the 25,000 people who die of hunger every day.
As part of ActionAid's commitment to fighting the poverty caused by the global economic collapse, the letter also launches the agency's financial crisis appeal which aims to raise £54 million over three years.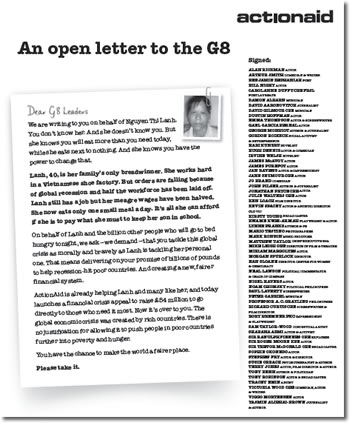 The 59 high profile signatories in full: ALAN RICKMAN actor, ARTHUR SMITH comedian and writer, BENJAMIN ZEPHANIAH poet, BILL NIGHY actor, CAROL ANNE DUFFY CBE FRSL poet laureate, DAMON ALBARN musician, DAVID AARONOVITCH journalist, DAVID GILMOUR CBE musician, DUSTIN HOFFMAN actor, EMMA THOMPSON actor and screenwriter, GAEL GARCIA BERNAL actor, GEORGE MONBIOT author and journalist, GORDON RODDICK social activist and entrepreneur, HARI KUNZRU novelist, HUGH DENNIS, actor and comedian, IRVINE WELSH novelist, JAMES McAVOY actor, JAMES PUREFOY actor, JAN RAVENS actor and impressionist, JANE SEYMOUR OBE actor, JO BRAND comedian, JOHN PILGER author and journalist, JONATHAN PRYCE CBE actor, JULIE WALTERS CBE actor, KEN LOACH film director, KEVIN SPACEY actor and artistic director Old Vic, KIRSTY YOUNG broadcaster, KWAME KWEI-ARMAH playwright and actor, LYNNE FRANKS author and pr, MARIO TESTINO photographer, MARK RONSON music producer, MATTHEW TAYLOR chief executive RSA, MIKE LEIGH OBE director of film and theatre, MIRIAM MARGOLYES actor, MORGAN SPURLOCK film director, NAN SLOANE director centre for women and democracy, NEAL LAWSON political commentator and chair of compass, NIGEL HAVERS actor, PROFESSOR NOAM CHOMSKY political philosopher, PAUL LAVERTY screenwriter, PETER GABRIEL musician, PROFESSOR A. C. GRAYLING philosopher, RICHARD CURTIS CBE screenwriter and film director, RORY BREMNER FKC impressionist and playwright, SAM TAYLOR-WOOD conceptual artist, SHABANA AZMI actor and activist, SIR RANULPH FIENNES OBE explorer, SIR ROGER MOORE KBE actor, SIR TREVOR McDONALD OBE broadcaster, SOPHIE OKONEDO actor, STEPHEN FRY actor and novelist, SUSIE ORBACH psychotherapist and author, TERRY JONES actor, film director and author, TONY BENN author and politician, TONY ROBINSON actor and broadcaster, TRACEY EMIN artist, VICTORIA WOOD CBE comedian, actor and writer, VIGGO MORTENSEN actor, YASMIN ALIBHAI-BROWN journalist and author.
Source – [ ActionAid/Google News ]