David Gilmours Astoria Houseboat Studio Renovated
Links – Discuss on Forum | David Gilmour's News Page |
---
From David Gilmour's Website: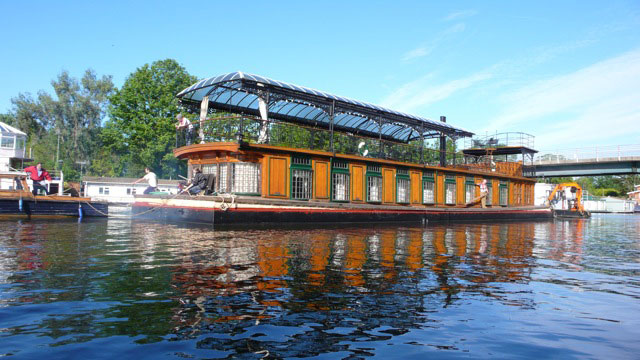 Our regular readers will know that David's houseboat studio Astoria is one of the best, and certainly the most beautiful, of London's private recording studios. Her hull was recently inspected and deemed in need of renovation, so she was moved to dry dock to have a complete steel hull replacement, which should mean she lasts another 30-40 years with no further major work.
After the new hull was successfully fitted, she was re-floated and towed back to her berth yesterday. The photo above was taken by Astoria studio boss Phil Taylor, and we have some more to view in Galleries.
The boat was built in 1911 for theatrical impresario Fred Karno, who wanted to have the best houseboat on the river, specifying that the deck should be able to accommodate an entire 90-piece orchestra. David bought Astoria in 1986 and has used it for recording and mixing Pink Floyd and solo projects.
Filmmaker Gavin Elder was in attendance throughout the hull replacement operations, so we hope to be able to bring you the moving story in moving pictures at some time in the future.