Delicate Sound Of Touring '87-'90 – A history of the Momentary Lapse Of Reason 1987-1990 Tour By Christian Bobocea
After Roger Waters left the band in 1985 there was a lot of tension between Pink Floyd (Nick Mason & David Gilmour) and Roger. According to the band, Roger was pressuring them to stop making any new material or tour without him. David didn't give an answer according to him and waited until the summer of 1986 when he contacted Nick Mason and said that he was ready to make another Pink Flloyd Record.
During the recording of the album, Roger tried to stop the band, he didn't succeed and A Momentery Lapse Of Reason was realesed in 1987 and hit #3 in the Billboard Charts.
After that Pink Floyd kicked off in what was ment to be a short tour. Uncertien if the tickets would sell only a few dates where put in for sale on a few veneues. And… the tickets sold very fast ,every concert was sold-out. The Pinkmania has begun.
The first concert of the tour was in Landsdown Park, Ottawa, Ontario, Canada in September 9th . Where they have played a short set of songs (compared to the other shows witch had the entire Momenary Lapse Of Reason album and a set-list of 22-23 songs) . The tour spred throught all of Canada and the United States ending in December 10th. The first year was a big success the concerts where played in stadiums and large arenas. Wherever they went, whenever they announced shows the tickets where all selling in a short period of time. The local radio stations were putting on air mostly only Pink Floyd songs like the new record and classics like Dark Side Of The Moon, Wish You Where Here and The Wall.
That year was wonderfull for them , in the mean time Roger Waters was putting his Radio KAOS show, realy nice concerts (note to NPF I will have an article about this one in another issiue) was only selling half an arena, playing concerts to 2.000-3.000 maximum while the Floyd where playing up to 70.000 people depeding on the venue. The entire Gerorgia, Atlana show was filmed using 23 Panavision cameras it was said that they wanted it to be shown on European Televisions for there upcoming tour, but for unknown reasons it was canceld. It is still available thought in "bootleg" forms in internet groups of trading groups as "Omnipresent".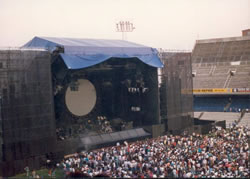 Pink Floyd's stage at Estadio Sarria Espanol FC, Barcelona, Spain on 20-08-1988
The second leg of the tour stared in New Zealand in January 22 1988 they played gigantic shows in Australia, Japan, USA, France, Netherlands, West Germany, Italy, Spain, Switzerland, Norway, Denmark and England. Most sold-out. In this tour all four concerts where filmed in Nassau Colosieum,New York,USA for the VHS Delicate Sound Of Thunder. It was a Picture Music International realase.
This tour also featured Pink Floyd in some clubs, yes clubs, in January Pink Floyd made an appearance in the Round Midnight Clubs in King's Cross, Sydney, Australia. In Feb. David and the tour mussicans played at the Corrner Hotel, Melbourne to some 200 people!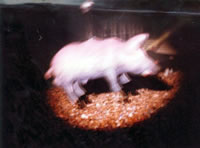 Big man pig man! Pink Floyd's pig in Spain on 20-08-1988!
Before the show in Holland the crowd were entertained by plains performing. They also played a wonderful concert in Place d'Armes du Chateau de Versailles, Versailles, France. Realy wonderful there where fireworks and beds crashing, the great pig floating on the Palace.It was filmed but only a small part was put in one in Omnipresent and the other in Delicate Sound Of Thunder both in Great Gig In The Sky.
In July 28 the entire crowd sang Happy Birthady to Keyboard player Richard Wright.
The last leg of the tour, started in May 12 1989 in Belgium, many great concerts.In this tour they had a few gigs in Moscow where they were paid with timber. It this part of the tour they played in Venice in the Grand Canal, 200.000 people watched as it was a free-concert, and it was shown live by satellite to an audience of 100 million. Despide the protest it was a great success and a nice way to end a tour.
Props & Technology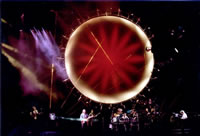 Pink Floyd stage in Verona, Italy on 17-05-1989
The props they used in this tour were very attractive like a large disco ball witch opens like a flower. Lasers and light effects. Flying hospital beds that crash in the stage, Telescan Pods and of course the well known 32-foot round screen (known by us fans as Mr.Screen) where they would project video footage.
The sound of the shows where fantastic because, in the Floyd tradition, they had quadraphonic sound. Witch is by far one of the best (if not thy best) examples of it's use in popular music.
Design of the show started in March 1987 with former roadie but now concert production director Robbie Williams, the set designer Paul Staples and old Pink Floyd desiner Mark Brickman helping to put the show together with the band. Mark Brickman also did stage design for Pink Floyd during the Animals and The Wall tours and has also worked on David's & Roger's solo concerts.
The lights came from 5 different sources:
-Samuelson's for the basic lights
-LunaTech Ltd. for explosives
-Varilite for the Telescans
-Laser Media for lasers
-Associates&Farren for film projection.
The first stage was built by FM Productions in San Francisco. They have put in four droids, witch are light robots that come up from under the stage, made by Colour Ray&Laser Media. So they had 85 Verilites (part of them surround the round projection screen (aka.Mr.Screen) while the others are the tracking pods , witch during Comfortably Numb come all around David Gilmour), 24 Telescans, the four droids and two colour and powerfull lasers.
The Sound in the venues was realy great, they had 130 audio channels, and two Otari 8 tracking machines. Of course in the Floyd Tradition all was quadraphonic sound so you can realy hear the sound effects. Imagine listening to On The Run there. Buffoard Jones was there to mix the sound after being live with David Bowie, Lynryd Skynryd, ZZ Top, James Taylor and others.
The film used in this tour was mostly the old ones shot in the 70's like On The Run, Welcome To The Machine and others. But the first half which was mostly Momentery Lapse Of Reason songs were shot in 1987. The filmwork was shot in Grantchester Medows.
THE MUSICIANS:
David Gilmour-Guitars, Vocals
Rick Wright-Keyboards, Hammond Organs, Vocals
Nick Mason-Drums,Percussion
With:
Jon Carin-Keyboards, Synthesizers, Vocals
Guy Pratt-Bass Guitars, Vocals
Tim Renwick-Guitars, Vocals
Scott Page-Saxophones, Guitars
Gary Wallis-Percussion, Keyboards on Comfortably Numb
SET LIST:
The usual set list for the shows was:
EchoesShine on you crazy diamond (pt.1-5)
Signs of life
Learning to fly
Yet another movie
Round and around
A new machine (pt.1)
Terminal frost
A new machine (pt.2)
Sorrow
The dogs of war
On the turning away
One of these days
Time
On the run
Wish you were here
Welcome to the machine
Us and them
Money
Another brick in the wall (pt.2)
Comfortably numb
One slip
Run like hell
In 1988 and 1989 they didn't do Echoes and sometimes some songs wheren't played at some gigs or the order would change.
——————————————————————————-
Christian Bobocea
[email protected]