Early Morning Henry featuring Pink Floyd Found – Listen Now!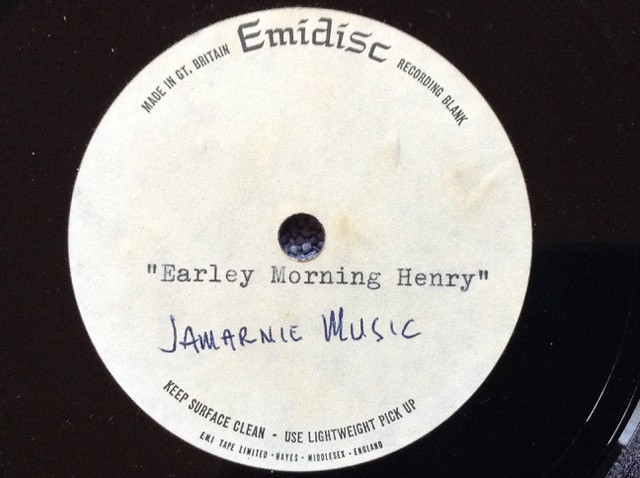 Pink Floyd collectors will be very excited to learn that a recording, thought lost forever, probably featuring Pink Floyd as a backing band, has been found after many years. It will be available for auction on 16th October in Wessex, England at 12pm BST.
The recording is Early Morning Henry, the auction house is Wessex Auction House, the songwriter/artist is William "Billy" Butler and the backing band was none other than Pink Floyd.
It was recorded on 23rd October 1967 at Abbey Road Studios. The recording sheet is below showing Pink Floyd were recording Set The Controls for the Heart of the Sun at the time.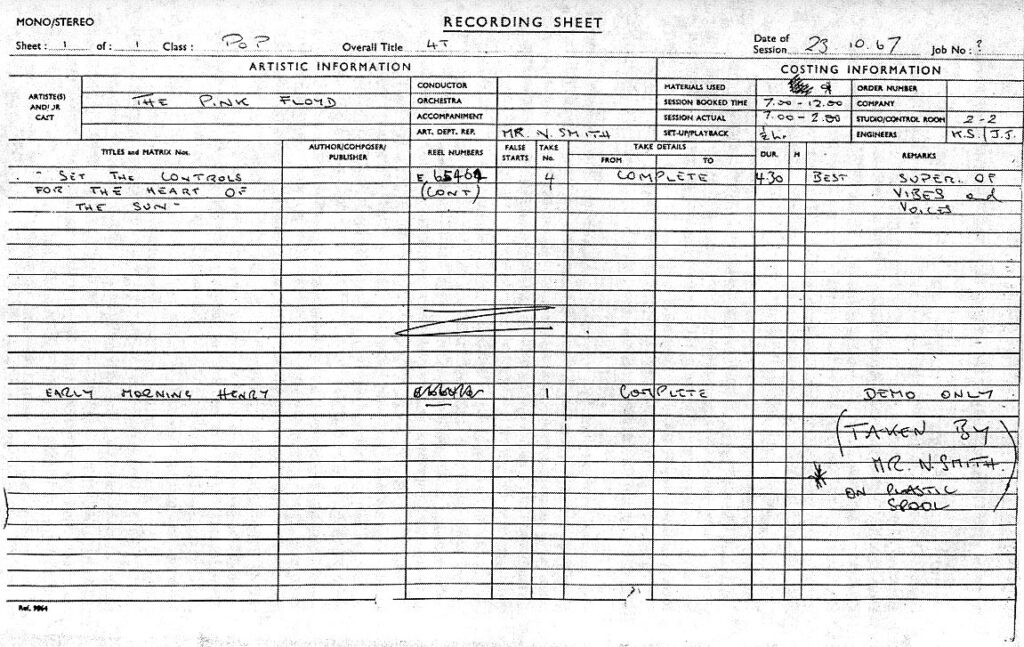 The recording was produced by Norman "Hurricane" Smith who was a former RAF Pilot, worked with the Beatles and Pink Floyd. After the recording session, it is noted in the recording sheet above that the recording went off with Norman never to be seen again until now.
Listen to Early Morning Henry featuring Pink Floyd
Listen to the recording below in a world exclusive!
https://www.youtube.com/watch?v=6EpA9H-HsS0
The man who bought the acetate as part of a huge cache of 500,000 items tells the story…
Myself and my partner bought one of the UK's biggest Music publishing company library 2 years ago, over 500,000 items, that included about 50,000+ unreleased Demo Acetates, most only had the track name, sometimes the publishing company name and if very lucky the writer's names and if even more lucky the artist's name.
I already had 2 Unreleased David Bowie Acetates from 1966 which sold at auction, about 40+ unreleased Elton John Acetates from 1968, about 30+ unreleased Jeff Lynne (Idle race) Acetates from around 1968- 1970, and many many more.
This Acetate took some time to unveil what it was, but when looking at the files I found this is a William "Billy" Butler written track.
"Earley Morning Henry" Appears
Well here it is for the first time, one of the holy grails for Pink Floyd collectors, this track was recorded in Abbey Road on the 23rd of October 1967 by Pink Floyd, but never heard before now, for years people were looking in vain to find this track and after 53 years here is the only remaining proof this track exist.
The story is that the producer on the day Norman "Hurricane" Smith took the master tape with him (see photo of original recording schedule for Abbey Road) on that day, now here is the reason, Norman "Hurricane" Smith managed William "Billy" Butler who was also in the studio at the same time and asked Pink Floyd as a favour to record this track, William wrote so that it can be used as a Demo.
William "Billy" Butler was in Abbey Road studios at the same time (he was also a sound engineer), so he sang on the track with Syd Barrett probably supplying harmony vocals and Pink Floyd playing, it was done in 1 take.
William "Billy" Butler sounds so much like David Bowie, it was thought to have been David Bowie singing on this track until recently, when the story unfolded.
William "Henry" Butler was also a member of the groups "Eternal Triangle" and "Gullivers People" and was signed to Jamarnie Music as a songwriter (from which library this Acetate copy came from). A unique piece of Pink Floyd history available for the first time and probably the last!
Auction Details
The auction takes place on 16th October at Wessex Auction Rooms. Details of the lots are here.
Read more on the back story to the song on the Holy Church of Iggy the Inuit website