For The Love of Vinyl Storm Thorgerson Book
Links – Picturebox Site (Publisher)
---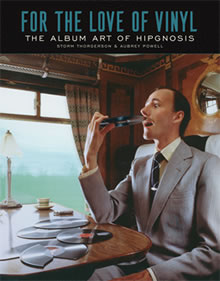 A new hardback book by Storm Thorgerson and Aubrey Powell, the men behind Hipgnosis and many of Pink Floyd's iconic album covers, is to be published on November 10th, 2008.  The book, called For the Love of Vinyl: The Album Art of Hipgnosis, is available just in time for Christmas!  It is 224 pages long, features content by Pink Floyd's drummer Nick Mason and you can save loads of money by buying through the links below!
Info from Publisher's Site
Hipgnosis was the biggest and best design firm for the biggest and best bands of the classic rock era. Formed by Storm Thorgerson and Aubrey Powell in 1968, Hipgnosis was a graphic design studio specializing in creative photography and working mainly in the music business designing album covers for many rock 'n' roll bands including Pink Floyd, Led Zeppelin, Genesis, 10cc, Yes, Peter Gabriel, Black Sabbath, Paul McCartney, Syd Barrett and Styx, among others.
For a dozen years Hipgnosis created timeless rock iconography. For the Love of Vinyl is the first book to document their output in detail, focusing on over 60 package designs – from cover to label – written about in entertaining detail by the men who created them.
Also included are short essays by musicians (such as Pink Floyd's Nick Mason), artists (Peter Blake) and fellow designers (Paula Scher) on their favorite covers, as well as unseen photographs and ephemera. Complementing it all is a lengthy critical and historical text examining Hipgnosis and its legacy.
For the Love of Vinyl will be THE rock book of 2008.