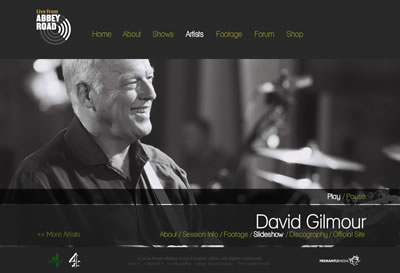 As previously reported, David Gilmour recorded a session at Abbey Road Studios in London on 29th August 2006 to be aired as part of a Channel 4 music documentary series called Live From Abbey Road.
I am now happy to report that David's programme will first be broadcast in the UK on Digital channel More 4 on Friday 2nd March 2007 at 11PM. It will then probably be aired on analogue/digital Channel 4 on Monday 5th March 2007 although this has yet to be 100% confirmed.
The songs David and his band recorded in the studio sessions were On An Island, Take A Breath, Smile, The Blue, Astonomy Domine and Echoes.
View Preview
Channel 4 have set up a website for you to learn more about the many artists involved, watch footage, view stills etc. You can visit that
here
. There is also an official forum
here
.
Not Got Digital?
If you are in the UK and have not yet got a digital TV receiver of some sort (Satellite, Cable or Freeview), then why not hurry along and get yourself upgraded so you can watch the broadcast on More4? Analogue TV will be turned off in the next few years so you might as well make the leap now!
If you don't want to pay a subscruption to Cable or Satellite, then you should get yourself a Freeview box which are pretty cheap! There is lots of info about Digital TV on the BBC here...
http://www.bbc.co.uk/digital/