Gilmour DVD Release Date Announced
Resources & Links
David Gilmour Website | Discuss on forum
---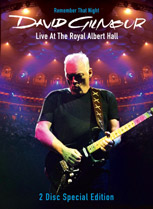 Click to enlarge
David Gilmour's forthcoming DVD of his On An Island tour called Remember That Night – Live At The Royal Albert Hall is to be released on 17th September 2007 in the UK.
According to the Features Editor on David Gilmour's site, the High Definition DVD will be in the form of two discs featuring concert footage on one and special features on the other.
The concert footage will be from the Royal Albert Hall recorded in May 2006. The extras DVD will have 3 documentaries amongst other things.

Please subscribe to the free NPF Newsletter to remain informed of further news. Your email address will not be shared with anyone and you can unsubscribe automatically when you wish.
Sources: [ http://www.davidgilmour.com ]