Gilmour's Arnold Layne Video on TOTP2
Resources & Links
Radio Times | TOTP2 | Discuss on forum | Download Video
---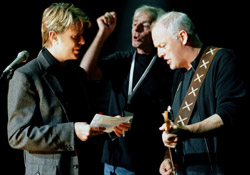 The BBC are to broadcast David Gilmour's Arnold Layne music video featuring David Bowie on Saturday 6th January 2007.
The video, recorded at the Royal Albert Hall in London for a forthcoming DVD, will be broadcast on the Top of the Pops 2 program on BBC 2. It will be broadcast between 5:05pm – 5:40pm.
According to the TV Listings guide Radio Times…
Music show mixing classic performances from the Top of the Pops archives with exclusive live performances. Steve Wright digs deep into the vault and comes up with class stuff from AC/DC, The Mobiles, Lonestar, Sister Sledge, R Kelly, and Tina Charles. Plus madness from Chris Tarrant and the Four Bucketeers, and new performances from Muse, and David Gilmour with David Bowie.

The video Plus+ number is 9322051 should you want to record it on such a device. I, myself, will record it to DVD!
If you can not wait for the broadcast to see the video and have not seen it already, you may want to visit this page to download it!
Sources: [ Radio Times and Brain Damage ]