Great new historical Pink Floyd and Genesis set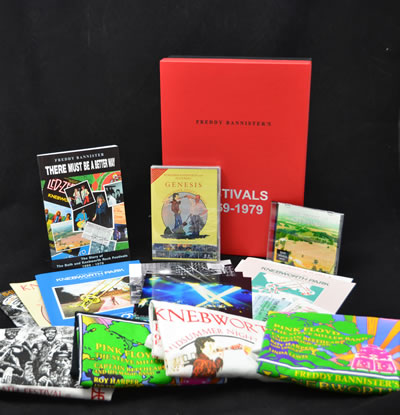 After completely selling out of the second edition of the Bath and Knebworth Pink Floyd commemorative set in less than 12 weeks, www.rockmusicmemorabilia.com realised they had underestimated the demand for these sets.
There was also a great deal of interest in the 1978 Knebworth Genesis commemorative set by visitors to Neptune Pink Floyd, so Henrietta Bannister, the daughter of the promoter Freddy Bannister, decided to produce a combined Pink Floyd/Genesis Bath and Knebworth commemorative set, with an amazing discount of £44.99.
The set and full details can be viewed here.
Set Contents
1970 Bath festival programme, ticket & flyer

1975 Knebworth festival programme, ticket and flyer

1978 Knebworth festival programme ticket and flyer

330 page book with 85 illustrations all about the backstage hassles promoting the festivals.

10 8ins x 6ins photographs of the two Knebworth festivals

4 flyers from the Pink Floyd's appearances in the 60s at gigs promoted by Freddy Bannister

Choice of two T shirts from the1970 Bath,1975 Knebworth and 1978 Genesis festivals

Plus as a gift 2 DVDs and a CD and, until Feb 25th, as a special bonus, with every purchase from the site, a very rare DVD of 100 pictures of Led Zeppelin at the Knebworth 1979 festival and an interview with Robert Plant the day after the festival.

Please Note: The DVDs and CD are not sold separately.

All contained in a deluxe handmade presentation box

Plus in a separate cardboard tube 3 full size 20ins x 30ins posters from the 1970 Bath and 1975 Knebworth festivals.

Produced in a limited edition of 250.

The entire boxed set is just £54.99