Guy Pratt in Australia for Breakfast of Idiots Comedy Tour
Links – Discuss on NPF Forum | Spoken Word Website (Promoter) |
---
Pink Floyd's bass player Guy Pratt is set to embark on his 18 date tour of Australia commencing tomorrow (10th July 2009). Progressing on from his My Bass and Other Animals comedy tour, he has added much more material to his performance which goes under the title "Breakfast of Idiots". You can see the tour dates below with links to purchase tickets which is presented by Spoken Word Australia.
Speaking to NPF: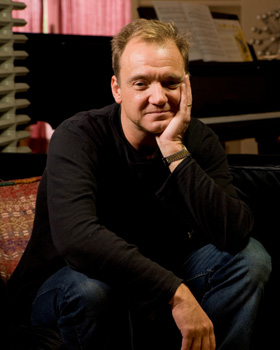 NPF: What can the audience expect from your Australian tour of "Breakfast of Idiots"? How does it compare to My Bass and Other Animals?
Guy: It's not such a drawn out autobiographical thing, I've dropped a few bits that I'm bored with and added a load of new stories.
NPF: Any good gossip in the new show??
Guy: Of course! There's actually a bit of a killer revelation about one of the stories in my book..
NPF: Are there any plans/aspirations to take the tour to other parts of the world?
Guy: I'd love to go to the States, but haven't had any interest from there, which I must say I find odd..Anyone reading…
About the show, about the man…
Spoken Word Australia is all about the stories…the stories of those people who stick in our memories for all the right – and wrong – reasons, but who continue to entertain us in a myriad of ways…
…and we're all curious about what famous people have to say, especially when they're dishing the dirt on someone else who's famous too. There's that sense of knowing a secret that gets us all in a lather and we can't wait to tell our mates all about it, even when we know we shouldn't…!
Join legendary bassist Guy Pratt on a hilarious journey from teenage bedroom to stadium, armed only with his Bass Guitar. BREAKFAST OF IDIOTS is the second instalment in Guy's life journey, coming hot on the heels of his smash show & book of the same name My Bass & Other Animals.
Breakfast of Idiots tells more hilarious stories of his fascinating 28-year career as a professional bass player, which started at the tender age of 19 with the legendary Aussie band Icehouse.
The bass player of choice for many of the worlds' finest & most well-loved musicians, Guy joined the premier league of bassists when David Gilmour asked him to play with Pink Floyd.
Since then he has gone on to work with some of the world's musical superstars – he's performed with Jimmy Page in Japan, Roxy Music at LIVE8 in Berlin, John Lord in Brazil and toured with David Gilmour on his On An Island tour.
His list of recording projects include releases by Madonna, Michael Jackson, Womack & Womack, David Coverdale, The Pretenders, Jimmy Page, Tina Turner, Sophie Ellis Bexter, Elton John, Natalie Imbruglia and many, many more.
He's been nominated twice for the UK's highest musical accolade for song-writing, The Ivor Novello Award; written film, theatre, TV & documentary scores and produced recordings for artists as diverse as Jimmy Nail, Marianne Faithfull, The Orb & Debbie Harry.
Finally emerging from the shadows, Guy has decided to step into the spotlight without the security of a band and gives us a captivating insight into the music industry at the highest levels. His first one-man show, My Bass & Other Animals, saw him receive rave reviews at the 2005 Edinburgh Fringe.
'Pratt is pretty bloody hilarious.' – The Irish Times
'A backstage pass for those of us who didn't make it to the gig' – TATLER
'A fascinating, unselfconscious romp' – The Drum Media
Billy Hyde Music Stores Visit – A Favour For the Support of Ashdown Music

In addition to the comedy, Guy is, of course, a bass player and a very fine one at that! He has receoved lots of support from Ashdown music. As a thank you to them, he has agreed to pay a visit to some Billy Hyde Music stores whilst in Australia. Guy told NPF…
"I'd like to make it clear that I agreed to do the Billy Hyde in store appearances as a thank you to Musiclink and more particularly Ashdown who have as usual been brilliant in sorting equipment for me.
I never approved that poster and have asked for it to be changed as whilst it's fair to say I played for Pink Floyd, I would only approve the name being used in amongst other artists, as just saying Floyd implies that I'm actually a member, which of course I would never do.
As you know, the whole point of my show and book is that it's the memoir of a sideman."
The Breakfast of Idiots Tour Dates and Tickets
| | | | |
| --- | --- | --- | --- |
| VICTORIA: | | | |
| Fri July 10 | Ballarat | Her Majesty's Theatre | TICKETS |
| Sat July 11 | Bendigo | Capital Theatre | Cancelled |
| Tue July 14 | Melbourne | The Corner Hotel | TICKETS |
| | | | |
| SOUTH AUSTRALIA: | | | |
| Wed July 15 | Adelaide | The Governor Hindmarsh Hotel | TICKETS |
| | | | |
| WESTERN AUSTRALIA: | | | |
| Fri July 17 | Bunbury | Regional Entertainment Centre | TICKETS |
| Sat July 18 | Albany | Albany Town Hall | TICKETS |
| Sun July 19 | Perth | Burswood Casino, Grand Ballroom | TICKETS |
| | | | |
| NSW/ACT: | | | |
| Tue July 21 | Wodonga | Wodonga Civic Centre | TICKETS |
| Wed July 22 | Wagga Wagga | Civic Theatre | TICKETS |
| Thu July 23 | Canberra | Playhouse Theatre | TICKETS |
| Fri July 24 | Wollongong | Merrigong Theatre | TICKETS |
| Sat July 25 | Sydney | The Factory | TICKETS |
| Sun July 26 | Sydney | The Factory | TICKETS |
| | | | |
| QUEENSLAND: | | | |
| Tue July 28 | Southport | Paradise Showroom | TICKETS |
| Wed July 29 | Maroochydore | Lake Kawana Theatre | TICKETS |
| Thu July 30 | Toowoomba | Empire Theatre | TICKETS |
| Fri July 31 | Brisbane | Sit Down Comedy Club | TICKETS |
| Sat Aug 01 | Brisbane | Sit Down Comedy Club | TICKETS |
| Sun Aug 02 | Byron Bay | Byron Bay Community Centre | TICKETS |
Source – [ Guy Pratt ]