Guy Pratt in Ireland with My Bass and Other Animals Comedy Show
Links – Ticketmaster |
---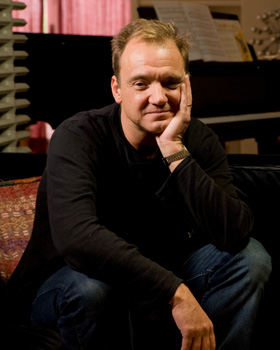 Guy Pratt is doing his My Bass and Other Animals comedy show in Dublin on Saturday 12th September as part of the Bulmers Comedy Festival. Guy has just finished his Australian tour of his Breakfast of Idiots so he should be sufficiently "warmed up", if not least due to the Australian weather, to put on an excellent show!
You can get tickets from the Ticketmaster. Tickets cost €28 including booking fee.
There are currently 108 comedians performing as part of the event.
About Guy and The Show

Join legendary Bassist Guy Pratt on a hilarious journey from teenage bedroom to stadium, armed only with his Bass Guitar. 'My Bass & Other Animals' tells the story of his fascinating 20 year career as a professional bass player, which started with the Australian band Icehouse. Since then he has gone on to work with some of the world's top performers including Pink Floyd, Madonna, Elton John and Michael Jackson. He performed with Roxy Music at LIVE8 in Berlin and recently toured with David Gilmour on his On An Island tour.
Guy's book, titled My Bass and Other Animals, (Orion Publishing) which chronicles his life as a rock and roll bassist was released in paperback in March). Littered with supreme first hand backstage knowledge of all our favourite rock legends, as well as a valuable insight in to how to get started in the hedonistic business of Rock and Roll, and the rocky road to success, My Bass and Other Animals is a hilarious, revealing, and awe inspiring read.
More recently he was snapped up by top radio station Planet Rock to present their late night Friday show, so popular was he on that, that he has now been moved to a primetime Sunday Show.
Source [ Brain Damage and Magners Bulmers ]