Watch Guy Pratt Interview on Australian TV Website
Links – Watch Interview | Guy Pratt Official Website |  Discuss on NPF Forum
---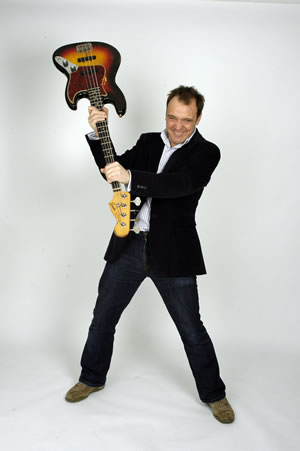 Pink Floyd's bass player Guy Pratt was interviewd on Australian TV channel, Ten.  The interview was to promote two of his My Bass and Other Animals shows that he was doing in Australia.
Watch/Download


Watch the interview online here.
Download it here (.avi 90.5 MB)
Revealing and Amusing!
The interview is very amusing and Guy is, well, a funny Guy!  He tells several amusing stories about some of the celebrities he has worked with including an unusual way of working with Michael Jackson!
In a rather tongue-in-cheek moment, Guy said that David Gilmour played most of the bass on Pink Floyd's recorded albums. He has since been in touch with NPF to clarify that David did NOT play bass on most of Pink Floyd's studio albums, just some of the bass. An example being the frettless bass work on The Wall.  Guy said "the comment was meant to be light hearted and frivolous". 
"Before I get in a whole heap of trouble, could I just point out that I didn't say David played most of the Bass, I merely meant he played some, such as the fretless work on The Wall, the comment was meant to be light hearted and frivolous, and should be taken as such. I did give Roger his full due as lyricist and conceptualist so was hardly trying to belittle him, which your comment could lead some to presume. The way you've posted it makes it sound more serious than it is." – Guy Pratt.
Discuss The Interview!

Discuss this topic on this NPF Forum thread to share your views on the interview.
Source – [ Ten, Guy Pratt ]