Have A Cigar: Pink Floyd Booking Agent & Early Manager Memoirs
The memoirs of the late Bryan Morrison are published in September 2019 in a book which should be very interesting reading for fans of Pink Floyd and other bands.
The Bryan Morrison Agency was a booking agency who arranged Pink Floyd's early gigs and Bryan would go on to look after the management of Syd Barrett's business interests. Bryan got Pink Floyd introduced to EMI who signed them. The rest is history.
Order from Amazon.co.uk or Amazon.com for International orders
When the music impresario Bryan Morrison died aged 66 in 2008, after two years in a coma following a polo accident, he left behind his unpublished memoir. As a music publisher, manager and agent, Morrison had represented the Pretty Things, Pink Floyd, T. Rex, The Jam, Wham! and many others. He was also the founder and owner of the Royal County of Berkshire Polo Club.
In this candid and outspoken book, Morrison reveals the true stories behind why Syd Barrett of Pink Floyd once bit his finger to the bone, the Pretty Things were banned for life from New Zealand, and he became involved with the Kray Twins. He also tells how The Jam kissed goodbye to success in the USA, he received death threats when Robin Gibb left the Bee Gees, and he persuaded George Michael to sign a publishing deal for Wham!
Spanning the golden age of British rock 'n' roll from the 60s to the 90s, this is the extraordinary story of a cigar-chomping, East End entrepreneur, with a passion for art and design, fashion, music and polo.
Don't miss the news, get our Pink Floyd Newsletter
Discuss on the Forum
About Bryan Morrison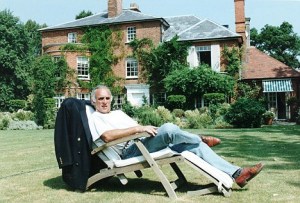 Bryan Morrison was born in 1942 in Hackney, in the East End of London, the son of an accountant. He studied art and design at St Martin's and the Central School of Art in the early 1960s before leaving to manage R&B group the Pretty Things. Within five years, the Bryan Morrison Agency grew to be one of the leading pop music agents in London, booking clubs, concerts and tours. Morrison also became the manager of Pink Floyd and through his publishing company he would later represent Marc Bolan of T. Rex, Robin Gibb of the Bee Gees, Paul Weller of the Jam, George Michael and many others.
As well as his music business interests, in 1965 Morrison was the co-founder with Rodney Kinsman of the furniture designers OMK and later they opened the Kinsman Morrison Gallery in Mayfair, London, which specialised in modern art prints. He also managed and invested in the young fashion designer Bill Gibb, opening shops in London, New York and Athens, and staging a pioneering fashion show at the Royal Albert Hall, before the company was declared insolvent because of its debts.
In the early 1970s, Morrison took up polo, becoming an accomplished player and one of the few amateurs with a three-goal handicap. He joined the Guards Polo Club, where he was mentored by the Duchess of York's father, Major Ronald Ferguson. Then in 1985 he opened the Royal County of Berkshire Polo Club, whose members have included Prince Charles and his sons William and Harry, and he is credited with making polo into a fashionable sport.
In 2006 Bryan Morrison suffered a serious polo accident after falling from his pony, which caused severe brain injuries and left him in a coma, and he died in 2008.
Order from Amazon.co.uk or Amazon.com for International orders
Don't miss the news, get our Pink Floyd Newsletter
Read More