HERMESensemble Are At It Again!
Resources & Links
Further Information | Tickets
---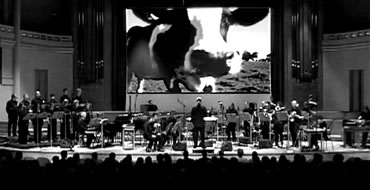 HERMESensemble performing Atom Heart Mother 2004
Re-live Atom Heart Mother and A Saucerful of Secrets live in Belgium!
If you missed it in 2004, then this may be your next chance to experience the Belgian HERMESensemble's performance of Atom Heart Mother and A Saucerful of Secrets. The two pieces will again be performed by a full orchestra and choir, joined by sampling artist Gert Keunen and New York based video artist Kurt Ralske.
The 2004 performance was a much lauded one by many hardcore Pink Floyd fans, so don't miss this opportunity… By the way: Alan's Psychedlic Breakfast will be done live, with eggs and bacon! And to make it complete, the venue is an amphitheatre, so Pompeï's never far away…
HERMESensemble plays Rediscovery of Insanity (The Pink Floyd Project) Openluchttheater Deurne (Antwerp, Belgium) on August 27 2006 at 9pm.
Further Information | Tickets
Sources: [David for HermesEnsemble ]