In Support of Gary McKinnon: Download Chicago Song with David Gilmour Contribution
Links – | Daily Mail Article | David Gilmour Site Article | Discuss on NPF Forum | Get NPF Newsletter |
Important Websites: Monies donated will go to support ARC (Autism Research Centre) and NAS (National Autistic Society) so please make a generous donation if downloading the song.
Downloads – Front Cover HiRes – Insert HiRes – Download MP3

---
David Gilmour of Pink Floyd has contributed to a song called Chicago/Change the World in support of Gary McKinnon, who faces 6 charges for hacking 97 Pentagon and NASA computer systems.
The song, by Graham Nash and originally recorded by Crosby, Stills, Nash & Young, has been treated to new lyrics by Gary's mother, Janis Sharp, which Graham has generously approved. The song is addressed to US President Barack Obama, and highlights Gary's perilous legal position as he continues his seven-year fight against deportation, which, under the terms of the treaty, does not require the US to produce any proof of wrongdoing; however, the agreement is not reciprocal and the treaty, originally put in place by then-Home Secretary David Blunkett, has been much criticised for the way in which UK citizens only are exposed to deportation without a domestic judicial process. Nick Mason and Guy Pratt were not involved.
According to Chrissie Hynde, "Gary McKinnon is clearly not a terrorist, and the US is in danger of using a sledgehammer treaty to crush him like a nut. The US doesn't allow its own Nationals to be tried abroad, so let Gary be free to face the music in his own country".
David Gilmour played Keyboards, Bass and electric guitar. He also sang a verse. Chrissie Hynde is the main vocalist.

Download Chicago MP3 and Lyrics feat. David Gilmour

You can download Chicago featuring David Gilmour for as little as 1p here.
You can also download the artwork Front Cover HiRes and Insert HiRes.

You can read the lyrics to Chicago here.

Music Video and Second Version Coming

According to Gary's mum, Janis, "Another version of this track will be released in a few weeks by a different producer and with different artists. Video is in the process of being filmed."
The Accused
Gary McKinnon has admitted hacking into many computer systems belonging to the United States military and NASA shortly after the September 11th attack by Al Qaeda. He faces extradition to the USA to face trial for the crimes. The maximum sentence on each of the six charges is ten years. But Gary, from North London, could be prosecuted in the UK, where his crimes were committed and sentenced to a maximum five years in jail under the Computer Misuse Act.
Gary claims he was looking for evidence of the existence of Unidentified Flying Objects (UFOs), the existence of "little green men" and exposing the serious flaws in the US Military's IT systems. Essentially, they are too easy to hack in to and many people are doing it often.
Liberal Democrat spokesman Chris Huhne said: 'Ministers are sitting on their hands as taxpayers foot the huge bill for court fees.
'If Gary McKinnon were to be tried in the UK the money would be well spent as our justice system would take into account the full circumstances of the case and would have a proper perspective on the crime of which he is accused.'
The Objections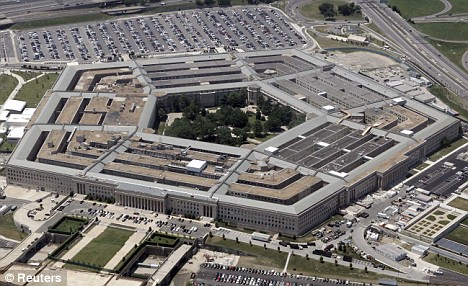 The main complaint over the UK's extradition treaty with the U.S. is that it allows British citizens to be seized on little or no evidence while the criteria for extraditing Americans are far more exacting.
In a letter to the Mail, Security Minister Lord West denied that the extradition treaty with the U.S. is 'lopsided'.
He said: 'Extradition is a key crime-fighting measure in our increasingly globalised world; introducing further bars to extradition from the UK would be a step backwards.'
The Home Secretary has been warned by his own adviser on terror laws not to allow the extradition of autistic computer hacker Gary McKinnon.
In a blistering letter, Lord Carlile tells Alan Johnson that placing Gary at the mercy of the U.S. courts would be 'disproportionate, unnecessary and unconscionable'.
The Home Office has so far refused to intervene, saying it has the power to halt extradition in only very limited circumstances – and the courts have said these are not met in Gary's case.
But Lord Carlile, a respected QC, believes this claim is 'wholly wrong in law and should not be used as justification for the flawed Home Office decision to extradite this unfortunate British citizen'.
Consequences of Conviction
If convicted, McKinnon could face the rest of his life in prison. Given the United States treatment of foreign prisoners at Guantanamo Bay, Extraordinary Renditions, Torturing and the fact that Gary McKinnon has Aspergers Syndrome, there is a keen desire in the UK that Gary is tried before a jury in England, sentenced and imprisoned here.
Gary has the support of many people including and not limited to the following:
Trudie Styler – Actress, Producer and wife of Musician Sting

Sting (Gordon Sumner CBE) – Musician

David Gilmour CBE – Pink Floyd Musician

Julie Christie – Actress

Peter Gabriel – Musician

Keith Duffy – Singer and Actor

Emma Noble – Model and TV Presenter

Rt. .Hon. David Cameron MP – Conservative Leader

Rt. Hon. Nick Clegg MP – Liberal Democrat Leader

Rt. Hon. Charles Kennedy MP – former Liberal Democrat Leader

Rt. .Hon. Sir Menzies Campbell CBE QC MP – former Liberal Democrat Leader

Rt. Hon. David Blunkett MP – former Labour Home Secretary

Boris Johnson – Conservative Mayor of London

Kate Hoey – Labour MP

Rt. Hon. Tony Benn – former Labour MP and Minister

Terry Waite CBE – Human Rights Campaigner

Shami Chakrabarti – Director of Liberty Human Rights
Source – [Janis Sharp, Daily Mail, PF/DG Management]