Live in Gdansk Up For Best Live Album 2009 in MPG Awards
Links – Discuss on Forum | MPG Awards website |
---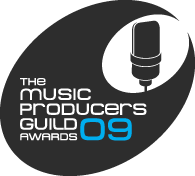 David Gilmour
's
Live in Gdansk
album has been short-listed by the Music Producers Guild, the UK association of record producers, for their award of
Best Live Album 2009
.
It's up against Girls Aloud's 'Tangled Up' and Nephu Huzzband's 'Live in London' in the Best Live Album category.
The ceremony takes place at London's Café de Paris on 12 February 2009.
You can see all the categories, and who's been short-listed, over at the MPG Awards website.
Full Info from MPG Website

The Music Producers Guild announces its Awards Shortlist
7th January 2009. London, UK: The Music Producers Guild (UK) today announced the shortlist for its inaugural Awards ceremony, which takes place at London's Cafe de Paris on February 12th 2009.
Set to become an annual highlight on the music industry's calendar, the Music Producers Guild Awards aims to recognise the enormous contribution recording professionals make to the success of the UK's music industry.
As a result of a unique collaboration with the UK's recorded music industry trade association, The BPI, the winner of the Music Producers Guild's Producer of the Year Award will also receive the BRIT Award for Best Producer. Both awards will be presented at the Music Producers Guild's Awards ceremony, which will take place one week before The BRIT Awards 2009, to be held on Wednesday February 18th at London's Earls Court Arena and broadcast Live on ITV1.
After receiving nominations from audio industry for qualifying people in each category, the shortlist was drawn up by voting members of the Music Producers Guild. Those chosen will now be put before a final judging panel, with the winners being announced at the awards ceremony.
The shortlists for each category are as follows:
PRODUCER OF THE YEAR, sponsored by The BPI
Bernard Butler
Brian Eno
Steve Mac
RECORDING ENGINEER OF THE YEAR, sponsored by Prism Sound
Haydn Bendall
James Towler
Markus Dravs
BEST MIX ENGINEER, sponsored by Digidesign
Andy Bradfield
Cenzo Townsend
Tom Elmhirst
BEST MASTERING ENGINEER
John Davis
Ray Staff
Tim Young
BEST LIVE ALBUM, sponsored by Shure:
David Gilmour – Live In Gdansk
Girls Aloud – Tangled Up
Nephu Huzzband – Live In London
UK Album of the Year 08
Coldplay – Viva La Vida
Duffy – Rockferry
Elbow – Seldom Seen Kid
UK SINGLE OF THE YEAR 08
Duffy – Mercy
Elbow – One Day Like This
Radiohead – Nude
BEST RE-MIXER
Calvin Harris
Dan Turner
Gareth Jones
THE JOE MEEK AWARD FOR INNOVATION IN PRODUCTION
Brian Eno
Bjork
Mark Ronson
BEST NEWCOMER, sponsored by Deep Recording Studios
Dan Hulme
Paul Epworth
Steve Booker
BEST STUDIO, sponsored by TL Audio
Abbey Road
AIR Lyndhurst
British Grove Studios
BEST INTERNATIONAL PRODUCER OF THE YEAR,
sponsored by RAK Studios
Danger Mouse (AKA Brian Burton)
Mark Ronson
Robert John 'Mutt' Lange
Source – [ MPG Website & DG Website Blog ]