Masochistic Management: Why Withholding Archival Material Hurts Us And Them By Martin "Tenniru" Bonica
Masochistic Management: Why Withholding Archival Material Hurts Us And Them
By Martin "Tenniru" Bonica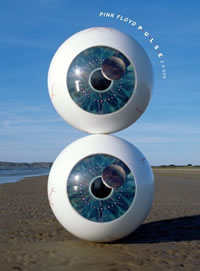 Pulse DVD: An explosive success despite the fact that it's been out for years
On July 10th and 11th 2006, a concert DVD credited to Pink Floyd known as "P*U*L*S*E" was released and immediately entered the worldwide DVD charts at #1. It gained enormous amounts of media attention, and was very well-received. The amount of fan satisfaction, sales, and positive reviews were on a level similar to that of a tour.
The shocker? P*U*L*S*E had been available on VHS and Laserdisc for eleven years. The original bassist and songwriter of half of the music had left a decade earlier and derided the post-departure incarnation of the band. It was supplemented by seven other musicians.
Simply reissuing something onto a new format gained huge amounts of satisfaction, respect, and money; and it was all aimed at the product, not the exhausted artists.
Much like the remasters, best-of set, and live album from the Wall tour before it, proof exists that anything with Pink Floyd's name can sell in huge amounts even if the band itself need not do any work.
The albums had been remastered, a definitive best-of set released, and everything but "Delicate Sound Of Thunder" (which hardly counts, as the writer of this article is among one of the only people who respects it) released on modern formats. The only way this broken-up band is capable of doing that kind of thing again is by resorting to the release of archival material.
It would satisfy fans crying for a reunion, gain huge amounts of money, and increase public image while not bringing large amounts of unwanted attention or requiring any work at all.
Despite how much of a good thing releasing past recordings would be, there are often reasons why it would be a bad idea. Not in this case. Here are the most common reasons artists keep unreleased material in the vaults.
There is none.
The quality is awful.
Nobody will like it.
Releasing it will interfere with (insert project here).
The artist hates it.
The unreleased work is still under construction.1. We have seen proof of high-quality material existing in the archives. During many promos and documentaries concerning The Wall, we have seen pristine and well-shot footage of the Earl's Court concerts in 1980 and 1981. During the Omnibus documentary on Syd Barrett, we have heard high-quality versions of the Lucy Leave/King Bee session in 1965 and a take of Vegetable Man for the BBC. On the Dark Side Of The Moon DVD, we have heard excerpts of proto-DSotM "Eclipse" concerts. David Gilmour has mentioned footage of 1977 concerts, and many bootlegs exist that appear to be fragments of larger, more complete recordings of shows (including a leaked video of Cymbaline being done for the first time at the Royal Albert Hall in 1969, for the first "The Man and The Journey" show). Additionally, Abbey Road Studios as a habit keeps all recorded work preserved; and studio logs prove the existance of full unreleased songs.

2. Abbey Road's tape storage and preservation techniques are near-perfect (same with the BBC), as the Beatles' "LOVE" remix album and Anthology proved. The footage of the Wall shows did, as recently as 2001, look and sound perfect. (Roger Waters himself has waffled between "too bad for release" and "hmm, maybe", and quality creating that kind of reaction can be doctored to presentability relative to even the most perfectionist standards). All of the material mentioned in point one also happens to sound wonderful.

Above: Divided We Fall VoIO – The battered bootleg seen as one of the best concert films in history. Below: A screen capture from "Divided We Fall".

3. "Divided We Fall", a Nth-generation bootleg DVD of a Wall show with murky image, tinny/saturated sound, numerous VHS artifacts, performance slips, and entire songs where the cameras are zooming in on a blank wall, is regarded by those who have seen it as one of the world's finest pieces of concert footage. Many songs that later evolved and changed in live performances (namely Set The Controls, A Saucerful Of Secrets, Interstellar Overdrive, Astronomy Domine, Careful With That Axe Eugene, Cymbaline, Green Is The Colour, One Of These Days, Atom Heart Mother, The Embryo, Fat Old Sun, Echoes, Shine On You Crazy Diamond, Pigs (Three Diffirent Ones), Welcome To The Machine, and Grantchester meadows) are regarded more highly in their finished form than in that of the original studio versions. The writer of this article personally holds a bootleg of a performance in Amsterdam in 1969 above the likes of A Momentary Lapse Of Reason and the first half of David Gilmour's solo career. Also, it's Pink Floyd.

4. This logic was used for the delay of P*U*L*S*E until after the On An Island tour ended. However, excluding three late summer dates the tour is over (and there seemed to be no qualms about releasing P*U*L*S*E right in the middle of a Roger Waters tour). Assuming the rumors of an upcoming Rick Wright album are false, nothing is going on in the ex-Floyd camp. There is nothing to interfere with, and only profit to be made.

5. All members of the band (excluding the late Mr. Barrett, whose opinion nobody knew) have spoken very fondly about the early concerts; especially Roger Waters' lauding of both the intimacy of the pre-DSotM shows and the extravagance of the Wall shows. Nick Mason also spoke with nostalgia of the era in the "Inside Out" book, David Gilmour has moved to replicate the sound by playing Echoes in concert, and Rick Wright said during a post-P*U*L*S*E interview that Pink Floyd shows were much better from the audience's perspective than the band's (admitting that they were at least good). The band appears to truly respect their early unreleased work. Nick Mason even referred to the unreleased (but very heavily bootlegged and admired) Scream Thy Last Scream and Vegetable Man in approving terms in his book.

6. Many bands do this. They Might Be Giants has withheld release of concerts from this year's "Beardo 2006" tour, which is unusual for any post-2004 show (most concerts can be downloaded from their website for ten dollars). This is because the next album is still under construction, and the new songs being played on tour may or may not be included; they don't want to spoil the next album.

For those out of the loop, Pink Floyd is not They Might Be Giants. The closest they have ever come to being the same is when they thought it would be hilarious to extend "Istanbul (Not Constantinople)" with a reverb-screaming solo that sounded a lot like "Something Else".
One of the many diffirences between They Might Be Giants and Pink Floyd is that neither John Flansburgh or John Linnell are busy pursuing a solo career and claiming the band is dead.
Pink Floyd, according to David Gilmour, is dead. They will not be completing "The Man And The Journey", placing remakes of Scream Thy Last Scream or Vegetable Man on their next album, or staging The Wall again using the original format. This is because Pink Floyd is likely not coming back (I hope I'm wrong, I really do).
Assuming there isn't anything unknown going on, it appears that there are many reasons why unreleased material deserves to be released and none why it shouldn't. The band is only hurting itself.
However, I have a theory (the only theory) to explain this all.
In 1966, Paul McCartney died in a fatal car crash. The truth was covered up and McCartney was replaced with the first bassist the Beatles could find. During the Sgt. Pepper sessions, a band of psychedelic rockers from Cambridge dropped into Studio Two, as EMI arranged. However, they walked in at the wrong time; just as Lennon, Harrison, and Starr were discussing McCartney's untimely death. (Roger Waters' amazing purple shades allowed him to see through walls and lip-read. However, they were radioactive, resulting in severe acne; he stopped wearing them in public after the London '66/'67 video was shot.)
Now being in on the secret, Roger suggested to the band that they allow him to sit in for Paul. They agreed. Waters was now writing songs for both "Paul" and Pink Floyd. (He also planted the Paul-Is-Dead clues himself, hoping the public would figure it out and hail him, Roger Waters, as a genius. The Pubilus Enigma was an attempt to outdo this.)
A replacement was placed in to play live with the band.
He was a very quiet character and nobody noticed.
Then, during the recording sessions on Top Of The Pops, something went wrong. Barrett was struck with severe stage fright, and suddenly spouted the "John Lennon doesn't need to go on Top Of The Pops, why should I!?"
However, Barrett realized he was incorrect; Lennon, along with the Beatles, had appeared on many diffirent Pops-esque shows. The shock was that Roger Waters didn't point out his mistake first.
Barrett stayed up for two nights trying to figure out why Waters didn't know this. It was the Beatles, for crying out loud, everyone had seen the shows.
He came to the conclusion that Waters had purposely covered up any knowledge of the Beatles to avoid suspicion that he was involved in a Beatle-related coverup. A bit of digging and he uncovered the whole plot. Deciding he didn't want to be involved in this huge scam, Barrett tried to find a way out without attracting information.
After an attempt to destroy the band by not playing guitar failed (as did going on songwriting strike), he chose to feign insanity. It worked, as they kicked him out.
In 1969, Barrett decided the public needed to know. However, he knew nobody would believe him because he was insane. He decided to let the public figure it out for itself by pointing out clues left by Waters. He called into a radio show disguised as a man named "Tom" and started the whole myth himself.
It was dismissed as a huge lie. Syd, disappointed that his attempt to spread the truth failed, quit the music business.
John Lennon also had enough of Roger Waters (after a row concerning if "If" should appear on Let It Be). The real reason Plastic Ono Band is such a downer is because he was trying to outdo McCartney on the "depressing" scale. He failed.
Paul McCartney is too busy with his own fans to notice we want old Floyd stuff, and he is the true copyright holder. This is why so little has been released on either the Floyd or McCartney side (a listen to the full sessions of either will reveal Wings or the Floyd rehearsing songs the other band used; for instance, "Talk More Talk" is a Radio KAOS outtake and "Pigs On The Wing" is an outtake from "Wings At The Speed Of Sound".
"Angry" is about David Gilmour.