Massive Boxset Pink Floyd The Later Years 1987-2019 Out in November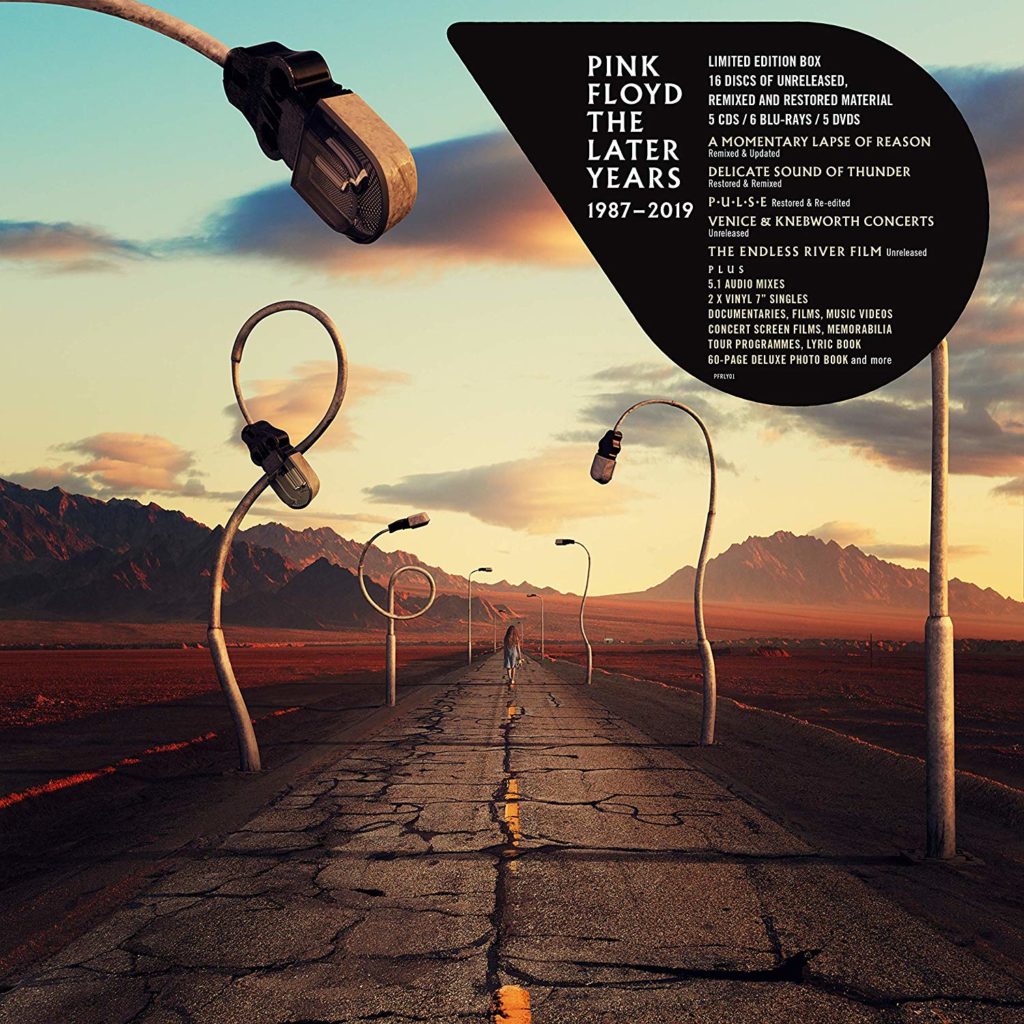 Pink Floyd is to release another massive boxset full of goodies on 29th November 2019 called Pink Floyd The Later Years 1987-2019.
Pre-Order Now from Amazon.co.uk or Amazon.com for International orders. There is a much cheaper preview in the form of the LPs see below.
The massive box set has an 18-disc set (5xCDs, 6xBlu-Rays, 5xDVDs, 2×7″ plus exclusive photo book and memorabilia) covering the material created by David Gilmour, Nick Mason and Richard Wright from 1987 onwards.
Don't miss the news, get our Pink Floyd Newsletter
2LP Vinyl & CD
In addition to the mammoth box set, there is a 2LP vinyl available which has highlights from the box set included. You can pre-order that from Amazon.co.uk or Amazon.com for international orders.
Other Box Sets from the Catalogue
This of course builds on the other amazing "Immersion" box sets that have been released over the years for Wish You Were Here, The Wall, Darkside of the Moon and The Division Bell. There was also the excellent Discovery box set with all studio albums. There was also the massive Pink Floyd The Early Years 1695-72.
Pink Floyd Later Years Albums
The period included in the Pink Floyd box-set includes three studio albums: 'A Momentary Lapse of Reason', 'The Division Bell' and 'The Endless River' as well as two live albums: 'Delicate Sound of Thunder' and 'Pulse'. But it doesn't stop there!
With additional production from David Gilmour and Andy Jackson, over 13 hours of unreleased audio and audiovisual material, including the sought-after 1989 Venice and 1990 Knebworth concerts, and much more, 'The Later Years' is a must for all fans.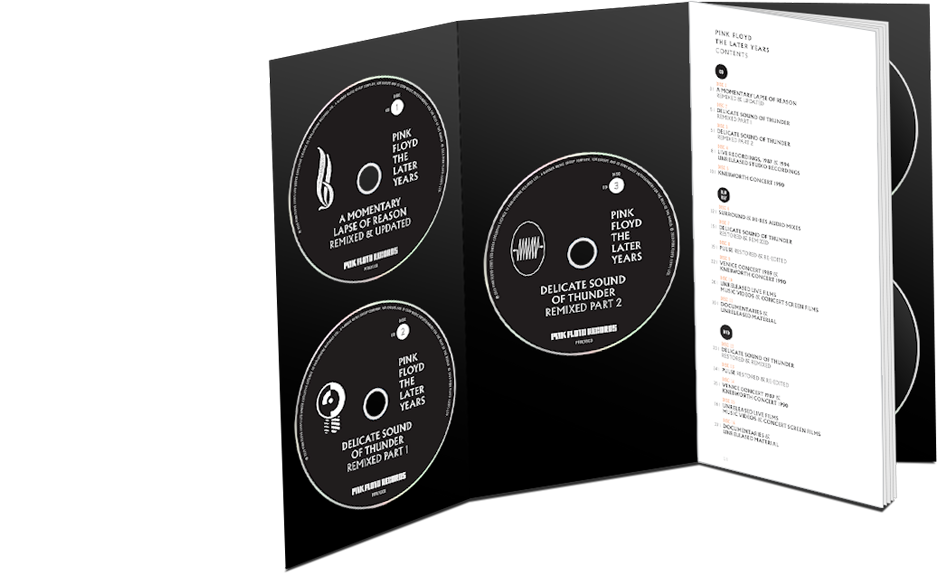 Take a look at the microsite on Pink Floyd's official website.
Let us know what you think about the boxset on the Pink Floyd Forum or leave a comment below.
Boxset Contents
Well there is rather a lot of content here, imagine the effort over the years in writing, producing and recording this lot!
Disc: 1
1. Signs Of Life (2019 Remix)
2. Learning To Fly (2019 Remix)
3. The Dogs Of War (2019 Remix)
4. One Slip (2019 Remix)
5. On The Turning Away (2019 Remix)
6. Yet Another Movie (2019 Remix)
7. Round And Around (2019 Remix)
8. A New Machine (Part 1) [2019 Remix]
9. Terminal Frost (2019 Remix)
10. Sorrow (2019 Remix)
Disc: 2
1. Shine On You Crazy Diamond (Pts. 1-5) [Live, Delicate Sound Of Thunder] [2019 Remix]
2. Signs Of Life (Live, Delicate Sound Of Thunder) [2019 Remix]
3. Learning To Fly (Live, Delicate Sound Of Thunder) [2019 Remix]
4. Yet Another Movie (Live, Delicate Sound Of Thunder) [2019 Remix]
5. Round And Round (Live, Delicate Sound Of Thunder) [2019 Remix]
6. A New Machine Part 1 (Live, Delicate Sound Of Thunder) [2019 Remix]
7. Terminal Frost (Live, Delicate Sound Of Thunder) [2019 Remix]
8. A New Machine Part 2 (Live, Delicate Sound Of Thunder) [2019 Remix]
9. Sorrow (Live, Delicate Sound Of Thunder) [2019 Remix]
10. The Dogs Of War (Live, Delicate Sound Of Thunder) [2019 Remix]
11. On The Turning Away (Live, Delicate Sound Of Thunder) [2019 Remix]
Disc: 3
1. One Of These Days (Live, Delicate Sound Of Thunder) [2019 Remix]
2. Time (Live, Delicate Sound Of Thunder) [2019 Remix]
3. On The Run (Live, Delicate Sound Of Thunder) [2019 Remix]
4. The Great Gig In The Sky (Live, Delicate Sound Of Thunder) [2019 Remix]
5. Wish You Were Here (Live, Delicate Sound Of Thunder) [2019 Remix]
6. Welcome To The Machine (Live, Delicate Sound Of Thunder) [2019 Remix]
7. Us And Them (Live, Delicate Sound Of Thunder) [2019 Remix]
8. Money (Live, Delicate Sound Of Thunder) [2019 Remix]
9. Another Brick In The Wall Part 2 (Live, Delicate Sound Of Thunder) [2019 Remix]
10. Comfortably Numb (Live, Delicate Sound Of Thunder) [2019 Remix]
11. One Slip (Live, Delicate Sound Of Thunder) [2019 Remix]
12. Run Like Hell (Live, Delicate Sound Of Thunder) [2019 Remix]
Disc: 4
1. One Of These Days (Live in Hannover 1994)
2. Astronomy Domine (Live in Miami 1994)
3. The Dogs Of War (Live in Atlanta 1987)
4. On The Turning Away (Live in Atlanta 1987)
5. Run Like Hell (Live in Atlanta 1987)
6. Blues 1 (Unreleased 1994 Recording)
7. Slippery Guitar (Unreleased 1994 Recording)
8. Rick's Theme (Unreleased 1994 Recording)
9. David's Blues (Unreleased 1994 Recording)
10. Marooned Jam (1994 Recording)
11. Nervana (Unreleased 1994 Recording)
12. High Hopes (Early Version) [1994 Recording]
Disc: 5
1. Shine On You Crazy Diamond (Pts. 1-5) [Live at Knebworth 1990] [2019 Mix]
2. The Great Gig In The Sky (Live at Knebworth 1990] [2019 Mix]
3. Wish You Were Here (Live at Knebworth 1990) [2019 Mix]
4. Sorrow (Live at Knebworth 1990) [2019 Mix]
5. Money (Live at Knebworth 1990) [2019 Mix]
6. Comfortably Numb (Live at Knebworth 1990) [2019 Mix]
7. Run Like Hell (Live at Knebworth 1990) [2019 Mix]
Disc: 6
1. Signs Of Life (5.1 Remix 2019)
2. Learning To Fly (5.1 Remix 2019)
3. The Dogs Of War (5.1 Remix 2019)
4. One Slip (5.1 Remix 2019)
5. On The Turning Away (5.1 Remix 2019)
6. Yet Another Movie (5.1 Remix 2019)
7. Round And Round (5.1 Remix 2019)
8. A New Machine Part 1 (5.1 Remix 2019)
9. Terminal Frost (5.1 Remix 2019)
10. A New Machine Part 2 (5.1 Remix 2019)
11. Sorrow (5.1 Remix 2019)
12. Cluster One (5.1 Remix 2014)
13. What Do You Want From Me (5.1 Remix 2014)
14. Poles Apart (5.1 Remix 2014)
15. Marooned (5.1 Remix 2014)
16. A Great Day For Freedom (5.1 Remix 2014)
17. Wearing The Inside Out (5.1 Remix 2014)
18. Take It Back (5.1 Remix 2014)
19. Coming Back To Life (5.1 Remix 2014)
20. Keep Talking (5.1 Remix 2014)
21. Lost For Words (5.1 Remix 2014)
22. High Hopes (5.1 Remix 2014)
23. Blues 1 (Unreleased 1994 Recording) [5.1 Mix]
24. Slippery Guitar (Unreleased 1994 Recording) [5.1 Mix]
25. Rick's Theme (Unreleased 1994 Recording) [5.1 Mix]
26. David's Blues (Unreleased 1994 Recording) [5.1 Mix]
27. Marooned Live Jam 2 (Unreleased 1994 Recording) [5.1 Mix]
28. Nervana (Unreleased 1994 Recording) [5.1 Mix]
29. High Hopes (Unreleased 1994 Recording) [5.1 Mix]
Disc: 7
1. Shine On You Crazy Diamond (Pts. 1-5) [Live, Delicate Sound Of Thunder] [2019 Remix]
2. Signs Of Life (Live, Delicate Sound Of Thunder) [2019 Remix]
3. Learning To Fly (Live, Delicate Sound Of Thunder) [2019 Remix]
4. Sorrow (Live, Delicate Sound Of Thunder) [2019 Remix]
5. The Dogs Of War (Live, Delicate Sound Of Thunder) [2019 Remix]
6. On The Turning Away (Live, Delicate Sound Of Thunder) [2019 Remix]
7. One Of These Days (Live, Delicate Sound Of Thunder) [2019 Remix]
8. Time (Live, Delicate Sound Of Thunder) [2019 Remix]
9. On The Run (Live, Delicate Sound Of Thunder) [2019 Remix]
10. The Great Gig In The Sky (Live, Delicate Sound Of Thunder) [2019 Remix]
11. Wish You Were Here (Live, Delicate Sound Of Thunder) [2019 Remix]
12. Us And Them (Live, Delicate Sound Of Thunder) [2019 Remix]
13. Money (Live, Delicate Sound Of Thunder) [2019 Remix]
14. Comfortably Numb (Live, Delicate Sound Of Thunder) [2019 Remix]
15. One Slip (Live, Delicate Sound Of Thunder) [2019 Remix]
16. Run Like Hell (Live, Delicate Sound Of Thunder) [2019 Remix]
17. Shine On You Crazy Diamond (Pts. 1-5) [Live, Delicate Sound Of Thunder] [2019 Remix]
18. Signs Of Life (Live, Delicate Sound Of Thunder) [2019 Remix]
19. Learning To Fly (Live, Delicate Sound Of Thunder) [2019 Remix]
20. Sorrow (Live, Delicate Sound Of Thunder) [2019 Remix]
21. The Dogs Of War (Live, Delicate Sound Of Thunder) [2019 Remix]
22. On The Turning Away (Live, Delicate Sound Of Thunder) [2019 Remix]
23. One Of These Days (Live, Delicate Sound Of Thunder) [2019 Remix]
24. Time (Live, Delicate Sound Of Thunder) [2019 Remix]
25. On The Run (Live, Delicate Sound Of Thunder) [2019 Remix]
26. The Great Gig In The Sky (Live, Delicate Sound Of Thunder) [2019 Remix]
27. Wish You Were Here (Live, Delicate Sound Of Thunder) [2019 Remix]
28. Us And Them (Live, Delicate Sound Of Thunder) [2019 Remix]
29. Money (Live, Delicate Sound Of Thunder) [2019 Remix]
30. Comfortably Numb (Live, Delicate Sound Of Thunder) [2019 Remix]
31. One Slip (Live, Delicate Sound Of Thunder) [2019 Remix]
32. Run Like Hell (Live, Delicate Sound Of Thunder) [2019 Remix]
Disc: 8
1. Shine On You Crazy Diamond (Pts. 1-5,7) [Filmed Live On 20 October 1994 at Earls Court, London, UK]
2. Learning To Fly (Filmed Live On 20 October 1994 at Earls Court, London, UK)
3. High Hopes (Filmed Live On 20 October 1994 at Earls Court, London, UK)
4. Take It Back (Filmed Live On 20 October 1994 at Earls Court, London, UK)
5. Coming Back To Life (Filmed Live On 20 October 1994 at Earls Court, London, UK)
6. Sorrow (Filmed Live On 20 October 1994 at Earls Court, London, UK)
7. Keep Talking (Filmed Live On 20 October 1994 at Earls Court, London, UK)
8. Another Brick In The Wall Part 2 (Filmed Live On 20 October 1994 at Earls Court, London, UK)
9. One Of These Days (Filmed Live On 20 October 1994 at Earls Court, London, UK)
10. Speak To Me (Filmed Live On 20 October 1994 at Earls Court, London, UK)
11. Breather (In The Air) [Filmed Live On 20 October 1994 at Earls Court, London, UK]
12. On The Run (Filmed Live On 20 October 1994 at Earls Court, London, UK)
13. Time (Filmed Live On 20 October 1994 at Earls Court, London, UK)
14. The Great Gig In The Sky (Filmed Live On 20 October 1994 at Earls Court, London, UK)
15. Money (Filmed Live On 20 October 1994 at Earls Court, London, UK)
16. Us And Them (Filmed Live On 20 October 1994 at Earls Court, London, UK)
17. Any Colour You Like (Filmed Live On 20 October 1994 at Earls Court, London, UK)
18. Brain Damage (Filmed Live On 20 October 1994 at Earls Court, London, UK)
19. Eclipse (Filmed Live On 20 October 1994 at Earls Court, London, UK)
20. Wish You were Here (Filmed Live On 20 October 1994 at Earls Court, London, UK)
21. Comfortably Numb (Filmed Live On 20 October 1994 at Earls Court, London, UK)
22. Run Like Hell (Filmed Live On 20 October 1994 at Earls Court, London, UK)
23. Shine On You Crazy Diamond (Pts. 1-5,7) [Filmed Live On 20 October 1994 at Earls Court, London, UK]
24. Learning To Fly (Filmed Live On 20 October 1994 at Earls Court, London, UK)
25. High Hopes (Filmed Live On 20 October 1994 at Earls Court, London, UK)
26. Take It Back (Filmed Live On 20 October 1994 at Earls Court, London, UK)
27. Coming Back To Life (Filmed Live On 20 October 1994 at Earls Court, London, UK)
28. Sorrow (Filmed Live On 20 October 1994 at Earls Court, London, UK)
29. Keep Talking (Filmed Live On 20 October 1994 at Earls Court, London, UK)
30. Another Brick In The Wall Part 2 (Filmed Live On 20 October 1994 at Earls Court, London, UK)
31. One Of These Days (Filmed Live On 20 October 1994 at Earls Court, London, UK)
32. Speak To Me (Filmed Live On 20 October 1994 at Earls Court, London, UK)
33. Breathe (In The Air) [Filmed Live On 20 October 1994 at Earls Court, London, UK]
34. On The Run (Filmed Live On 20 October 1994 at Earls Court, London, UK)
35. Time (Filmed Live On 20 October 1994 at Earls Court, London, UK)
36. The Great Gig In The Sky (Filmed Live On 20 October 1994 at Earls Court, London, UK)
37. Money (Filmed Live On 20 October 1994 at Earls Court, London, UK)
38. Us And Them (Filmed Live On 20 October 1994 at Earls Court, London, UK)
39. Any Colour You Like (Filmed Live On 20 October 1994 at Earls Court, London, UK)
40. Brain Damage (Filmed Live On 20 October 1994 at Earls Court, London, UK)
41. Eclipse (Filmed Live On 20 October 1994 at Earls Court, London, UK)
42. Wish You Were Here (Filmed Live On 20 October 1994 at Earls Court, London, UK)
43. Comfortably Numb (Filmed Live On 20 October 1994 at Earls Court, London, UK)
44. Run Like Hell (Filmed Live On 20 October 1994 at Earls Court, London, UK)
Disc: 9
1. Shine On You Crazy Diamond (Pt. 1) [Live In Venice 15 July 1989]
2. Learning To Fly (with end chat) [Live In Venice 15 July 1989]
3. Yet Another Movie (Live In Venice 15 July 1989)
4. Round And Round (Live In Venice 15 July 1989)
5. Sorrow (Live In Venice 15 July 1989)
6. The Dogs Of War (Live In Venice 15 July 1989)
7. On The Turning Away (Live In Venice 15 July 1989)
8. Time (Live In Venice 15 July 1989)
9. The Great Gig In The Sky (Live In Venice 15 July 1989)
10. Wish You Were Here (Live In Venice 15 July 1989)
11. Money (Live In Venice 15 July 1989)
12. Another Brick In The Wall (Live In Venice 15 July 1989)
13. Comfortably Numb (Live In Venice 15 July 1989)
14. Run Like Hell (Live In Venice 15 July 1989)
15. Fireworks (Live In Venice 15 July 1989)
16. Shine On You Crazy Diamond (Pts. 1-5) [Live At Knebworth 1990] [2019 Mix]
17. The Great Gig In The Sky (Live At Knebworth 1990) [2019 Mix]
18. Wish You Were Here (Live at Knebworth 1990) [2019 Mix]
19. Sorrow (Live at Knebworth 1990) [2019 Mix]
20. Money (Live At Knebworth 1990) [2019 Mix]
21. Comfortably Numb (Live At Knebworth 1990) [2019 Mix]
22. Run Like Hell (Live At Knebworth 1990) [2019 Mix]
23. Shine On You Crazy Diamond (Pts. 1-5) [Live At Knebworth 1990] [2019 Mix]
24. The Great Gig In The Sky (Live At Knebworth 1990) [2019 Mix]
25. Wish You Were Here (Live at Knebworth 1990) [2019 Mix]
26. Sorrow (Live at Knebworth 1990) [2019 Mix]
27. Money (Live At Knebworth 1990) [2019 Mix]
28. Comfortably Numb (Live At Knebworth 1990) [2019 Mix]
29. Run Like Hell (Live At Knebworth 1990) [2019 Mix]
Disc: 10
1. Learning To Fly (2011 Remaster)
2. Marooned (PCM Stereo version)
3. Take It Back (2019 Remaster)
4. High Hopes (2011 Remaster)
5. Louder Than Words (Edit)
6. Learning To Fly (Alternate Version)
7. Yet Another Movie (Delicate Sound Of Thunder)
8. Round And Round (Delicate Sound Of Thunder)
9. A New Machine (Part 1) [Delicate Sound Of Thunder]
10. Terminal Frost (Delicate Sound Of Thunder)
11. A New Machine (Part 2) [Delicate Sound Of Thunder]
12. A Great Day For Freedom Version 1 (Tour Rehersals 1994)
13. A Great Day For Freedom Version 2 (Tour Rehersals 1994)
14. Lost For Words (Tour Rehersals 1994)
15. Signs Of Life (Screen Film 1987)
16. Learning To Fly (Screen Film 1987)
17. The Dogs Of War (Screen Film 1987)
18. One Of These Days (Screen Film 1987)
19. Speak To Me (Screen Film 1987)
20. On The Run (Screen Film 1987)
21. Us And Them (Screen Film 1987)
22. Money (Screen Film 1987)
23. Brain Damage + Eclipse (Screen Film 1987)
24. Shine On You Crazy Diamond (Screen Film 1994)
25. Speak To Me (Screen Film 1994)
26. Time (Screen Film 1994)
27. The Great Gig In The Sky (Screen Film 1994)
28. Money (Screen Film 1994)
29. Us And Them (Black & White) [Screen Film 1994]
30. Us And Them (Colour) [Screen Film 1994]
31. Brain Damage + Eclipse (USA Dates) [Screen Film 1994]
32. Brain Damage + Eclipse (European Dates) [Screen Film 1994]
33. Brain Damage (Earls Court London Dates) [Screen Film 1994]
34. Wish You Were Here With Billy Corgan
Disc: 11
1. A Momentary Lapse of Reason – Album Cover Photo Shoot
2. The Division Bell heads album cover photography (Ely, Cambridgeshire, UK)
3. Pulse TV ad 1995
4. Ian Emes Endless River Film (Stereo PCM (96/24))
5. A Momentary Lapse OF Reason (Cover Shoot Interview)
6. The Division Bell Airships 1994
7. Behind The Scenes – The Division Bell Tour
8. The Endless River Launch Event (Porchester Hall Londonn 2014)
9. The Endless River EPK 2014
Disc: 12
1. Shine On You Crazy Diamond (Pts. 1-5) [Live, Delicate Sound Of Thunder] [2019 Remix]
2. Signs Of Life (Live, Delicate Sound Of Thunder) [2019 Remix]
3. Learning To Fly (Live, Delicate Sound Of Thunder) [2019 Remix]
4. Sorrow (Live, Delicate Sound Of Thunder) [2019 Remix]
5. The Dogs Of War (Live, Delicate Sound Of Thunder) [2019 Remix]
6. On The Turning Away (Live, Delicate Sound Of Thunder) [2019 Remix]
7. One Of These Days (Live, Delicate Sound Of Thunder) [2019 Remix]
8. Time (Live, Delicate Sound Of Thunder) [2019 Remix]
9. On The Run (Live, Delicate Sound Of Thunder) [2019 Remix]
10. The Great Gig In The Sky (Live, Delicate Sound Of Thunder) [2019 Remix]
11. Wish You Were Here (Live, Delicate Sound Of Thunder) [2019 Remix]
12. Us And Them (Live, Delicate Sound Of Thunder) [2019 Remix]
13. Money (Live, Delicate Sound Of Thunder) [2019 Remix]
14. Comfortably Numb (Live, Delicate Sound Of Thunder) [2019 Remix]
15. One Slip (Live, Delicate Sound Of Thunder) [2019 Remix]
16. Run Like Hell (Live, Delicate Sound Of Thunder) [2019 Remix]
Disc: 13
1. Shine On You Crazy Diamond (Pts. 1-5,7) [Filmed Live On 20 October 1994 at Earls Court, London, UK]
2. Learning To Fly (Filmed Live On 20 October 1994 at Earls Court, London, UK)
3. High Hopes (Filmed Live On 20 October 1994 at Earls Court, London, UK)
4. Take It Back (Filmed Live On 20 October 1994 at Earls Court, London, UK)
5. Coming Back To Life (Filmed Live On 20 October 1994 at Earls Court, London, UK)
6. Sorrow (Filmed Live On 20 October 1994 at Earls Court, London, UK)
7. Keep Talking (Filmed Live On 20 October 1994 at Earls Court, London, UK)
8. Another Brick In The Wall Part 2 (Filmed Live On 20 October 1994 at Earls Court, London, UK)
9. One Of These Days (Filmed Live On 20 October 1994 at Earls Court, London, UK)
10. Speak To Me (Filmed Live On 20 October 1994 at Earls Court, London, UK)
11. Breather (In The Air) [Filmed Live On 20 October 1994 at Earls Court, London, UK]
12. On The Run (Filmed Live On 20 October 1994 at Earls Court, London, UK)
13. Time (Filmed Live On 20 October 1994 at Earls Court, London, UK)
14. The Great Gig In The Sky (Filmed Live On 20 October 1994 at Earls Court, London, UK)
15. Money (Filmed Live On 20 October 1994 at Earls Court, London, UK)
16. Us And Them (Filmed Live On 20 October 1994 at Earls Court, London, UK)
17. Any Colour You Like (Filmed Live On 20 October 1994 at Earls Court, London, UK)
18. Brain Damage (Filmed Live On 20 October 1994 at Earls Court, London, UK)
19. Eclipse (Filmed Live On 20 October 1994 at Earls Court, London, UK)
20. Wish You were Here (Filmed Live On 20 October 1994 at Earls Court, London, UK)
21. Comfortably Numb (Filmed Live On 20 October 1994 at Earls Court, London, UK)
22. Run Like Hell (Filmed Live On 20 October 1994 at Earls Court, London, UK)
23. Shine On You Crazy Diamond (Pts. 1-5,7) [Filmed Live On 20 October 1994 at Earls Court, London, UK]
24. Learning To Fly (Filmed Live On 20 October 1994 at Earls Court, London, UK)
25. High Hopes (Filmed Live On 20 October 1994 at Earls Court, London, UK)
26. Take It Back (Filmed Live On 20 October 1994 at Earls Court, London, UK)
27. Coming Back To Life (Filmed Live On 20 October 1994 at Earls Court, London, UK)
28. Sorrow (Filmed Live On 20 October 1994 at Earls Court, London, UK)
29. Keep Talking (Filmed Live On 20 October 1994 at Earls Court, London, UK)
30. Another Brick In The Wall Part 2 (Filmed Live On 20 October 1994 at Earls Court, London, UK)
31. One Of These Days (Filmed Live On 20 October 1994 at Earls Court, London, UK)
32. Speak To Me (Filmed Live On 20 October 1994 at Earls Court, London, UK)
33. Breathe (In The Air) [Filmed Live On 20 October 1994 at Earls Court, London, UK]
34. On The Run (Filmed Live On 20 October 1994 at Earls Court, London, UK)
35. Time (Filmed Live On 20 October 1994 at Earls Court, London, UK)
36. The Great Gig In The Sky (Filmed Live On 20 October 1994 at Earls Court, London, UK)
37. Money (Filmed Live On 20 October 1994 at Earls Court, London, UK)
38. Us And Them (Filmed Live On 20 October 1994 at Earls Court, London, UK)
39. Any Colour You Like (Filmed Live On 20 October 1994 at Earls Court, London, UK)
40. Brain Damage (Filmed Live On 20 October 1994 at Earls Court, London, UK)
41. Eclipse (Filmed Live On 20 October 1994 at Earls Court, London, UK)
42. Wish You Were Here (Filmed Live On 20 October 1994 at Earls Court, London, UK)
43. Comfortably Numb (Filmed Live On 20 October 1994 at Earls Court, London, UK)
44. Run Like Hell (Filmed Live On 20 October 1994 at Earls Court, London, UK)
Disc: 14
1. Shine On You Crazy Diamond (Pt. 1) [Live In Venice 15 July 1989]
2. Learning To Fly (with end chat) [Live In Venice 15 July 1989]
3. Yet Another Movie (Live In Venice 15 July 1989)
4. Round And Round (Live In Venice 15 July 1989)
5. Sorrow (Live In Venice 15 July 1989)
6. The Dogs Of War (Live In Venice 15 July 1989)
7. On The Turning Away (Live In Venice 15 July 1989)
8. Time (Live In Venice 15 July 1989)
9. The Great Gig In The Sky (Live In Venice 15 July 1989)
10. Wish You Were Here (Live In Venice 15 July 1989)
11. Money (Live In Venice 15 July 1989)
12. Another Brick In The Wall (Live In Venice 15 July 1989)
13. Comfortably Numb (Live In Venice 15 July 1989)
14. Run Like Hell (Live In Venice 15 July 1989)
15. Fireworks (Live In Venice 15 July 1989)
16. Shine On You Crazy Diamond (Pts. 1-5) [Live At Knebworth 1990] [2019 Mix]
17. The Great Gig In The Sky (Live At Knebworth 1990) [2019 Mix]
18. Wish You Were Here (Live at Knebworth 1990) [2019 Mix]
19. Sorrow (Live at Knebworth 1990) [2019 Mix]
20. Money (Live At Knebworth 1990) [2019 Mix]
21. Comfortably Numb (Live At Knebworth 1990) [2019 Mix]
22. Run Like Hell (Live At Knebworth 1990) [2019 Mix]
23. Shine On You Crazy Diamond (Pts. 1-5) [Live At Knebworth 1990] [2019 Mix]
24. The Great Gig In The Sky (Live At Knebworth 1990) [2019 Mix]
25. Wish You Were Here (Live at Knebworth 1990) [2019 Mix]
26. Sorrow (Live at Knebworth 1990) [2019 Mix]
27. Money (Live At Knebworth 1990) [2019 Mix]
28. Comfortably Numb (Live At Knebworth 1990) [2019 Mix]
29. Run Like Hell (Live At Knebworth 1990) [2019 Mix]
Disc: 15
1. Learning To Fly (2011 Remaster)
2. Marooned (PCM Stereo version)
3. Take It Back (2019 Remaster)
4. High Hopes (2011 Remaster)
5. Louder Than Words (Edit)
6. Learning To Fly (Alternate Version)
7. Yet Another Movie (Delicate Sound Of Thunder)
8. Round And Round (Delicate Sound Of Thunder)
9. A New Machine (Part 1) [Delicate Sound Of Thunder]
10. Terminal Frost (Delicate Sound Of Thunder)
11. A New Machine (Part 2) [Delicate Sound Of Thunder]
12. A Great Day For Freedom Version 1 (Tour Rehersals 1994)
13. A Great Day For Freedom Version 2 (Tour Rehersals 1994)
14. Lost For Words – False Start (Tour Rehersals 1994)
15. Lost For Words (Tour Rehersals 1994)
16. Signs Of Life (Screen Film 1987)
17. Learning To Fly (Screen Film 1987)
18. The Dogs Of War (Screen Film 1987)
19. One Of These Days (Screen Film 1987)
20. Speak To Me (Screen Film 1987)
21. On The Run (Screen Film 1987)
22. Us And Them (Screen Film 1987)
23. Money (Screen Film 1987)
24. Brain Damage + Eclipse (Screen Film 1987)
25. Shine On You Crazy Diamond (Screen Film 1994)
26. Speak To Me (Screen Film 1994)
27. Time (Screen Film 1994)
28. The Great Gig In The Sky (Screen Film 1994)
29. Money (Screen Film 1994)
30. Us And Them (Black & White) [Screen Film 1994]
31. Us And Them (Colour) [Screen Film 1994]
32. Brain Damage + Eclipse (USA Dates) [Screen Film 1994]
33. Brain Damage + Eclipse (European Dates) [Screen Film 1994]
34. Brain Damage (Earls Court London Dates) [Screen Film 1994]
35. Wish You Were Here With Billy Corgan
Disc: 16
1. A Momentary Lapse of Reason – Album Cover Photo Shoot
2. The Division Bell heads album cover photography (Ely, Cambridgeshire, UK)
3. Pulse TV ad 1995
4. Ian Emes Endless River Film (Stereo PCM (96/24))
5. Ian Emes Endless River Film (5.1 DTS Master Audio (96/24))
6. A Momentary Lapse OF Reason (Cover Shoot Interview)
7. The Division Bell Airships 1994
8. Behind The Scenes – The Division Bell Tour
9. The Endless River Launch Event (Porchester Hall Londonn 2014)
10. The Endless River EPK 2014
Disc: 17
1. Lost For Words (Tour Rehersals 1994) [Edit]
Disc: 18
1. Arnold Layne (Live 2007)