Michael Kamen Dies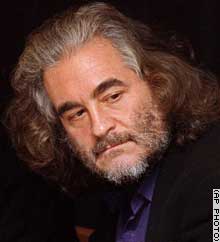 Michael Kamen, the Grammy-winning and Oscar-nominated composer who fused hard-rock riffs with classical styling in albums for Pink Floyd and provided music for the "Lethal Weapon" and "Die Hard" movies," has died at age 55.
Kamen collapsed in his London home Tuesday of an apparent heart attack, according to his Los Angeles-based publicist, Jeff Sanderson.
Kamen collaborated with a wide range of artists, from the London Philharmonic to Aerosmith, Metallica and jazz saxophonist David Sanborn.
Although Kamen was classically trained and studied oboe at New York's Julliard School, the composer's distinctive long, curly hair and beard made him look more like a heavy-metal guitarist than a classical conductor.
He was known for combining those two sensibilities. Among his most famous collaborations was on the orchestral arrangements in Pink Floyd's 1979 album "The Wall." He also worked with the band on the albums "The Final Cut" and "The Division Bell."
Kamen's most recent Grammy win came in 2001, when he shared the award for best rock instrumental performance with Metallica for conducting the San Francisco Symphony Orchestra in the metal-rock band's song "The Call of Ktulu."
He also won a Grammy in 1996 for best instrumental arrangement with "An American Symphony," which he derived from his work on the Richard Dreyfuss musical drama "Mr. Holland's Opus."
His first Grammy was in 1992 for best pop instrumental performance for the theme music to "Robin Hood: Prince of Thieves."
In "Mr. Holland's Opus," Dreyfuss portrayed a passionate teacher who sacrificed his own ambitions to engage the imagination of his students through music. Inspired by the movie, Kamen established the Mr. Holland's Opus Foundation in 1997 to raise money to make musical instrument
s available to the nation's children.
Kamen worked with singer Bryan Adams to help craft the movie theme songs "(Everything I Do) I Do It For You" from "Robin Hood" and "Have You Ever Really Loved a Woman" from "Don Juan DeMarco." He received Oscar nominations for co-writing those songs.
Kamen also collaborated with such pop, jazz and rock stars as Sting, Rod Stewart, David Bowie and Eric Clapton.
Kamen was born in New York City in 1948. He started learning to play the piano at age 2 and later added the guitar, clarinet and oboe. Among his parents' friends were the musicians Huddie Ledbetter and Pete Seeger, and he grew up listening to recordings of music by Bach and Gilbert and S
ullivan.
Kamen played folk-blues in a jug band while simultaneously studying oboe at Julliard, and later experimented with techno, disco and rock while writing pure classical music for ballet performances.
Kamen is survived by his wife, two daughters, his father and three brothers.

Source: [ CNN ]