Mr. David J Gilmour CBE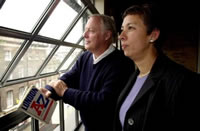 David Jon Gilmour, lead guitarist of the original Pink Floyd, has been awarded an honourary CBE by Queen Elizabeth II of England in her annual awards ceremony. The ceremony coincides with her "official" birthday – one of two birthdays she has to take advantage of the good weather! Really!
Recently, the Pink Floyd guitarist has given away millions of pounds to charity although he received his "Commander of the British Empire" status for his services to music. No doubt those millions of pounds he kindly chipped off the iceberg which is his personal wealth got him noticed by the ever watchful eye of Her Majesty the Queen.
He donated a staggering £3.6 million to charity from the sale of his London mansion where his children grew up. The money went to the charity "Crisis". David Gilmour said "There's nothing quite like having a large house that you don't need to focus your mind on those who have no house at all. Giving the money from the sale of the house to help the homeless was a natural progression of those thoughts".
Neptune Pink Floyd would like you to go donate a £1, $1 or whatever to Crisis to help them along with their projects for the homeless. The well being of our fellow human beings ought to be an important issue in my opinion. You can donate any amount you like here.
Source: [ BBC News | Brain Damage ]